The 80 MHz Power Mac 8100 was the fastest Power Mac when Apple introduced the line in March 1994, and it was the only model to ship from the factory with a 256 KB level 2 cache installed.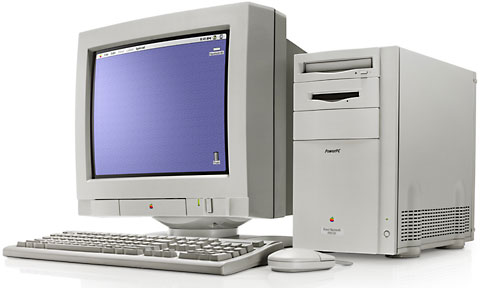 Built into a Quadra 800 case, the 8100 (a.k.a. 8115 in Japan as well as Apple Workgroup Server 8150) contains three NuBus slots and a PDS (processor direct slot). Like the other first-generation Power Macs, the 8100 uses system memory for video (up to 615 KB, depending on resolution and bit-depth). It also has a separate PDS video card with its own memory, making it very easy to work with two monitors. For best performance, use the video card, not motherboard video, when using just one display.
The 8100 was upgraded to 100 MHz January 1995, and a 110 MHz version was added in January 1995. It was replaced by the 8500 in August 1995.
See our NuBus Video Card Guide for information on adding a video card.
Note that these so-called NuBus CPU upgrades do not go into a NuBus slot; they derive their name from the fact that they work in NuBus Power Macs. The processor upgrades fit into the PDS (Processor Direct Slot) which is normally occupied by a video card on the 8100. These cards may also include a pass through connector (which may be an extra cost option) allowing you to plug the PDS video card into the upgrade card.
Variants
8100av. Includes video-in and video-out. Supports 19″ and 21″ monitors. Has 2 MB VRAM. (AV card can be added to any 8100 with a free PDS slot.)
Details
8100/80 introduced 1994.03.14 at $4,200; discontinued 1995.01.03
8100/80av introduced 1994.03.14; discontinued 1995.01.03
8100/100 introduced 1995.01.03, discontinued 1995.10.14
8100/100av introduced 1995.01.03, discontinued 1995.08.05
8100/110 introduced 1994.11.03, discontinued 1995.08.05
requires System 7.1.2 through 9.1 (80 MHz), System 7.5 through 9.1 (100 MHz)
CPU: 80-110 MHz PPC 601
Bus: 33-40 MHz
Performance: 2.6/3.3 (80 MHz/110 MHz, relative to Centris 650); 35.77 (80 MHz), MacBench 2.0; 4.18, 80 MHz, Speedometer 4; 38,462 (100 MHz) Whetstones
ROM: 4 MB
RAM: 8 MB on motherboard, expandable to 264 MB using pairs of 80ns 72-pin SIMMs in 8 SIMM sockets. Supports 4, 8, 16, and 32 MB SIMMs. Will not recognize more than 32 MB per SIMM even if you install 64 MB SIMMs.
VRAM: none on motherboard, 2 MB on PDS video card (expandable to 4 MB), 2 MB on AV card (not expandable)
Video:

internal supports thousands of colors at 640 x 480 and 256 colors at 832 x 642
2 MB PDS card and AV card support millions of colors at 640 x 480 and 832 x 624, thousands of colors at 1024 x 768 and 1152 x 870
4 MB PDS card supports millions of colors at 640 x 480, 832 x 624, 1024 x 768, and 1152 x 870

L2 cache: 256 KB standard, supports 256 KB to 1 MB cache
Hard drive: 250 MB to 2 GB
CD-ROM: 2x standard
Microphone: standard 3.5mm minijack, compatible with line-level input including Apple's PlainTalk microphone
ADB: 1 port for keyboard and mouse
serial: 2 DIN-8 GeoPorts on back of computer
SCSI: DB-25 connector on back of computer
Ethernet: AAUI connector on back of computer, requires AAUI adapter
NuBus slots: 3
one PDS slot
Power supply: 200W
PRAM battery: 3.6V half-AA
Height: 14.0 in
Width: 7.7 in
Depth: 15.75 in
Weight: 25.3 lb
PRAM battery: 3.6V half-AA
Gestalt ID: 65 (80 MHz), 55 (100 MHz), 40 (110 MHz)
Accelerators & Upgrades
Because the 8100 uses up to 640 KB of system memory for video (unless you're using an AV card or NuBus video card), you can really boost video and system performance with a 1MB L2 cache.
Power Macintosh 8500 motherboard plus CPU card
MicroMac Speedy variable speed oscillator
MC Price Breakers, 90 MHz clock chipper for 8100/80, 120 MHz for 8100/100, and 135 MHz for 8100/110.
Output Enablers 123 MHz clock accelerator for 8100/100
Online Resources
Caution
You cannot upgrade from Mac OS 9.0 to 9.1 using updaters on NuBus models. You must use a full installation CD for OS 9.1.
Never run a 7100, 8100, 8150, or 9150 without a PDS video card or a PDS terminator. This can damage the motherboard. If the video card goes bad, you can replace it with another video card or use motherboard video after installing a PDS accelerator or "Apple Terminator, PDS, WGS 81XX." Workgroup Server 8150 and 9150: PDS Needs Terminator, feedback from Mac Managers list, and personal experience.
Keywords: #powermac8100
Short link: http://goo.gl/QuuAhI
searchword: powermac8100