Signifyin(g) as a Rhetorical Device in Selected Writings of the Harlem Renaissance
(Zora Neale Hurston, Langston Hughes, and Richard Wright)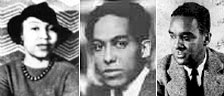 A Thesis Submitted in Partial Fulfillment of the Requirements For the Degree Master of Arts
By Rodney O'Neal Lain
Summa Cum Laude
December Commencement 1994
Northwestern State University of Louisiana
This is an edited version of the 1994 manuscript.
Chapter Five: Conclusion – "Raised on Simile and Invective": The Black Rhetoric of Signifyin(g)
Unfortunately, chapter 5 has not been archived.
Appendix
Works Cited
Works Consulted
Abstract
Summary of Thesis
Rodney O'Neal Lain, BA Northeast Louisiana University
Master of Arts, Northwestern State University, Fall Commencement 1994
Major: English with Emphasis in Writing and Linguistics
Thesis: "Signifyin(g) as a Rhetorical Device in Selected Writers of the Harlem Renaissance (Langston Hughes, Zora Neale Hurston, and Richard Wright)"
Thesis Directed by Professor Joseph Colavito.
Pages in Thesis, 125. Words in Abstract, 343.
The African-American oral tradition has contributed immensely to greater American society. In addition to the linguistic influence of Black English Vernacular, many common terms, such as slang words and phrases, have continuously spilled across cultural boundaries since the first African disembarked a Dutch man-of-war in 1619. One particularly interesting African-American linguistic contribution to American speech is "signification," a rhetorical strategy commonly characterized by verbal/gestural indirection and wit. [1] Signification, or signifyin(g), also figures into black literature. During the cultural and artistic explosion known as the Harlem Renaissance, several writers produced poetry and prose that resonated with forms of signification. The literary vanguard of this movement included Langston Hughes, Zora Neale Hurston, and Richard Wright.
An astute observer of black culture, Hughes humorously yet masterfully depicted signifyin(g) speech events, especially the dozens. Hurston – who has the unique honor of residing in three literary canons: feminist, African-American, and American fiction – delved into the black speech community, producing works that paid homage to the vernacular tradition by employing forms of signifyin(g) like the comical and didactic "lies" recorded in her anthropological works. Wright knew intimately the effectiveness of signifyin(g) and used it not only as an amusing rhetorical device, but as a cathartic, coping mechanism to counter the psychologically disruptive effects of American racism.
Each of these writers is a novel contributor to the study of signification as a rhetorical device esoteric to the black community. This thesis argues that as a rhetorical strategy, signification fulfills a basic maxim of mass communication, and rhetoric: knowing one's audience. Since most American blacks who lived during the Harlem Renaissance were not too far removed from slave culture, they still retained knowledge of their ascendants' oral traditions, of which signifyin(g) is a salient characteristic; hence, Hughes, Hurston, and Wright were timely in their use of signification. Signifyin(g) shows the verbal, and rhetorical, virtuosity of American blacks, underscoring their shared culture. Above all, it represents black America's linguistic heritage, showcasing its greatest contribution to the rhetorical tradition: its American yet African speech patterns.
The term "signifying" shouldn't be confused with its normally associated denotation. One purpose of this thesis is to assert an African-American definition….
Epigraphs
Sums up what I learned in grad school
Research is formalized curiosity.
– Zora Neale Hurston
A true education is the personal exploration of a subject, not the dull recitation of facts.
– A "friend"
The idea that [writings] which are delightful to read must be of superficial temperaments . . . is the reverse of the truth. What has been easy to read has been difficult to write. . . . A limpid style is invariably the result of hard labor….
– G. M. Trevelyan
Acknowledgments
Thanking Those Who Cared
The problem with acknowledgments is that someone will always be forgotten. To those who were forgotten, my regrets. To the rest, merci: Rocky Colavito – the best thesis chair, I think – thanks for the direction and genuine interest, you are a true writing coach; Craig Milliman, Garry Ross, and Ray Wallace – thanks, many thanks; thanks, Jay Means, for thinking I can write; thanks for listening, Laura M.; thanks for the readings, Patricia M. and Jim C.; Ricky, Sandy, and Mrs. Brooks – hi; "shout outs" to Kesha and Aaron; profuse thanks to Daniel, Jerry, and Jim (again!), for solving computer crises; thanks, Bobbie J.; thanks, Watson reference staff, Catherine Bonner, and Don Hatley; danke: Ginger, my e-mail confidante, and Jeannette, my "fifth reader"; hi, Mom.
Separate, special thanks goes to Irma Persons, who served me faithfully. Your dependable assistance, prayerful patience, timely encouragement, deep love, and indefatigable devotion are invaluable. E pluribus unum….
Above and beyond all, heartfelt thanks to God – and yes, there is a God . . . how else could I have finished such a Herculean task in two months?
Deep gratitude to Henry Louis Gates, Geneva Smitherman, J. L. Dillard, and the other men and women dedicated to studying how and why black people "talk that talk." From their work I drew substance; I am indebted to their fine scholarship.
Overall dedication goes respectfully to the memory of Zora, Langston, and Richard: no one can turn a phrase quite like Zora Hurston; Langston Hughes is "simply" inimitable; Dick Wright is my kind of autodidact.
© 1994 NSU Press © 1994-1999 Rodney Lain.
Keywords: #signifying #rodneyolain #rodneylain
Short link: http://goo.gl/BmrEWu
searchword: rodneysthesis