The Color LaserWriter 12/600 PS was a no compromise color laser printer with 600 dot-per-inch output, 110 lb. of weight, and gorgeous output. It uses four separate toner cartridges – black, cyan, yellow, and magenta.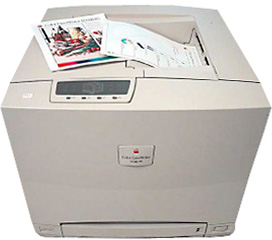 It was replaced by the less costly Color LaserWriter 12/660 PS, which has the same specifications, in October 1996. The Color LaserWriter was a workhorse in Kinko's locations across the US.
The Color LaserWriter 12/600 PS is reputed to be the most expensive printer Apple ever sold.
Details
introduced 1995.06; replaced by Color LaserWriter 12/660 PS 1996.10; discontinued in 1997
CPU: 30 MHz AMD 29030
ROM: 8 MB
RAM: 12 MB, expandable to 40 MB using 60ns 72-pin RAM
resolution: 600 dpi
speed: 12 pages per minute for black-only, 3 pages per minute for color
engine: Canon
interfaces: Ethernet, LocalTalk, Parallel
languages: PostScript Level 2 (possibly PCL 5)
accessory port: none
SCSI drive support: yes
size (H/W/D): 18.0″ x 21.0″ x 23.0″
weight: 110 lb.
power supply: 1100W
Online Resources
Keywords: #laserwriter #colorlaserwriter #colorlaserwriter12600ps #colorlaserwriter12660ps
Short link: https://goo.gl/Gchu6s