The DayStar Genesis MP was the first multiple processor Mac OS computer, introduced in October 1995 in a four processor version. It came in dual- and quad-processor versions based on the PowerPC 604 processor.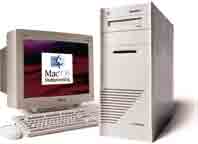 There are three different versions of the MP 528, which uses four 132 MHz 604 CPUs, based on different Apple motherboard designs.
The dual-processor MP 300 has two 150 MHz CPUs and can be upgraded to a quad-processor MP 600 by adding two additional CPU cards.
The Genesis MP was replaced by the Genesis MP+, which used the faster, more efficient 604e processor.
Details
MP 300 introduced 1996.05.01 at US$7,000; discontinued: 1 August 1996
MP 528 introduced 1995.10.30 at US$10,000; discontinued 1 Sept. 1996
MP 600 introduced 1996.02.01 at US$12,000; discontinued 1 Sept. 1996
requires System 7.5.3 through 9.1
CPU: 132 or 150 MHz PPC 604 (2 or 4) on daughter card
Bus: 44-50 MHz
RAM: 16 MB, expandable to 1.5 GB using 12 DIMM slots, accepts 60 ns 168-pin DIMMs (8 slots on early MP 528s limit expansion to 1.0 GB)
Video: accepts PCI video card
L2 cache: 512 KB
Hard drive: 1 GB
CD-ROM: 4x SCSI drive
ADB: 1 port for keyboard and mouse
two miniDIN-8 GeoPorts on back of computer
SCSI: DB-25 connector on back of computer
PCI slots: 6
Height: 21.0 in
Width: 8.5 in
Depth: 22.0 in
Weight: 50 lbs
PRAM battery: 3.6V half-AA
Accelerators & Upgrades
Online Resources
Keywords: #daystardigital #daystargenesis #daystargenesismp
Short link: http://goo.gl/aFxZVv
searchword: daystargenesismp