The Power series was Power Computing's first generation Mac compatible. As faster PowerPC 601 CPUs became available, Power bumped this model from 80 MHz to 100 MHz, and then to 120 MHz.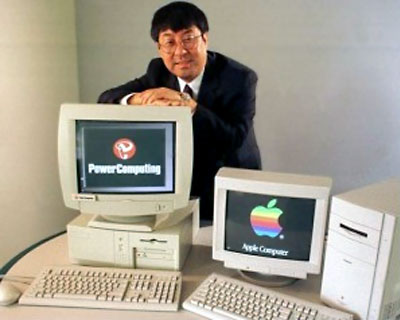 The Power 80, 100, and 120 were among the few authorized Mac clones with NuBus slots.
Variants
Power 80. 80 MHz 601 processor
Power 100. 100 MHz 601 processor
Power 120. 120 MHz 601 processor
Details
introduced: 1995.04.17; Power 100 sold for $1,699 with 8 MB RAM and a 365 GB hard drive; discontinued 1996.01.01
Gestalt ID:
Mac OS
requires System 7.5, 7.5.3 through 9.1 (System 7.5.1 not supported for Power 120; Mac OS 8.0 not compatible with Power 120 without maintenance release, Mac OS 8.1 recommended instead)
Core System
CPU: 80/100/120 MHz PPC 601
L2 cache: 256 KB, upgradable to 512 KB
bus: 33-40 MHz
RAM: 16 MB, expandable to 200 MB using 80ns or faster 72-pin SIMMs in 8 slots
Video
Graphics: RAM-based built-in video, uses up to 2 MB of system memory, supports 512 x 384 to 832 x 624
Drives
hard drive: 540 MB or larger SCSI
CD-ROM: 4x SCSI drive
Expansion
ADB: 1 port for keyboard and mouse
two miniDIN-8 GeoPorts on back of computer
DB-25 SCSI-1 connector on back of computer
internal Fast SCSI bus
ethernet: AAUI connector on back of computer, requires AAUI adapter
NuBus slots: 3
PDS: 1
Physical
power: 200W
size (HxWxD), desktop: 6.0″x16.0″x16.0″
size (HxWxD), tower: 15.0″x7.0″x16.0″
weight: 22.0 lb
PRAM battery: 3.6V half-AA
Online Resources
Troubleshooting
You cannot upgrade from Mac OS 9.0 to 9.1 using updaters on NuBus models. You must use a full installation CD for OS 9.1.
Keywords: #powercomputing #power80 #power100 #power120 #macclone
Short link: http://goo.gl/rGQJdT