The Power Mac 7200 was the entry level second-generation Power Mac, part of the first group of Macs to use the PCI bus instead of older, slower NuBus. Originally produced in 75 MHz and 90 MHz versions (a.k.a. Power Mac 7215/90), the slower model was phased out when the 120 MHz model was introduced in March 1996.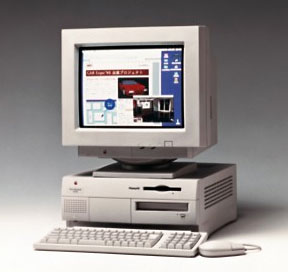 Apple introduced a brand new case design with the 7200 and 7500, one with a slide-off cover, an extra internal drive bay (compared to its predecessor, the Power Mac 7100), and a flip-up drive/power supply assembly, providing easy access to the motherboard.
Performance can be significantly improved by adding a level 2 cache and upgrading VRAM to 2 or 4 MB. Unlike the simultaneously introduced 7500, 8500, and 9500, the 7200 uses a 64-bit memory and cache bus, one reason for its slower performance.
Overall, the 7200 is a pretty good computer, but we call it a Compromised Mac due to poor implementation of the promised upgrade path. It wasn't until late 2000 that Sonnet managed to create an accelerator for this computer.
Details
7200/75 introduced 1995.08.08 at $1,600; discontinued 1996.03.16
7200/90 introduced 1995.08.08 at $2,100; discontinued 1996.05.18
7200/120 introduced 1996.04.22; discontinued
7200/120 PC Compatible with Pentium card
Code name: Catalyst
Gestalt ID: 108
Mac OS
requires System 7.5.2 (with System Enabler 701 v1.1) through 9.1
Core System
CPU: 75/90/120 MHz PPC 601
L2 cache: optional
Bus: 37.5/45/40 MHz respectively (one-half or one-third of CPU speed)
Performance: 28,195 (75 MHz), 33,879 (90 MHz) Whetstones
ROM: 4 MB
RAM: 8 MB, expandable to 512 MB using four 128 MB 70ns 168-pin DIMMs
Video
VRAM: 1 MB, expandable to 4 MB
Graphics: supports resolutions to 1152 x 870 (1280 x 1024 with 2 MB or more VRAM)
Drives
Hard drive: 500 MB, 1.2 GB
Optical drive: 4x or 8x CD-ROM
Expansion
PCI slots: 3
Microphone: standard 3.5mm minijack, compatible with line-level input including Apple's PlainTalk microphone
ADB: 1 port for keyboard and mouse
serial: 2 DIN-8 GeoPorts on back of computer
SCSI: DB-25 connector on back of computer
Ethernet: AAUI and 10Base-T connectors on back of computer
upgrade path: 7300/7500/7600 motherboard + CPU daughter card, possibly to G3
Physical
Power supply: 150W
PRAM battery: 3.6V half-AA
Height: 6.15 in
Width: 14.4 in
Depth: 16.9 in
Weight: 22.0 lb
Accelerators & Upgrades
Online Resources
Cautions
Apple considers this computer vintage as of July 16, 2001 in the United States and July 23, 2001 in Canada. As of that date, service parts will only be available for units purchased in California and being serviced within California.
don't use EDO RAM in the 7200
Keywords: #powermac7200, #powermac7215
Short link: http://goo.gl/uB0sJi
searchwords: powermac7200, powermac7215