Apple introduced a brand new case design with the Power Mac 7200 and 7500, one with a slide-off cover, an extra internal drive bay (compared to the Power Mac 7100 they replaced), and a flip-up drive/power supply assembly, providing easy access to the motherboard.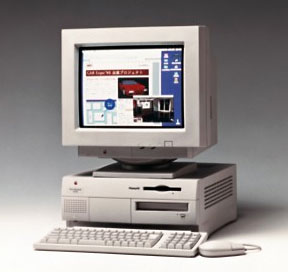 What most differentiated the 7500 from the 7200 was a slot for a CPU daughter card. By pulling the 100 MHz PPC 601, the 7500 can be quickly upgraded to a faster, more efficient PPC 604, 604e, G3, or even G4.
The 7500 also has video in ports on the rear.
Details
7500/100 introduced 1995.08.08 at $2,800; discontinued 1996.05.18
requires System 7.5.2 (with System Enabler 701 v1.2) through 9.1; Mac OS 9.2.x requires a G3 or G4 upgrade
CPU: 100 MHz PPC 601
Bus: 40-50 MHz, controlled by CPU card
Performance: varies by daughter card
43,988 (100 MHz) Whetstones
ROM: 4 MB
RAM: 16 MB, expandable to 512 MB using 70ns 168-pin DIMMs (8 sockets), Apple notes "128 MB DIMMs can be used, but have not been tested" – this would bring total RAM to 1 GB.
VRAM: 2 MB, expandable to 4 MB
Video: supports resolutions to 1280 x 1024
L2 cache: optional, supports 256 KB, 512 KB, 1 MB
SCSI bus: internal fast SCSI (to 10 MBps), external SCSI (to 5 MBps)
CD-ROM: 4x
PCI slots: 3
Microphone: standard 3.5mm minijack, compatible with line-level input including Apple's PlainTalk microphone
ADB: 1 port for keyboard and mouse
serial: 2 DIN-8 GeoPorts on back of computer
SCSI: DB-25 connector on back of computer
Ethernet: AAUI and 10Base-T connectors on back of computer
upgrade path: CPU daughter card, possibly to G3 motherboard
Power supply: 150W
PRAM battery: 3.6V half-AA
Height: 6.15 in
Width: 14.4 in
Depth: 16.9 in
Weight: 22.0 lb
Gestalt ID: 68
Accelerators & Upgrades
Online Resources
Cautions
Apple Computer will consider this computer vintage as of 2001.07.16 in the United States and 2001.07.23 in Canada. As of that date, service parts will only be available for units purchased in California and being serviced within California.
Because of the way the internal SCSI cable is routed in the 7300-7600, it is very easy for it to come loose from the motherboard while opening the case. Should this happen, be sure to plug it back into SCSI bus 0, not SCSI bus 1 (which is for the slower external SCSI port).
G3 upgrade cards unstable?, MacWeek
Keyword: #powermac7500
Short link: http://goo.gl/ybvnkM
searchword: powermac7500