Using the same case as the 9150, the 9500 (a.k.a. 9515) was the first Power Mac tower with a replaceable CPU daughter cards. Unlike the first generations Power Macs, the 9500 had PCI slots and used the PowerPC 604 processor, a significantly improved, second-generation PPC design.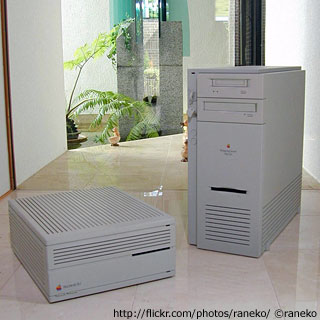 BYTE magazine (October 1995, p. 123) notes that the 132 MHz PowerPC 604 in the 9500 is 87% faster than a 133 MHz Pentium for integer operations and 72% faster for floating point. Not quite the "twice as fast" we'd see with the G3 when it arrived in 1997, but very respectable performance.
The 9500 was the first Mac available with multiple processors using technology licensed from Daystar.
Details
Accelerators & Upgrades
Online Resources
Cautions
Keywords: #powermac9500 #powermac9515
Short link: http://goo.gl/Iukbmj
searchwords: powermac9500, powermac9515