The System 100 was the first authorized Macintosh clone. It was built around a slightly modified Power Mac 8100 motherboard: Radius used a standard Mac DA-15 video port instead of the 8100's 45-pin AV port.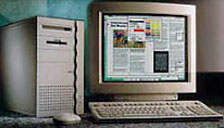 The Radius Mac clones were probably the most heavy of the bunch, clad in thick metal to provide more RFI shielding than Apple's Macs.
Variants
80 MHz, 48 MB RAM, 500 MB and 2 GB hard drives, FWB Hammer SCSI-2 card, Radius Thunder IV GX 1600 video card
110 MHz, 72 MB RAM, 2 GB hard drives, FWB Hammer SCSI-2 card, Radius Thunder IV GX 1600 video card
Details
introduced 1995.03.27; discontinued 1996.01.01
requires System 7.1 to 9.1, excluding 7.5.2
CPU: 80 or 110 MHz PowerPC 601
Bus: 40 or 37 MHz
ROM: 4 MB
RAM: 8 MB on motherboard, expandable to 264 MB using 8 SIMM sockets, supports 4, 8, 16, and 32 MB 72-pin 80ns SIMMs, SIMMs must be installed in matching pairs
Video, onboard: 1 MB VRAM on motherboard
Video port: Mac DA-15
Video, NuBus: Radius Thunder IV GX 1600 accelerated video card supports 640 x 480, 832 x 624, 1024 x 768, 1152 x 870, 1360 x 1024, and 1600 x 1200 at 24-bits
L2 cache: 256 KB, fixed
Hard drive: 500 MB or 2 GB SCSI drive
CD-ROM: 2x or 4x, requires CD-ROM Toolkit or other non-Apple drivers
Internal and external SCSI-2
ADB: 2 ports for keyboard and mouse
two miniDIN-8 GeoPorts on back of computer
DB-25 SCSI connector on back of computer with SCSI-1 support
NuBus slots: 3 (one used for video, one for SCSI-2 card, so only 1 available)
PDS slots: 1
Ethernet: built-in AAUI connector
size (HxWxD): unknown
Weight: unknown
Accelerators & Upgrades
Online Resources
Troubleshooting
You cannot upgrade from Mac OS 9.0 to 9.1 using updaters on NuBus models. You must use a full installation CD for OS 9.1.
To boot from CD-ROM, start the computer while holding down the command, option, shift, and delete keys. This will bypass the internal hard disk drive and boot from the CD-ROM. (Due to a firmware change from Sony, the Sony CD drive in some systems are not bootable. Drives with ROM version 1.1a and 1.1b will not boot from CD Disk.)
If your monitor isn't syncing to video, hold the T key while restarting. Release the key when things sync properly.
Keywords: #radiussystem100
Short link: http://goo.gl/JvaAU4
searchword: radiussystem100