The System 81/110 was Radius' second Macintosh clone. It was built around a slightly modified Power Mac 8100 motherboard.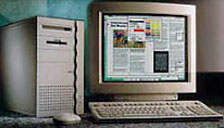 Like the System 100, the 81/110 was built like a tank with thick metal to provide substantial RFI shielding – and significant weight.
Details
introduced 1995.07.24; discontinued 1996.01.01
requires System 7.5.1 to 9.1, excluding 7.5.2
CPU: 110 MHz 601
Bus: 37 MHz
RAM: 8 MB on motherboard, expandable to 264 MB using 8 SIMM sockets, supports 4, 8, 16, and 32 MB 72-pin 80ns SIMMs, SIMMs must be installed in matching pairs
Video: Mac DA-15
VRAM: 1 MB
L2 cache: 256 KB, fixed
Hard drive: 800 MB or 2 GB SCSI drive
CD-ROM: 2x or 4x, requires CD-ROM Toolkit or other non-Apple drivers
Internal and external SCSI-2
ADB: 2 ports for keyboard and mouse
two miniDIN-8 GeoPorts on back of computer
DB-25 SCSI connector on back of computer with SCSI-1 support
NuBus slots: 3 (one used for video, one for SCSI-2 card)
PDS slots: 1
Ethernet: built-in AAUI port
size (HxWxD): unknown
Weight: unknown
Accelerators & Upgrades
Online Resources
Troubleshooting
You cannot upgrade from Mac OS 9.0 to 9.1 using updaters on NuBus models. You must use a full installation CD for OS 9.1.
To boot from CD-ROM, start the computer while holding down the command, option, shift, and delete keys. This will bypass the internal hard disk drive and boot from the CD-ROM.
If your monitor isn't syncing to video, hold the T key while restarting. Release the key when things sync properly.
Keywords: #radiussystem81
Short link: http://goo.gl/Mx8p9o
searchlink: radiussystem81