The 4000-series was Motorola's professional-level Mac clone. Based on the Tanzania motherboard with a Power PC 604e CPU, these provide top performance at a reasonable price. All models include an EDI hard drive, an ATAPI CD-ROM player, and an unprecedented (at least in the Mac OS world) five-year warranty.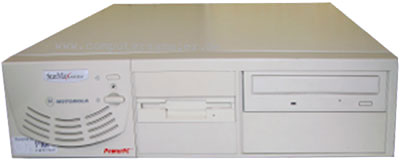 Tanzania-based computers will not boot with a dead PRAM battery. Try replacing the battery before attempting to replace the power supply on a "dead" StarMax.
The most common complaints have been the quality of the case and noisiness. Overall, the StarMax has proven itself very reliable.
Variants
4000/160. 160 MHz 604e processor, desktop (DT) or tower (MT)
4000/200. 200 MHz 604e processor, desktop or tower
Details
introduced 1996.09.17; discontinued 1997.07.01
requires System 7.5.3 through 9.1, excluding 7.5.5
CPU: 160-200 MHz PPC 604e
bus: 40 MHz
RAM: 16 MB or 32 MB standard (varies with configuration, but tower is always 32 MB), expandable to 160 MB using 3-volt 60ns or faster EDO DIMMs (older 5-volt DIMMs are not compatible). Peculiarly, RAM slot 3 addresses only a single bank of memory, unlike dual-bank slots 1 and 2. While you can use any DIMM up to 64 MB in slots 1 and 2, you should only use a single-bank DIMM in slot 3. This limits slot 3 to 32 MB. Except for the earliest towers, every StarMax ships with a single-bank DIMM in RAM slot 3 (some early towers shipped with a double-bank DIMM).
VRAM: 2 MB standard. VRAM replaceable with 4 MB SGRAM card.
Video: 15-pin SVGA port; standard 2 MB VRAM supports millions of colors at up to 800 x 600, thousands of colors at up to 1152 x 870, and 256 colors at up to 1280 x 1024
L2 cache: 512k
hard drive: EIDE, 1.2 MB, 2.5 GB, or 4.3 GB standard (varies with configuration, but tower is always 2.5 GB)
CD-ROM: 8x or 16x ATAPI drive, varies with configuration
ADB: 1 port for keyboard and mouse
PS/2 keyboard port
PS/2 mouse port
two miniDIN-8 GeoPorts on back of computer
SCSI: DB-25 connector on back of computer
PCI slots: 3 on desktop, 5 on tower
Accelerators & Upgrades
Vimage had a G3 upgrade for the 3000 and 4000
Online Resources
Keywords: #motorolastarmax #starmax #macclones
Short link:
searchword: starmax4000