The Performa 6360 replaced the 6320's 120 MHz 603e with a 160 MHz 603e CPU. Fortunately, it also had an improved motherboard design that overcame the most egregious failings of the Road Apple x200 series.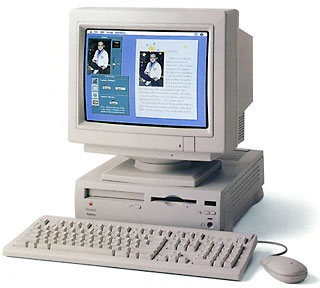 Although it looks like the earlier models in this series, it's a whole different machine under the hood – complete with a single PCI slot – and the first in this family worth owning.
Be aware that there are two different Power Mac 6300 models. The earlier 120 MHz 6300 is part of the flawed x200 series. The 160 MHz 6300 is the vastly improved replacement.
This was the first Performa to use 168-pin DIMMs. It was replaced by the faster, tower style Performa 6400.
Details
Power Mac 6300/160 introduced 1996.10.01; discontinued
Performa 6360 introduced 1996.10.01; discontinued
Gestalt ID: 58
Mac OS
requires System 7.5.1 through 9.1
Core System
CPU: 160 MHz PPC 603e
L2 cache: optional, up to 1 MB
Bus: 40 MHz
Performance: 64,447 Whetstones
ROM: 4 MB
RAM: 16 MB (8 MB on motherboard), expandable to 136 MB using two 8, 16, 32, or 64 MB 70ns or faster 168-pin DIMMs
Video
Video: thousands of colors to 800 x 600, 256 colors to 1024 x 768
VRAM: 1 MB
Drives
Hard drive: 1.2 GB IDE
CD-ROM: 8x
Expansion
Microphone: standard 3.5mm minijack, compatible with line-level input including Apple's PlainTalk microphone
ADB: 1 port for keyboard and mouse
serial: 2 DIN-8 GeoPorts on back of computer
SCSI: DB-25 connector on back of computer
video input slot
video out port
Comm Slot II, occupied by 28.8 kbps modem
one PCI slot
Physical
Size (HxWxD): 4.3″ x 12.6″ x 16.5″
Weight: 17 pounds
Accelerators & Upgrades
third-party video card will improve performance
Vimage Vpower PF G3 240 MHz upgrade card
Online Resources
Cautions
Internal HD Format: Cannot See IDE Drives (Apple Knowledge Base 18360) notes that due to changes in the way modern IDE drives are formatted at the factory, early versions of Apple HD SC Setup (ones that come with System 7.5.1 and earlier) will not recognize them. You should boot System 7.5.2 or later and use Drive Setup 1.0.3 or higher with these drives.
Macs with IDE hard drive do not provide SCSI termination power, depending on external SCSI devices to provide it. For more details, see SCSI Termination Power.
Keywords: #performa6360 #powermac6300160
Short link: http://goo.gl/UnG8EB
searchwords: powermac6300160, performa6360