Essentially a Power Mac 7200 repackaged in Apple's mini-tower case, the 8200 came in 100 and 120 MHz versions. Because the CPU is not on a daughter card, the only upgrade is replacing the motherboard with one from a Power Mac 8500 and adding a daughter card.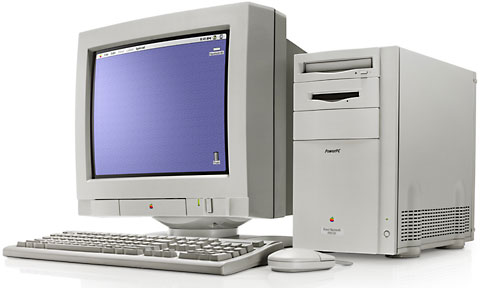 As with the 7200, increasing VRAM to 2 or 4 MB will improve performance, as will adding a level 2 cache.
The 8200 was never available in the US market.
Overall, it was pretty good computer, but we call it a Compromised Mac due to poor implementation of the promised upgrade path. It wasn't until late 2000 that Sonnet managed to create an accelerator for this computer.
Details
8200/100 introduced 1996.04.22; discontinued
8200/120 introduced 1996.04.22; discontinued
requires System 7.5.3 through 9.1
CPU: 100 or 120 MHz PPC 601
Bus: 40 MHz
Performance:
ROM: 4 MB
RAM: 8 MB or 16 MB, expandable to 256 MB using 70ns 168-pin DIMMs (8 sockets), Apple notes "128 MB DIMMs can be used, but have not been tested" – this would bring total RAM to 512 MB.
VRAM: 1 MB, expandable to 4 MB
Video: supports resolutions to 1152 x 870 (to 1280 x 1024 with 2 MB or more VRAM)
L2 cache: optional on 8200/100, 256 KB on 8200/120, supports 256 KB to 1 MB
SCSI: single SCSI-1 (5 MBps) bus
CD-ROM: 4x, possibly 8x on 8200/120
PCI slots: 3
ADB: 1 port for keyboard and mouse
serial: 2 DIN-8 GeoPorts on back of computer
SCSI: DB-25 connector on back of computer
Ethernet: AAUI and 10Base-T connectors on back of computer
upgrade path: CPU daughter card
Power supply: 150W
Height: 14.0 in
Width: 7.7 in
Depth: 15.75 in
Weight: 25.0 lb
PRAM battery: 3.6V half-AA
Gestalt ID: 108
Accelerators & Upgrades
Online Resources
Keyword: #powermac8200
Short link: http://goo.gl/We9m74
searchword: powermac8200