The Power Mac 7300 is pretty much the same computer as the 7600, except that it has a faster CPU and a special cover that makes it harder to dismantle the case (important in settings where users might steal memory, drives, etc.).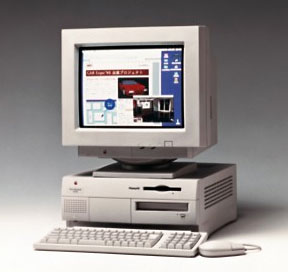 The 7300 seems to be the only time Apple has improved a computer and given it a lower model number. This may be due to removing the video in capability.
The 7300 was part of the last generation of Macs to ship with a SCSI hard drive as a standard feature.
The 7300 was replaced by the much more powerful beige Power Mac G3 in November 1997.
Details
7600/166 introduced 1997.02.13; discontinued 1997.11.15
7600/180 introduced 1997.02.13; discontinued 1997.11.15
7600/180 DOS Compatible introduced 1997.04.04; discontinued 1997.11.15
7600/200 introduced 1997.02.13; discontinued 1997.11.15
requires System 7.5.5 through 9.1; Mac OS 9.2.x requires a G3 or G4 upgrade
CPU: 166-200 MHz PPC 604e
Bus: 40-50 MHz, controlled by CPU card
Performance: 95,290 (200 MHz) Whetstones
ROM: 4 MB
RAM: 32 MB, expandable to 512 MB using 70ns 168-pin DIMMs (8 sockets), Apple notes "128 MB DIMMs can be used, but have not been tested" – this would bring total RAM to 1 GB.
VRAM: 2 MB, expandable to 4 MB
Video: supports resolutions to 1280 x 1024
L2 cache: 256 KB standard, can be expanded to 1 MB
SCSI bus: internal fast SCSI (to 10 MBps), external SCSI (to 5 MBps)
Hard drive: 2 GB
CD-ROM: 12x
PCI slots: 3
Microphone: standard 3.5mm minijack, compatible with line-level input including Apple's PlainTalk microphone
ADB: 1 port for keyboard and mouse
serial: 2 DIN-8 GeoPorts on back of computer
SCSI: DB-25 connector on back of computer
Ethernet: AAUI and 10Base-T connectors on back of computer
upgrade path: CPU daughter card, possibly to G3 motherboard
Power supply: 150W
PRAM battery: 3.6V half-AA
Height: 6.15 in
Width: 14.4 in
Depth: 16.9 in
Weight: 22.0 lb
Gestalt ID: 109
Accelerators & Upgrades
Online Resources
Cautions
Because of the way the internal SCSI cable is routed in the 7300-7600, it is very easy for it to come loose from the motherboard while opening the case. Should this happen, be sure to plug it back into SCSI bus 0, not SCSI bus 1 (which is for the slower external SCSI port).
G3 upgrade cards unstable?, MacWeek
Keyword: #powermac7300
Short link: http://goo.gl/3KMG6D
searchword: powermac7300