Although it uses the same cleverly designed case as the Power Mac 9600, the 8600 was a less costly, less expandable machine. It has 8 DIMM sockets for memory, four less than the 9600, and three PCI slots, down from six in the 9600.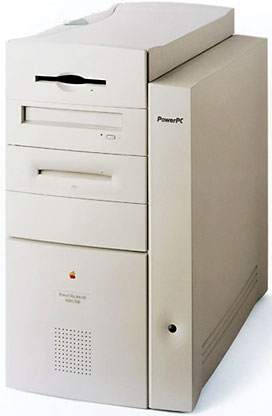 The 250 and 300 MHz versions sometimes had an extra powerful 560W power supply (vs. 390W on the regular 8600) to drive the power hungry 250 and 300 MHz 604e processors. These models also has a 1 MB L2 cache, 64 MB of RAM, and 8 MB of video memory.
The 8600 was part of the last generation of Macs to ship with a SCSI hard drive as a standard feature.
EveryMac has a QuickTime VR movie that shows the easy access and intelligent design of the 8600/9600 case.
Both the 8600 and 9600 were essentially replaced by the beige Power Mac G3 in November 1997.
Details
8600/200 introduced 1997.02.17; discontinued 1997.08.05
8600/250 introduced 1997.08.05; discontinued 1997.12.13
8600/300 introduced 1997.08.05; discontinued 1998.02.17
requires System 7.5.5 (200 MHz) or 7.6.1 (250, 300 MHz) through 9.1; Mac OS 9.2.x requires a G3 or G4 upgrade
CPU: 200-300 MHz PPC 604e
Bus: 40-50 MHz, controlled by CPU card
Performance: 97,087 (200 MHz) Whetstones
ROM: 4 MB
RAM: 32 MB, expandable to 1 GB using 8, 16, 32, 64, or 128 MB 70ns 168-pin DIMMs (8 sockets)
RAM: 32 MB, expandable to 512 MB using 70ns 168-pin DIMMs (8 sockets), Apple notes "128 MB DIMMs can be used, but have not been tested" – this would bring total RAM to 1 GB.
VRAM: 2 MB, expandable to 4 MB
Video: supports resolutions to 1280 x 1024 at 8 bits with 2 MB VRAM, 16 bits with 4 MB.
L2 cache: 256 KB standard on 200 MHz model, 1 MB on 250 and 300 MHz models
SCSI: internal fast SCSI bus (to 10 MBps), external SCSI bus (to 5 Mbps)
Hard drive: 2 or 4 GB
CD-ROM: 12x
PCI slots: 3
Microphone: standard 3.5mm minijack, compatible with line-level input including Apple's PlainTalk microphone
ADB: 1 port for keyboard and mouse
serial: 2 DIN-8 GeoPorts on back of computer
SCSI: DB-25 connector on back of computer
Ethernet: AAUI and 10Base-T connectors on back of computer
upgrade path: CPU daughter card
Power supply: 390W (560W for 250, 300 MHz versions)
Height: 17.3 in
Width: 9.7 in
Depth: 17.3 in
Weight: 35.0 lb
PRAM battery: 3.6V half-AA
Gestalt ID: 69 (200 MHz), 103 (250, 300 MHz)
Accelerators & Upgrades
Online Resources
Cautions
Keyword: #powermac8600
Short link: http://goo.gl/7PVmxO
searchword: powermac8600