The S910 was Umax's most powerful, most expandable computer, differing from the S900 primarily in its use of a socketed 1 MB level 2 cache and in not having 16 MB of RAM on the motherboard.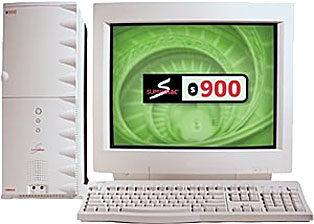 The S910 reversed the order of PCI slots compared to the S900, which helped video pros get around some PCI bridge issues found with the S900. The S910 was available with a single 250 MHz 604e processor or in a dual processor configuration. Note that the second CPU slot only accepts a Umax SuperMac secondary processor card, which must match to primary card.
Because the S910 uses the same CPU daughter card slot as Apple Power Macs of the era, S910 owners have lots of upgrade options.
Details
Accelerators & Upgrades
Online Resources
Troubleshooting
Keywords: #supermacs910
Short link: http://goo.gl/SHTKCw
searchword: supermacs910