1998 – Rumors are that Apple will drop the Bondi bombshell's price to $999 in February, simultaneously introducing a more powerful iMac at the $1,299 price point.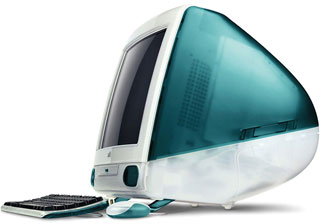 This sounds a lot like what I discussed here in The Revision C iMac (10/31/98) and An iMac Game Plan (11/20/98). And I think it's a great idea.
But I'm concerned about the timing of this rumor. There's a real potential that rumors of a $999 iMac in two months could dim holiday sales at the $1,299 price point.
That wouldn't be good for Apple.
On the other hand, ZD has just proclaimed the iMac as America's top selling computer for August, September, and October. And with $30/month financing, it's likely to hold that spot for November and December.
And there's the very real concern that Apple simply can't make iMacs any faster.
Assuming the iMac is a sellout through the holiday season, the promise of an impending price drop could help placate upset customers. And the opportunity to sell an improved iMac at the $1,299 price point means the sales rep has a real chance of upgrading the sale in February – especially if the new $1,299 model has DVD.
Considering that Time Digital proclaimed the iMac it's Machine of the Year and Newsweek gave it two thumbs up as a holiday purchase, I think Apple will have a problem keeping up with demand over the coming four weeks. Between financing, promotional deals from stores (free RAM upgrades, bundles with printers, etc.), and rumored spiffs for sales reps, the iMacs should be flying off the shelves as fast as they come in from the warehouse.
And although I had some misgivings about the rumor leak on $999 iMacs coming in February, it could well work to Apple's benefit when stores run out of inventory. "Sorry, but we're sold out. Just wait six to eight weeks for the new iMac. It'll be worth your while."
I think that Steve Jobs Reality Distortion field is working overtime.