"No Newton is good news."
"Apple kills the Newton."
"Life after Newton."
These are just a few of the headlines since Apple's Feb. 27 announcement to discontinue the innovative but unprofitable handheld computers.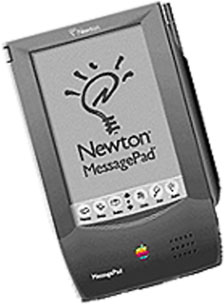 Although it would have been nice if Apple could have sold the Newton division and its technology to someone else, the fact that they couldn't do so speaks for itself. The Newton doesn't have enough inertia to survive against Palm Pilots, Windows CE devices, and other personal information managers.
Good News
The good news is that Apple will continue to address the handheld market, but with the tried-and-true Macintosh OS, not a completely separate Newton OS. To survive, Apple must focus on areas where it is successful, not those where it loses money.
Apple's PowerBooks have been innovative since the first trackball-equipped one shipped. They redefined Windows laptops.
I envision Apple taking a threefold approach to the handheld market.
One in the Hand
First, a replacement for the MessagePad series. Same size, same kind of technology. Let's hope for the same accessories. Apple could port the Mac OS over to the StrongARM CPU, but also release new MessagePads using a PowerPC 603e or 750 CPU in addition to the StrongARM chip to handle handwritten input.
If Apple chooses this direction, also expect a Palm Pilot-sized MessagePad with a SCSI, FireWire, or LocalTalk connector for easy attachment to a Macintosh.
eMate Mark II
Here Apple would take the ruggedly designed eMate, again adding a StrongARM version of the Mac OS. Like the proposed MessagePad, new models would sport a PPC processor but retain the StrongARM chip to manage handwritten input.
The next generation eMate should have built-in 10/100Base-T ethernet, LocalTalk, a serial port, and a modem slot (PC Card?).
PowerPad
My dream is to meld a MessagePad, eMate, and PowerBook into a new portable Macintosh, the PowerPad. Powered by a G3 CPU, it would have a detachable screen with several options.
The screen contains a StrongARM chip and Newton technology, making it a freestanding notepad.
The screen can be flipped face-up over the main CPU, making for a more powerful (and heavier) super-MessagePad.
The screen would have a back cover that could be removed, allowing use on an overhead projector.
Heretofore, such a design would have been viewed as cutting into the Newton market. Now that Apple has redefined this as a Mac OS market, the PowerPad (or whatever Apple should choose to name it) would be a logical extension of the PowerBook line and Newton technology.
The Newton is dead; long live the Mac OS.