1998 – JF writes: I have a Performa 5400/160, a nice machine that I like a lot, but I'm getting the upgrade itch. I see Vimage has released a G3 upgrade via the Level 2 cache slot for my machine – which is great to see!
Unfortunately, I haven't been able to find out much about it (other than Vimage's spec sheet). What sort of performance it will give? Will other upgrade companies offer similar upgrade cards? Vimage mentions that the Vpower PF G3/240 card will also enhance your built-in video capabilities – what do they mean by that?
---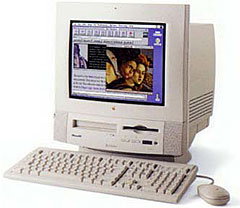 Mac Daniel writes: It's quite simple: You haven't read much about the card because it's just coming onto the market. Look to sites like Accelerate Your Mac, Bare Feats, and Mac Speed Zone for performance-oriented reviews.
As a guess, I'd estimate you'll see about three times the performance with the upgrade. And I suspect that, now that someone has proved it can be done, companies like Sonnet and Newer Tech will look at the size of the market. If it looks promising, expect other accelerators to become available in the future.
MacCPU sells a 225-240 MHz G3 upgrade card for the 5500 and related models. It has a 2:1 512 KB backside cache and sells for US$529. MacBench 4 score is 729.
As for the video enhancement, other than the fact that the G3 works much faster, I don't know what other improvement you might see.
Keywords: #performa5400
Short link: http://goo.gl/CZbeMd