1998: On August 15, Apple Computer will launch a revolutionary new personal computer – the iMac. "It looks like it came from another planet – a good planet, one with great industrial designers!" quips Steven Jobs, Apple's interim CEO.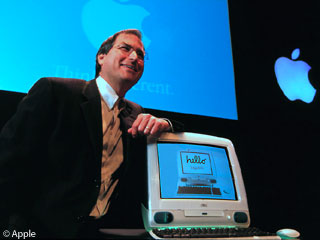 With iMac, Apple returns to its conceptual roots, with a small, all-in-one-box design that visually knocks your socks off. The iMac has the same sort of magic aesthetic appeal that makes the new Volkswagen Beetle fly out of dealers' showrooms at thousands of dollars over list price.
This new consumer Macintosh will sell in Canada for a friendly $1,899.
With a monitor panel and base of translucent white plastic ("Ice"), and the upper half of its case shell translucent blue ("Bondi Blue" – after the famous Australian beach), iMac is sleekly bullet-shaped. Like the original 1984 Macintosh, iMac has a carry handle on top. The keyboard module is transparent with black keys, while the translucent white mouse is round, with two green buttons. It's a visual tour-de-force.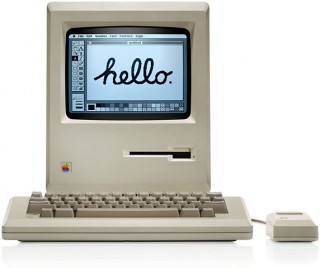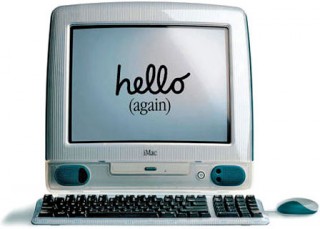 Apple's original Macintosh was cool. An inspired piece of industrial design, the all-in-one-box Mac looked like no other computer. It had personality; the kind of personality that made people want to hug it (and buy it). Like the original VW Beetle, the classic Mac's chicness transcended its functionality. It made its boxy competition from the IBM PC world look like stodgy four-door sedans with cheap hubcaps.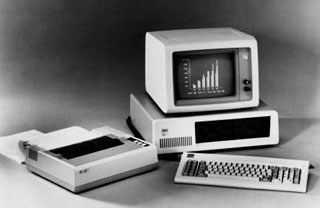 Apple sold "classic" Macs for nine years, in several configurations, but the emphasis gradually shifted to more powerful modular boxes with external colour monitors. There wasn't room in the compact Mac box for lots of expansion slots, CD-ROM drives, and a bigger monitor. Modular Macs were still superb examples of computer engineering, but most didn't look all that different from PCs.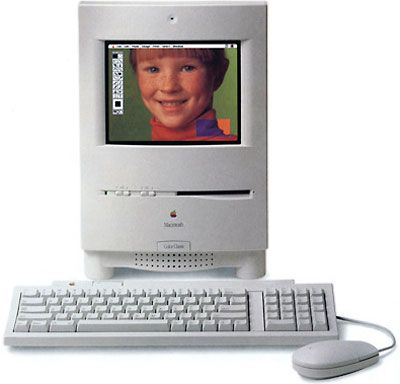 Apple took a stab at updating the compact Mac with 1993's Color Classic, featuring an integral 10″ Sony Trinitron monitor. However, the "just-right" proportions of the classic Mac box had been altered, resulting in a clumsy angular look. Interesting, but not cool.
The ungainliness factor was amplified when Apple scaled the Color Classic up to incorporate a 14″ Trinitron in the big, one-box, LC/Performa 500 series – capable computers that sold well (I bought one), but cool-looking? Nah.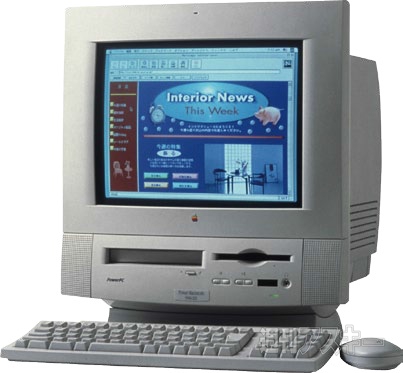 The subsequent LC/Performa 5000 series of one-box Macs with fast PowerPC processors came along in 1995, looking like big 15″ monitors with disk drive slots in the front panel. They were a clean and attractive design, but efficient and somewhat bland, rather than cool.
Apple introduced a new line of powerful, attractive, one-box G3 Power Macs last April for the educational market, but nice as they are – they weigh a humongous 58 pounds!
The iMac, which also features a 15″ monitor, will weigh in at a more svelte 39 pounds.
However, it's no lightweight in either performance or value. Included at the modest base price are a 233 MHz G3 PowerPC 750 processor; 512 KB of backside cache; monitor resolution of 1024 x 768 pixels; 32 MB of RAM; a 4 GB hard drive; a 24x CD-ROM drive; 10/100Base-T Ethernet networking; a 4 Mbps infrared port; a 56K modem; stereo surround sound with built-in mic and speakers; one-button connectivity to the Internet; as well as the ultra-cool new keyboard and mouse. Bundled software includes Mac OS 8.1, FileMaker Pro, Quicken 98 Deluxe, the AppleWorks suite of office applications, and more.
The iMac has more raw processing power than PCs running Pentium II processors running at a clock speed of 400 MHz. Independent Byte magazine tests rate the 233 MHz G3 chip nearly twice as fast as Pentium II chips running at the same clock speed.
iMac is the first desktop Macintosh without a floppy drive or serial ports. With built-in Ethernet, infrared, a 56Kbps modem, and CD-ROM drive, the venerable floppy drive is deemed superfluous. Whether consumers agree remains to be seen. However, if they don't, it's covered. Panasonic and Imation Corp. have announced that their USB-enabled SuperDisk drive will be available about the same time as the iMac debuts in August. The new drive will be fully compatible with existing PC-formatted 120 MB SuperDisks, 1.44 MB disks, and 720 KB disks, as well as 1.4 MB Macintosh-formatted media.* Other third-party USB add-ons announced for iMac include joysticks, gamepads, printers, and cameras.
Over 175 application software titles for Macintosh have been introduced by third-party software developers since iMac was announced on May 6. "The iMac is reigniting software developers' excitement to be on Macintosh," said Steve Jobs, "As Apple reenters the consumer market with iMac, there will be tremendous business opportunities for Macintosh software developers."
In a head-to-head "bake-off" at its product announcement, iMac squared off against a top-of-the-line consumer PC and a US$3,000 400 MHz Pentium II system. The $1,899 iMac mopped the floor with both. The consumer Pentium lagged so badly that Jobs finally asked Apple marketing vice-president Phil Schiller, "You wanna put that thing out of its misery?"
 * Unfortunately none of the USB floppy drives have the variable speed drive mechanisms required to use the older 800 KB Mac formatted 3.5″ disks.
keywords: #originalimac #imac
© 1998 by Charles W. Moore.