1999 – Early last Monday, the teacher across the hall poked her head into my classroom and said, "Last Monday to teach of this millennium," and closed the door before I could begin chuckling. We get two weeks off for Christmas vacation. There are some advantages to being an educator.
Let me hasten to add that I love teaching. It's a good thing, too, because a long time ago, I had to accept the fact that revenue from my shareware titles would hardly feed a gerbil. While I believe my sharewares serve a valuable purpose, they admittedly are for a niche market. They never could be expected to produce much revenue, so I'm not terribly disappointed.
In contrast, one of the reasons my Macintosh is such a superior machine on which to work is the variety of freeware, shareware, and commercial programs that go together to enhance the basic Mac OS. They give added functionality, if not individuality, to my Mac.
I'm going to take you on a mini-tour of my "at home" Macintosh this week, featuring some of these outstanding products that make my computing experience easier, more productive, and sometimes, just a whole lot more fun that it would be without them. In many cases there are competing products that will do the same jobs just as well or better, or more cheaply. This is just what I like and use at the moment.
Software I Use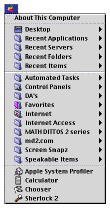 A great place to begin this tour is at the Apple Menu. BeHierarchic is an Apple Menu Options alternative that offers more control over organization of those items. In the past, it has proved to be considerably more stable than Apple's stock offering. The real productivity enhancer of the control panel for me is its ability to dive far deeper in nested folders than the five levels prescribed by Apple Menu Options. BeHierarchic 4.1.1 (400K) was released in the past week. The latest version eliminates some nasty "windowing" bugs that plagued Mac OS 9 users. Author Fabien Octave continues his previous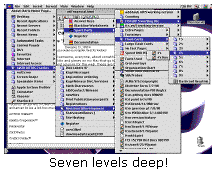 practice of offering free updates to BeHierarchic to previous paid users. The new user registration fee remains at a very reasonable $10. [Publisher's note: Also look into MenuChoice 2.1, which works from System 7 through Mac OS 9.2.2 including in Classic Mode under Mac OS X.]
When BeHierarchic went through a long period without an update that provided deep level penetration, I briefly tried Power On Software's Action Menus (2289K). I found that the product added too many extra menus for my tastes, but I also didn't throw away my license to it.
I do continue to use Power On's Action GoMac, Action Files, and Action WYSIWYG. While I find all of Power On's offerings a bit pricey, I prefer GoMac (1615K) for changing from one application to another. While I usually launch applications by opening documents with BeHierarchic, I do at times use the launch menu at the left of the GoMac bar. Action Files improves on Apple's open and save dialogs and saves me lots of time.
Action WYSIWYG (1865K) gives font menu management. More than any other feature, the ability to group frequently used fonts at the beginning of the menu makes it worth the cost. Since the release of OS 9, I've noticed that Action Files won't open some folders in the save dialog and have experienced some crashes when dragging graphic icons to the launch menu. It's not persistent or consistently repeatable, but needs to be fixed. Power On offers all of the Action Utilities series now in a downloadable bundle or a boxed set for physical shipment.

I obviously use lots of screen shots in the View from the Classroom series. They are all produced with Ambrosia Software's
Snapz Pro 2
(1112K). While I could use the Mac OS to do many of these shots, I still like this shareware's ability to capture menus and the control it gives over them.
Once I get a screen shot, or for that matter, almost any graphic that I plan to use in this column, it usually has been cleaned, cropped, sized, and optimized by Thorsten Lemke's GraphicConverter. If you're new to the Mac platform and do any work with graphics at all, this shareware is an absolute "must have" item. The going-in price of $35 may seem a tad steep, but I paid for mine over four years ago and have received innumerable updates and upgrades without ever paying an additional penny. I think I've gotten my money's worth and then some. Trust me on this one. You need it!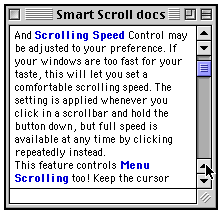 I do a lot of scrolling when I'm writing columns, educational materials, or just surfing the Web. While Mac OS 8.5 and later add the ability to place the scroll arrows at the top and bottom or both at the bottom of the window, Mark Moini's $12 Smart Scroll doubles the scrolling arrows both at the top and bottom of a window in the Finder and in most applications. That saves me a ton of time. Smart Scroll is now OS 9 compatible with the most recent beta release. I'll not give you a download link, as a new beta or final version may appear between my deadline and the time you read this message. Instead, here is a link to Mark's download page that has links to all of his excellent products, including Startup Doubler, which silently speeds my Mac a bit through restarts. Mark is another shareware author who offers free updates to his products for previous paid users.

Fabrizio Oddone's Forward Delete (8K) enables the forward delete key on extended keyboards. It's free. It uses little memory. It plays well with others . . . sorry, I just couldn't resist the school reference. I find it to be a big time saver.
If you're a sharp observer, you've noticed Claris Home Page on the GoMac button bar. I write my columns from beginning to end in this HTML editor. I won't say too much more about it, as it appears Apple and FileMaker are not planning any further development of the product.
While actually a hardware item, I switched to using the Macally two-button programmable mouse several years ago when I added an Orange Micro card to my G3. I find the mouse responsive and comfortable. I like the ability to program it for specific applications. I really don't do anything fancy with it, but I have it programmed to work as a Windows two-button mouse while working in the Orange Micro application (and in Windows 95). I suspect many of the more expensive programmable mice might do as well or better. I've just never had reason to switch after trying the Macally.
I'm not going to make major mention of the products that are just working in the background to make my Mac run the way I like, but will in passing say that Conflict Catcher, MasterJuggler Pro, Startup Doubler, and Tech Tool Pro are there.
Monday Blues Revisited
Getting back to education, sort of, let me update my Monday Blues column a bit. If you didn't catch that one, I recounted how the power supply of my Power Mac 7500/G3 at school failed on a Monday morning. This machine is one of mine, so a replacement unit was my dime. I quickly went to my classic Mac page of links and found several vendors with refurbished power supplies in stock at a variety of prices. I also horsed around trying to buy one cheap on an online auction.
When I finally resigned myself to actually buying one at regular price, I phoned DT&T Macintosh repair last Monday just a few minutes before their closing time. The part was in stock, and they said it would be shipped Tuesday and should arrive on Friday. It didn't. It got here Thursday, even with the Christmas crush of shipping. The part worked as it should, and DT&T didn't mess with an advance core charge for a return. They just charged the price of the part plus shipping and asked that I return the malfunctioning part within 14 days. It's nice to have a good first experience with a vendor who delivers what you order, on time, with no hassles.
Some fourth, fifth, and sixth graders and I took the last hour of instructional time last Friday morning to install the refurbished power supply in the 7500. We then returned the power supply it was temporarily using to the Power Mac 7200 from which we'd "borrowed" it. While the power supplies all have the same part number, I noticed the 7200's power supply to be a lot noisier than either the unit that had failed or the DT&T replacement unit. The 7200's variable speed fan really wound up while it powered the 7500. To look at the units, the only difference appears to be a noise suppressor wrapped around some of the wiring.
Pangea Software released an OS 9 update of their freeware/charityware Nanosaur just in time for one of my kids at school to shake it down thoroughly. The young man had earned enough "credits" in the behavior modification program to "buy" computer time in the purely games folder. He chose Nanosaur first and later migrated to an old favorite, Oregon Trail!
Shareware: Please Pay
This week's column may or may not seem a bit of a departure from my usual fare of shareware and commentary. While there appears to be a shareware fee revolt shaping up in some quarters on the Web, and I've been known to jump into that fray before, I really didn't want to get into any controversy about pricing of products this week. It may be the spirit of the season, but it is more likely that I'm still reacting to a rather disturbing email I received last month from a seasoned shareware author who is trying to decide whether or not to leave the business. Let me pass along some edited portions of his email:
In spite of the fact that the traffic to my web site is gradually increasing, the order rate is actually decreasing . . . At this rate I would expect orders to cease altogether in a year. The only reason I'm carrying on with it is because I promised a few of my customers that I would continue on until the end of the year.

I can't see the reason for it . . . the price is cheaper than most of the competing products, it has some features found in no other program, it comes with a free upgrade service, and there are freeware player programs and a Java applet for registered users. What more can I do?
The shareware in question is not cheap, but it seemed to me to be fairly priced when compared to more expensive commercial software that does the same or less! Sadly, his plight is similar to many other shareware authors. All I can do to help is to remind users to play fair with these folks. They make the stuff that helps make our Macs the individualistic machines they can and should be. If you use their stuff, please pay for it.
Have a great holiday.
Keywords: #shareware
Short link: http://goo.gl/lRGbSv