Even ten years after its introduction, there's something compelling about the Macintosh Portable.
The new Macworld Mac Secrets, 5th edition (Dec. 1998), says the Portable has a current value of $10. I don't believe it.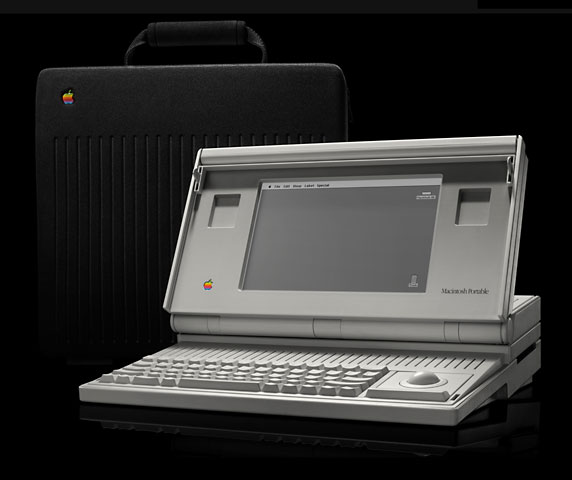 We're looking at a transportable Macintosh with a 5-10 hour battery life, not some tiny PowerBook that gives out in a couple hours.
Unfortunately, the lead-acid battery is also the Portable's Achilles' heel: Once it drains below a certain level, it's just an expensive paperweight.
A little online research discovered that 1-800-Batteries sells the authentic Apple battery for US$65. That's not really out of line compared with the various PowerBook batteries available, but it does seem a lot to invest in a ten-year-old computer.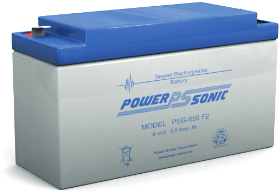 I'd heard of a third-party battery with the same 6 V/5.0 Amp. Hr. rating that comfortably fits inside the battery bay of the Portable. I tracked down the battery [discontinued] at Allied Electronics for under $17. (Because they have a $50 minimum order, I bought three. With shipping, the total was under $60. And now I have spares for a lifetime.)
The Power-Sonic Model PSG-650 is a sealed rechargeable nonspillable lead-acid battery, just like the one Apple used. But the terminals are not the same. It takes just a little work to make the battery work in the Portable.
Step One: Run down to the hardware store and get at least four "female connectors." These will snugly slide onto the terminals and can be crimped to a short piece of wire. At the local Ace hardware store, a pack of six cost me $1.29.
Step Two: You only need two pieces of wire, each about 4″/10 cm long. Crimp a female connector on each end after stripping back the wire.
Step Three: Here's where you slightly modify the Portable. After doing this, you may never be able to use an Apple battery again.
Take the two connector strips in the bottom of the battery bay and flatten their ends with pliers. You'll need to bend them up to do this, but you also need to do that so you can slide a female connector over each, which you'll need to do now.
Step Four: Watch the polarity! This is where you connect the terminals on the battery to the other female connectors on your wires. In this situation, if the label on the battery is on the bottom, the terminals are on the correct sides. (The battery cover is also marked.)
Although the Power-Sonic battery is a bit smaller than the Apple battery, those short runs of wire effectively keep the battery from sliding around once the battery cover is in place.
Just give the battery a full charge, and you're ready for hours of field work.
I brought my Portable to work with the new battery, set it on a counter outside my office, and woke it from sleep mode whenever I walked past. I also showed it off to a lot of people. Then I brought it to church, where I explained this was "the world's biggest GameBoy" ;-)
I had the Portable up and running by 6:30 a.m., showed it off several times ("Is that a new model?"), and played some games. When I brought it home at about 8:30 p.m., the battery indicator in the Control Strip (I'm running System 7.5.5) showed that the battery still retained half its power.
I charged it up overnight, and now it's ready for another day.
And it's still a very nice computer. Sure, you need good lighting, and it's a bit heavy and large, but it's as easy to carry the Portable by itself as it is most PowerBooks in a case. And the battery life in incredible.
But most of all, it's the least expensive way to own a portable Macintosh. Between the computer and three batteries, I have under $80 invested in my Mac Portable.
Keywords: #macportable #macportablebattery
Short link: http://goo.gl/ydIkOk