1999: It feels good to be right.
Last August, I asked, "Is Apple Too Popular for Its Own Good?" – and I suggested that Apple needed to outsource iMac production if it wanted to increase market share.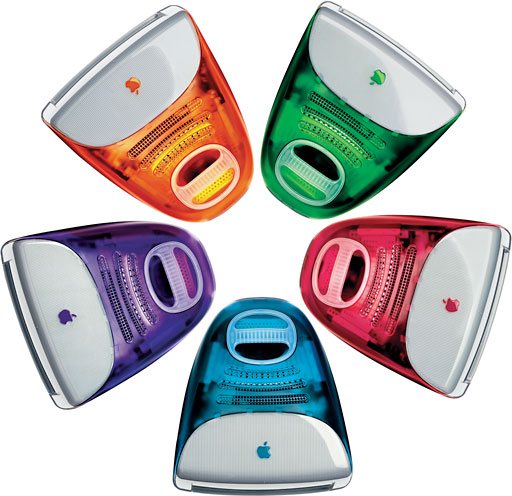 This week, Apple announced that it will no longer produce the iMac. Instead, Apple has contracted with Korea's LG Electronics Co. to manufacture the world's most popular computer at a plant in Wales.
Although this means some layoffs in the short term, mostly of temporary workers, in the long run, it provides Apple the additional manufacturing capabilities it needs to make enough PowerBooks and Power Macs, to say nothing of the forthcoming consumer portable.
Give It Away
On an entirely different front, Apple quietly released System 7.5.3 as a free download from its FTP site. Along with a freely available system updater, this will allow anyone with at least 2 MB of RAM and Mac Plus or later – including the first generation Power Macs – to legally run what many consider to be a very capable, very stable operating system. (See Why I Prefer System 7.5.5?.)
So What?
These seem pretty disparate events, but they tell us a lot about the new Apple.
Granted, System 7.5.3 and 7.5.5 are yesterday's news, but they were only available to those who paid for an upgrade until now. By allowing free use of 7.5.3 and 7.5.5, anyone (read: especially schools) can upgrade to a more feature-laden, more stable, more powerful OS than the System 7.0 or 7.1 that they have often been stuck with.
Call it giving an old dog a bone, but for a lot of low-end users (compact Macs, LCs, Mac IIs, older Performas, older PowerBooks), this means that they can freely and legally run a more internet-friendly version of the Mac OS.
Best of all, it only costs Apple some bandwidth to earn the goodwill of millions of us who use older Macs.
Thank you, Apple!
More Growth Potential for Apple
At the same time, Apple's production facilities have been stretched to capacity by demand for the iMac. By moving iMac production from Apple's own factories, it creates room to build enough other Macs to keep the rest of the Mac market happy.
Considering the demand for and delay in obtaining the build-to-order Blue and White Power Mac G3 and the ongoing popularity of the PowerBook, along with rumors of both a new PowerBook and a consumer portable, Apple needs to dedicate more capacity to these lines.
Outsourcing iMac production makes that possible.
If the Welch plant (and maybe an Asian one, too?) can build 1.5-2.5 million iMacs per year, this leaves Apple free to build a couple million other Macs, whether desktops or portables.
And it's the only way that Apple can increase market share since they have limited production capacity.
Again, thank you, Apple.