1999  – Okay, so you've seen it, you've tried it, you like it. Now you want one.

You want your every own iMac for your home. You see many places advertising it, but you're incredibly overwhelmed with the options. So today I'll help you figure out what's the best deal for you.
First, gather up all of your ads. Some places selling the iMac that you probably have in your area are Best Buy, CompUSA, Club Mac, Mac Warehouse, and MacMall. The last three places mentioned are mail order stores, which means as long as you have a phone and a street address, you can get an iMac.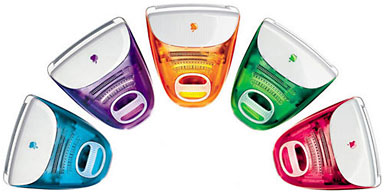 Now we get to probably the hardest part, the color. The new iMac comes in five colors: lime, tangerine, grape, strawberry, and blueberry. The original iMac comes only in Bondi Blue.
You have a very small chance of getting a blueberry or grape iMac before March. All of the stores are back ordered on these computers by at least 200 units. Lime, tangerine, and strawberry are also back ordered, but you'll be able to get your hands on one in 1-2 weeks. This is because these colors aren't quite as popular. Personally, I still feel confident in my choice of lime. And there are still many of the Bondi's in stock, so you'll have a good shot at getting one.
So now that we're done with the color, you need to decide where to buy one. First, decide if you want to get yours from a store or a catalog. In a store, you'll be able to pick up your computer. You won't have to worry about shipping, and you'll actually get to see the person who you order it from.
But there's also some advantage to buying from a catalog. All of the catalogs offer some type of incentive if you buy from them. Some offer free memory (but look to pay $20-30 to have it installed), others also offer free scanners and other peripherals. Also, many of these stores offer discounts that they are not advertising. Club Mac and Mac Mall both offer a $50-60  discount. But this might change – the discount was only $20-30 a few weeks ago. Also, the people in the catalogs tend to be more knowledgeable than the employees at regular computer stores, since those stores don't specialize in only Macs.
But also consider the shipping. Shipping in the U.S. will cost you about $35 via two-day FedEx or UPS. Shipping outside the U.S. will cost a bit more. Also, you need to remember many people order from the catalogs, so they might be back ordered a bit.
But before you order, call. Many places will change what they have advertised, so shop around before you spend $1,200. Also, remember, don't buy a lime iMac just because I bought one; remember we Mac users like to "Think Different" (ha ha). So now you'll be able to get the most Mac for your buck.
Short link: http://goo.gl/9FhX8e