For the past several weeks, we've been buying and installing new Power Mac G3s at work. You know, the Blue and White ones.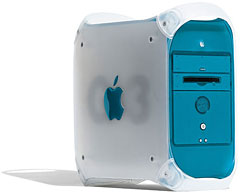 I really didn't think much of them. Sure, they look great and have a lot of power for the money, but I was content with my 200 MHz 604e. When that CPU was replaced with a 250 MHz G3, it was not a significant improvement. A few things were somewhat faster, but it really wasn't anything to get excited about.
Then I got a 300 MHz Blue and White G3 on my desk, replacing a Power Mac 7600 with a 250 MHz Newer Tech G3 card.
Why the 300 MHz G3?
I work as an information systems manager and book designer. That is, when I'm not working on computers, I'm doing book interiors or helping out with the company website (served on an iMac!).
As a designer and IT manager, I knew that our fastest computers were older Macs with 300 MHz G3 cards – and that nobody was complaining about their performance. So rather then spend the long dollar for a 400 MHz G3, we put in for build-to-order 300 MHz systems.
All but one of ours came from Apple with DVD-ROM, Zip, and a SCSI card. We had our dealer boost RAM to 192 MB. These are being used in our design department, where we need to be able to connect existing Jaz drives, scanners, etc. with SCSI ports.
One is a bit different. Our backup computer has DVD-RAM and two SCSI cards, an Apple card for older narrow-SCSI drives and an ultrawide Adaptec card for our fast AIT drive. We use AIT for daily backup, DVD-RAM for archiving big projects.
For a few users, the stock 6 GB hard drive wasn't enough, so we picked up some SCSI cables and dropped in 3-4 GB drives pulled from their older Power Macs (Beige G3s, 7600s, and 8500s).
It Sings!
Mine is a BTO 300 MHz G3 with the stock 6 GB EIDE drive, 192 MB RAM, and the DVD-ROM and Zip drives plus the SCSI card installed by Apple.
I wasn't expecting a lot of improvement. My 7600 had a pretty fast G3 card and an ixMicro Ultimate Rez video card.
But the minute I fired up Netscape Communicator on the new G3, I was floored.
I don't know how much is due to the very responsive hard drive, the 100 MHz memory bus, ROM-in-RAM, or that amazing video card, but everything feels about twice as fast as my old 7600 with its 250 MHz G3 card.
Really.
I don't even want to think about running benchmarks and bring myself down to earth. I'm enjoying the speed to much too do anything to shatter the illusion that this is one incredible computer.
Subjectively, I haven't seen this big a difference between one computer and another since I bought a Centris 610 for home use – it simply blew the socks off the IIci at work, not to mention the accelerated Mac Plus that it replaced at home.
It's the same feeling surfing the web, reading email, designing pages, etc.
I love this new computer.
And it's astounding to think that Apple makes a 400 MHz G3 that benchmarks about 40% faster than the one I'm using – and that 450-500 MHz processors are right around the corner, soon to be followed by the even more incredible G4.
The only drawback to working with the 300 MHz is going home to my formerly adequate SuperMac J700/180. It really was fast enough before the Blue and White G3 landed on my desk, but now I'm lusting after a more colorful Mac.
Further Reading