1999 – DH writes: I have a Performa 550 (20/160/2x, built in 14″) with a failing hard drive. I also need to replace the keyboard, mouse, and printer.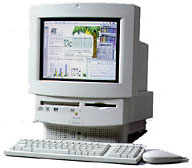 I use America Online 3.0 on a 14.4 connection, kids games (such as Living Books), ClarisWorks, and Nisus Writer. I own, but do not have installed, Dabbler 1.0 (I loved what it can do, but it took up too much of my limited disk space and runs slow).
I know I am going to have to give in eventually and sink some money in a PowerPC, but we have a "fix the computer" budget of about $500.
Right now my plan is a fairly big external drive (2-3 GB), an Epson Stylus printer (I have seen refurbs advertised with two year warranties), a cheap keyboard and mouse, and maybe, if the budget allows, an OS 7.6 CD and a 32 MB SIMM to swap for the 16 MB chip in the unit now.
Accelerators for the LC III/520/550 seem to be rare. Is there any sort of accelerator that makes sense for this machine? I don't see any realistic trade-up options that would fit in the budget we have. Are there any I have overlooked?
---
Mac Daniel writes: The best thing you can do with that $500 could be putting a faster processor in your Performa 550. Dropping in a Performa/LC 575 motherboard with 33 MHz 68LC040 is one option, but the only one I can find on the Net is $399. That seems a bit steep.
Sonnet has announced the Presto Plus, a 33 MHz 68040 with 32 MB of memory (in addition to what you already have) and an ethernet port. While ethernet is nice for business networks, it's also the way most cable modems and DSL modems attach to home computers. And the 68040 has a powerful math section, which makes it much better suited for displaying graphics quickly. (I recommend the full 68040, not the less-expensive 68LC040 version of the Presto Plus, for exactly this reason. To see how the earlier 25 MHz Presto accelerator fairs, read our review of the original Sonnet Presto LC.)
Either way, for about $400 you nearly triple the performance of your 550 – and the Sonnet card increases memory at the same time.
While you're at it, pick up a copy of Mac OS 8.1 for about $30, which will run with either upgrade. The improved Open Transport network makes networking easier and faster. OS 8.1 looks great. And it's no more than you'd pay for Mac OS 7.6.1.
Several dealers are currently selling Apple 1.2 GB internal hard drives for $99 plus shipping. That's a good value (I've already picked up two).
At this point, you've spent about $500, tripled computer speed, upgraded to the latest version of the Mac OS your 550 can support, gained over 1 GB of additional storage, and possibly even added 32 MB to the 20 MB of memory you already have.
Next time you can spare $100 or so, look for a good used keyboard and mouse, along with a nice 28.8, 33.6, or 56k modem. That should get you by until DSL or cable modems become common.
As for the printer, I suggest holding off until you can afford a printer that works with both your current computer and USB, which is standard on the iMac and planned for all future Macs.
Keywords: #performa550
Short link: http://goo.gl/7B7jiQ