1999 – I remember the day I first heard of the iMac. I thought to myself, "Hey, this new computer can't be much cooler." But I was wrong. At Macworld Expo in San Francisco, one of the coolest new computers was announced, the new iMac.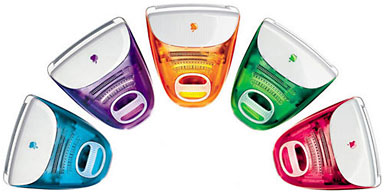 This new, improved iMac has one major iMprovement that I saw iMmediately when I looked at the picture: It wasn't just Bondi Blue anymore. Now it comes in five fruity colors – Blueberry, Tangerine, Strawberry, Lime, and Grape.
But these cosmetic changes weren't all; there was much more.
When you find out the specs of this new machine, you learn that the new iMac is a far cry from its older brother. The new iMac comes with a larger six gigabyte hard drive. This is two more gigabytes than before, which is now plenty of space to store all of your stuff.
The already super fast 233 MHz G3 processor found in the original iMac has been replaced by an even faster 266 MHz processor. This will give you more than enough resources to run the soon-to-be released Mac OS X (pronounced Mac OS Ten).
The software that comes with the iMac offers everything you'll need to start a business – or get an A on a project for school. For reference software, Apple includes the World Book '99 encyclopedia.
If you thought the price of $1,299 was good for the old iMac, you'll be surprised to find out that the new iMac's price has been reduced to a mere $1,199.
But with the good, there's also bad. The new iMac is missing two features the old iMac had. One feature is the IrDA port. This was used to communicate with PowerBooks and other iMacs with no cables. The other was the mezzanine slot, which could be used for expansion cards.
The day the new iMac came out, I asked around my junior high to see what people thought. Although there were many "go away, you Mac-liker," some people gave me opinions. Many people said the new iMac looked pretty cool, and they were even considering getting one.
So, in the end, the new iMac has many improvements, including a new, reduced price. The only real problem is deciding which color to pick!
(The 266 MHz iMac Rev. C can be ordered from the Apple Store, Mac mail order houses, and may already be on display at your local dealer.)
Short link: http://goo.gl/ifdJsG