1999.11: One of the new iMac's best improvements is the new Harman/Kardon Odyssey sound system, which was three years in the making. It's this easily overlooked feature that makes the new iMac really stand out from its hushed relatives, not to mention it's PC competitors.
The new speakers are only 34 millimeters in diameter (about 1-1/3 inches), but they deliver performance that blows away larger systems. One of the best parts of the design is the ability of the speakers to seem more powerful than they are, although they are quite strong in the first place.
This is because of the iMac's internal design. The speakers' housings are attached to the motherboard housing, causing it to resonate. Fabulous midrange sound then flows out from the back vent, where the VGA port is, and out the side-bottom vents, filling the room with sound, almost regardless of the way the computer is positioned.
When you are sitting facing the computer, the speakers really come alive. The stunningly clear sound, combined with the spatializer 3D effect, gives the effect of a live performance. Even the Bugdom background music seems live!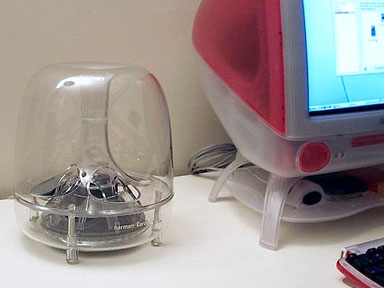 The only weakness of the design is that bass performance is a little limited, although this is only a minor problem. Unless you will be listening to a lot of music on the iMac, as I do, you probably won't need the $99 iSub USB subwoofer, which ships later this month.
What article about the new iMac's sound system would be complete without mentioning the improved built-in microphone, which is no longer screwed up by a fan. It is now clearer and more receptive, which should be a boon to users of OS 9's voice password feature (my iMac is an early unit with "Borg" OS 8.6, so I couldn't test this feature).
Buying a new iMac is an excellent value. You get an easy to use, ultra-cool, and blazingly fast computer – and an audiophile-quality CD sound system – all in one!
keywords: #tangerinefusion #imacaudio #imacsoundsystem