"Collect them all!" exclaimed Steve Jobs as he finished debuting the new iMacs. They now come in five different colours: lime, strawberry, grape, tangerine, and blueberry.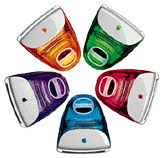 Not only do they come in five new delicious flavours, but they were also upgraded very nicely. They now have a six gigabyte hard drive and a 266 MHz processor. It also has the Revision B upgrades, which include Mac OS 8.5, and an additional 4 MB of VRAM (6 MB instead of 2 MB). Another one of the more subtle upgrades were the fact that you can now restart from the keyboard instead of sticking a paper-clip into a restart hole.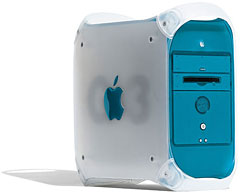 Steve Jobs also showed off the new G3 Macs, code named Yosemite. These Macs take full advantage of the G3's power. They run at 300, 350, and 400 MHz. Not a lot has been said about these wonderful new toys yet, but it appears that they have a Zip drive for removable media. They also have have larger limits for RAM and storage. You can now put up to 100 GB of hard disk storage and you can even stuff 1 GB of RAM into these suckers.
The old Mac ports that we know and love may be gone, but Apple has come up with a couple of great replacements. We know about USB from the iMac line, but the Yosemites also have something that Apple has been hiding for a little while. FireWire, an Apple developed technology, is SCSI on herbal supplements and a great exercise program (steroids doesn't sound very nice). It can sling information around at speeds of up to 200 MB per second.
Of course, the greatest thing about the Yosemites is their style. They have the same colour scheme as the original iMacs. They may be towers, but they still retain a great curvy quality to them. These new machines will surely become a force to be reckoned with.