The PowerBook 1400 was available in several different configurations, including two different displays (dual-scan and active matrix) and three different CPU speeds (117, 133, and 166 MHz). Only the 117 MHz version merits a Road Apple rating – and only because Apple left out the Level 2 (L2) cache.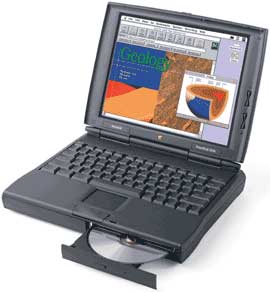 How much the L2 cache helps a computer depends on three factors: how fast the logic board's memory path is, how fast the processor is, and how large the processor's L2 cache is. For Power Macs, a 256 KB L2 cache usually provides 30% more speed, with 512 KB bumping that to about 65%, and a 1 MB cache roughly doubling cacheless performance vs. a cacheless design.
The 117 MHz PowerBook 1400 was already 13% slower than the 133 MHz model based on CPU speed alone. Factor in the L2 cache on the 133 MHz model, and it benchmarks 25-30% faster overall.
On the other hand, using a slower CPU and leaving out the cache did let Apple sell the 1400/117 for less than would have been possible otherwise, so we shouldn't be too hard on it.
In fact, if you install a processor upgrade (such as the Sonnet G3/333 with 512 MB cache), you gain a Level 2 cache and remove the Road Apple stigma from the 1400/117.
Second Class Macs are Apple's somewhat compromised hardware designs. For the most part, they're not really bad – simply designs that didn't meet their full potential. (On our rating scale, the more brown apples, the worse the hardware.)
Details
introduced 1996.10.01; discontinued 1997.07.14
requires System 7.5.3 (with PowerBook 1400 Enabler) or later, but not 7.5.5
CPU: 117 MHz PPC 603e
ROM: 4 MB
RAM: 12 or 16 MB, expandable to 64 MB
Level 2 cache: not on 117 MHz model
VRAM: 1 MB
display: 11.3″ 16-bit 800 x 600 color dual-scan or active matrix
hard drive: 750 MB
CD-ROM: 6x (removable)
ADB: 1 port for keyboard and mouse
serial: 1 DIN-8 RS-422 port on back of computer
SCSI: HDI30 connector on back of computer
PC Card slots: two
size: 11.5 x 9.0 x 2.0″
weight: 6.6-7.0 pounds with battery
Keywords: #powerbook1400 #secondclassmacs
Short link: http://goo.gl/isvsRv
searchword: pb1400secondclass