1999 – It doesn't just look like an iMac from the front, although the blue-and-white coloring is certainly reminiscent of the iMac. So is the compact keyboard. At least the mouse has the more traditional hand-fitting shape.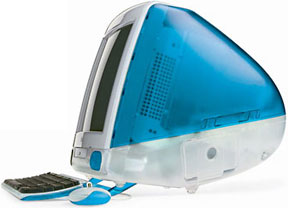 There are many similarities and differences between the iMac and the eOne.
Differences
The eOne runs Windows98, not the Mac OS.
It's only $799 – or $399 after a $400 ISP rebate.
It has a 433 MHz Celeron processor. It sounds faster than the iMac's 333 MHz G3.
128 KB level 2 cache, compared with 512 KB L2 cache on the iMac
It has more standard memory: 64 MB vs. the iMac's 32 MB
No memory expansion (iMac can be expanded to 384 MB)
Internal floppy drive
Parallel, serial, game, and PS/2 mouse and keyboard ports
Two PC Card slots
Similarities
The color scheme.
15″ (14″ viewable) monitor supports resolutions to 1024 x 768.
24x CD-ROM.
Internal v.90 56k fax modem.
ATI Rage Pro video.
USB support.
10Base-T ethernet (although iMac also supports faster 100Base-T speed).
Ports on right side of computer, not the back.
No PCI expansion slots.
Limited Expansion
The iMac survived without PCI expansion slots, so I suppose the eOne can do the same. And, unlike many Wintel computers, it has ethernet as a standard feature.
This is a very encouraging sign. The Wintel world is beginning to see the importance of networking.
But the eOne has a sealed case. You can't replace the hard drive if you need a bigger one, replace the CD-ROM with a DVD drive, or even upgrade memory from the stock 64 MB.
Conclusion
I'd fully intended to ignore the eOne here, as I do most Wintel computers. But the raves in The eOne: At Less Than a Grand, Love Is Grand Indeed (Chicago Tribune) were more than I could handle.
Then that little gem near the end of the article: the sealed case.
Unlike the iMac, you can't open up the eOne to upgrade memory.
And then I visited their site to confirm it. Unlike any Wintel computer I've ever seen specs on before, there was no maximum RAM listing. It has 64 MB. Period.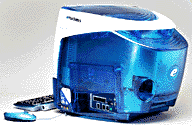 And then I saw the rear view. I looks even more iMac-like from the back than from the front!
In some ways, eOne buyers who think they're getting an iMac get what they deserve: a cheap rip-off. On the other hand, putting your own brand of cola in a bottle shaped like Coke's will land you in court for design infringement.
If the concept of "trade dress" (distinctive appearance) exists in the computer industry, Apple certainly has grounds to sue eMachines over the eOne.
Update: The eOne did not sell well in the few months it was on the market. Apple did sue eMachines later in August 1999. The case was settled in March 2000.
Further Reading
Keywords: #emachineeone #eone