2000 – Any wise words of advice on where I might pick up a new display for a PowerBook 5300c? The display on mine got cracked from the back, and while it still works, there's a half-dollar sized blemish on the right side of the screen.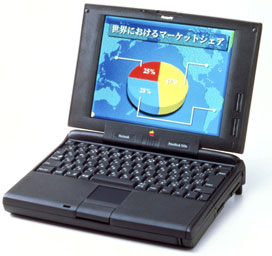 There are going to be several routes you can go here, some cheaper than others. According to everything I've read from the Macintosh Upgrade and Repair Bible and MacResQ, this is an operation best attempted by an expert. If you opt to be a "do it yourselfer," please proceed with much caution, as it would be a pity to shell out a lot of money for a screen only to break it during installation.
MacResQ has a great LCD exchange program, the details of which can be viewed on their website. For $85 plus the cost of the screen (which varies from US$99 to $799 depending on the PowerBook), they'll swap out the bad screen and FedEx your PowerBook back to you. They're running specials on the 5300cs and 5300ce screens right now. I would highly recommend looking into this option.
If you have a lot more guts and a lot more money to throw around, there are two options for "do it yourself" types. Shreve Systems lists a refurbished PowerBook 5300cs screen for $549 with no mention of professional installation. I would highly recommend calling them as well as perusing their website, as there have been times they've had parts not listed on their site.
You may also have some luck looking for a screen on eBay out of a PowerBook that is being sold for parts – or even a screen on its own, although I was unable to find any screens or dead PowerBooks with good screens in my recent searches.
Finally, I would highly recommend the PowerBook e-mail list that Dan Knight runs here on Low End Mac. They have swap days every Monday, so you might be able to pick up a good deal there.
Keywords: #powerbook5300 #screenreplacement
Short link: http://goo.gl/Jcnua4