2000 – We covered quite a range of topics last week. This article follows up on some of them.
The FireWire iBook and PowerPC 750CX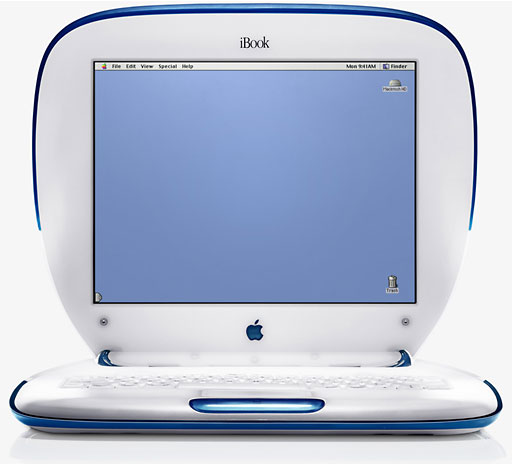 In Hands on the FireWire iBook and The Truth About the New G3, we looked at Apple's latest computer, which is powered by IBM's newest version of the G3, the PowerPC 750CX. We were initially thrown off by terrible CPU scores under MacBench 5 – a benchmark even Macworld magazine has abandoned.
Still, it let us look at processor design, the new iBook, and benchmarks in a different light. We had placed a fair bit of confidence in MacBench 5; we no longer do.
In addition to the CPU and math scores of 28.2 and 1016, respectively, for the FireWire iBook under Speedometer 4.02, Alex Alexzander downloaded Speedometer 4.02 and ran it on his FireWire iBook SE. He obtained a CPU score of 36.7 and a math score of 1300.
All things are relatively equal between the new iBook and iBook SE, except for the CPU. The SE runs at 466 MHz, approximately 27% faster than the base iBook. Yet Speedometer shows a 30% higher CPU score and a 28% higher math score. Very impressive.
In the end, the PowerPC 750CX is everything IBM promised. We suspect it will be at the heart of future iMacs and possibly even non-G4 PowerBooks.
We were disappointed to see New iBooks Slower? Not So Fast on Wired last Tuesday. "Acting on a hot tip, Wired News ran the widely used MacBench test suite on Apple's latest iBook…." While it's nice to have Wired notice our work, it's disappointing that they never acknowledge that Low End Mac broke the story two days earlier.
Something Awful vs. Express.com
Short story: Something Awful runs a moderately popular site and contracted with the Gamefan network for ads. Gamefan, now owned by Express.com, promised $2.50 for each thousand banners displayed. Based on this promise (and a signed contract), Something Awful spent a lot of money hosting their site.
They probably should have read the fine print, as it now seems that the contract worked 100% in Gamefan's favor. As I've heard things, Gamefan/Express.com only has to pay for banner ads that don't promote Gamefan or Express.com.
That doesn't sound fair at all. I response, I not only posted Something Awful & Express.com, but also removed links to Express.com from the sites I operate.
Jonas Gray, vice president of Express.com, wrote me to say, "Please know that we've attempted to explain our business decisions in private communications to each GameFan Network Associate, including Somethingawful.com. This communication included a history of events that led us to take near-immediate actions, including the reduction of paid advertising splits down to what is contractually owed to each GameFan Network Associate."
"Lowtax" of Something Awful is refraining from commenting at present, under the advice of his lawyer.
We sincerely hope all parties involved in this sad situation will find a fair settlement.
AT&T Extortion?
This issue generated a lot of interest, including offers from DSL providers. Our hope is that AT&T will see a strong backlash against the idea, discussed in AT&T Proposes Extortion, of levying a surcharge against online merchants for everyone visiting via AT&T Internet Services – and beyond that, paying a small percentage of the sale to AT&T for "facilitating" the service.
I'm looking into DSL. I've about given up on EarthLink after about three months of waiting for their "six to eight week" offer of free hardware – but there are lots of other fish in the sea.