2000: Being a Low End Mac reader, you've probably also been to the numerous articles on other Mac advocacy sites whose stories are linked to in the Around The Web section of the home page.

A few days ago, I encountered a Mac site of a different sort: ihateapple.com. With sections like Debunked Mac Advocacy Sites, Apple Webpage Parodies, and the omnipresent, dynamic Apple Lie, it's easy to see the focus of the site.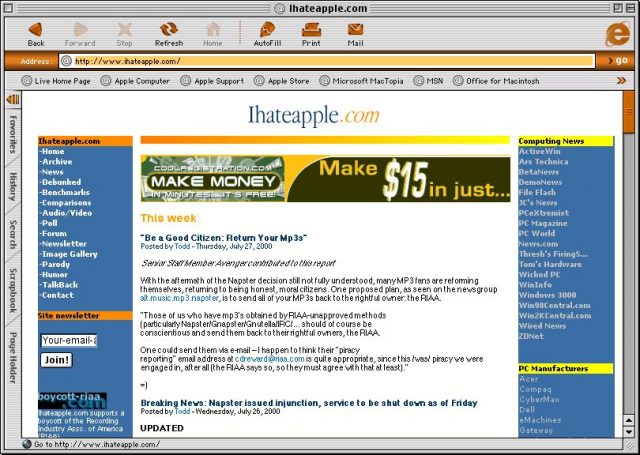 But not so fast – this isn't just a simple "Macs-are-dumb-because-there's-no-software-for-them" site; it's also a great Apple news resource. They have excellent information about G4 speed and availability issues, graphics card compatibility, AMD chip developments, Mac OS developments, and fantastic pro-Napster coverage, to name a few.
Almost all of the news articles do, however, have some form of Apple bashing in them, whether well-deserved or not. In fact, despite their strong uppity attitude, much of the anti-Apple information is wildly inaccurate and/or exaggerated. In the comparisons section, all the Macs are listed as having no bundled software – even though the iMac and iBook come with over a dozen software titles – while all included programs are listed for the PCs. Also, the Debunked section calls the Pentium III "modern" and says the "latest changes happened only a few months ago with the die size being reduced" and "Future Pentium processors will contain copper interconnects…." Now, first of all, reducing the die size has nothing to do with the Pentium architecture; all it does is allow the relatively gargantuan components to be slightly smaller. As for copper processor interconnects being the wave of the PC future, my 9-month-old iMac already has them!
Still, if you're a mild-mannered Mac user, you'll enjoy reading the many – if somewhat restricted in focus – articles, issues, and opinions. In fact, some of the articles exceed the quality and accuracy (if not positiveness) of some Mac sites out there, that it makes you wonder if the site is just an enormous heap of sarcasm concocted by a group of witty Mac evangelists. If you're still undecided, think for a second: When was the last time you saw any site with a "Designed With Microsoft Notepad" banner?
Sarcasm theories aside, ihateapple is a great (if somewhat compromised) source of information on controversial Apple products and technologies. And, if you can take a joke on behalf of your beloved platform, many of the parodies are, in my humble opinion, quite funny. The Power Mac BO sounds like a very promising product!
As for my outlook on ihateapple.com: I'm still holding out for its iReview.
Rating: 3 out of 5.
Pros: Great reporting, often picks up stories before news sites like MacCentral, a good source for Napster news as well.
Cons: Strong negatively written content, focuses limited to controversial products, facts in stories are regularly exaggerated.
URL (you guessed it!): <http://www.ihateapple.com/>