The ATI Radeon PCI is a 7″ PCI video card that works in a standard 33 MHz PCI slot or Apple's accelerated 66 MHz PCI slot. It supports ATI's Video Immersion Technology, so it can be used to view DVDs. Except for its PCI bus, this is essentially the same video card as the ATI Radeon Mac Edition AGP introduced with the Digital Audio Power Mac G4 in January 2001.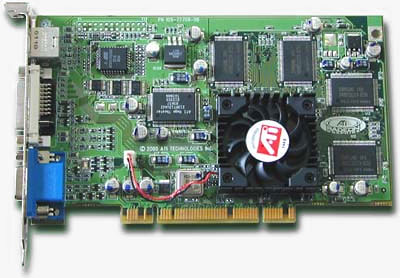 At the time, it was "literally the only high-end PCI gaming card on the market for Mac OS users…." (Inside Mac Games)
The card is compatible with the Performa 6400, Power Mac 6500, and other PCI Power Macs. There is a conflict between its drivers and the ATI RAGE Pro drivers supplied with the Beige Power Mac G3, Blue and White Power Mac G3, Yikes! Power Mac G4, Sawtooth Power Mac G4, Mystic Power Mac G4, and some Digital Audio Power Mac G4s that shipped with RAGE video; the RAGE drivers must be disabled to use the Radeon Mac Edition in this machine.
It will run in the 66 MHz double-speed PCI slot found in the Blue and White G3 and the Yikes! G4. It is also fully compatible with standard 33 MHz PCI slots.
ATI Note: "Radeon Mac Edition PCI version may be incompatible with some legacy system/monitor configurations. On the Power Mac 8600 and 9600, the VGA port is inaccessible. On the Power Mac 7200 and 7500, a nut must be removed from the card before it will fit."
If you are using this video card with the Classic Mac OS, be sure to check ATI Drivers for Mac OS Classic. If you are using Mac OS X 10.3.6 or later, be sure to install the ATI Radeon Updater (Jan. 2005).
Details
Part no.: 100430061
GPU: Radeon R100
GPU speed: 166 MHz
PCI bus speed/width: 33/66 MHz, 32 bits
Video memory: 32 MB
Memory speed: 166 MHz
Memory bus: 256 bits
Resolutions: 640 x 480 to 1920 x 1440
Ports: DVI-I and VGA
Dual monitor support: no
Cooling fan: yes
Minimum OS: Mac OS 8.6 required, 9.0 or later recommended
Online Resources
Benchmarks
Keywords: #Macvideo #MacPCIvideo #PCIvideo #Radeonvideo
Short link: http://goo.gl/MMAvom
searchword: radeonmaceditionpci