"Wicked fast" is the phrase that best summarizes the breakthrough performance of the Power Mac G4 – the first personal computer classified as munitions and under export restriction because of its power. Offering up to twice the performance of the Power Mac G3 and three times the power of a Pentium III at the same clock speed, the G4 was Apple's first serious pro computer after Steve Jobs became iCEO.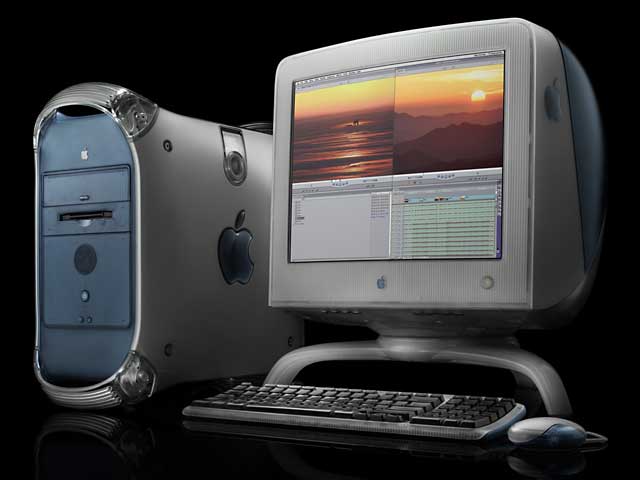 Designed in graphite gray, silver, and clear plastic, it even looks professional. And with 1-4 gigaflops (billion floating point operations per second) performance at 500 MHz, it was a supercomputer by government definition when it was released.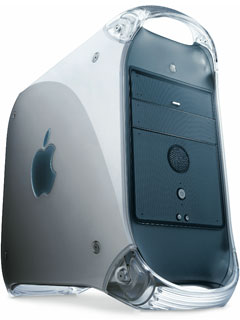 Note that there were two very different versions of the Power Mac G4. Even though both looked the same from the front and sides, they have different motherboards and features. The Yikes! models uses a modified Yosemite (Blue & White) motherboard, while the AGP model covered here is based on the superior Sawtooth motherboard.
The Sawtooth G4 not only has bootable USB, which Yikes! does not, but it also has two separate USB controllers, "to better balance the throughput requirements of the individual USB devices on the bus." (USB Info and Benefits of Dual-Channel USB)
On 1999.10.13, Apple officially postponed the 500 MHz G4 until January due to problems Motorola was having producing a 500 MHz processor in quantity. At the same time, a 400 MHz Sawtooth was introduced at the previous price of the 450 MHz model, and the 450 MHz Sawtooth was configured to replace the postponed 500 MHz machine at the price announced for the 500 MHz model. This may have been the first time in personal computer history that any model saw a downgrade in performance without any reduction in price.
On 1999.12.02, Apple replaced the 350 MHz Yikes! with a Sawtooth model of the same speed. Although selling for the same price as the Yikes! model, the newer 350 MHz model has DVD instead of CD-ROM, AGP video instead of PCI video, and the ability to accept an AirPort card. (See Apple Revs G4/350 for more information.)
The video card on G4 systems made after 1999.12.02 is "up to 40% faster" and includes a DVI interface for digital flat panel displays.
Because this model was created before Apple adopted the ADC port (which provides power to an external monitor), the Sawtooth G4 is unable to support ADC displays. It may also be incompatible with AGP 4x and later cards that include a retention tab. Because of voltage differences between the AGP 2x and 4x specs, newer cards may also be electronically incompatible with the Sawtooth G4.
Although the Sawtooth Power Macs support up to 2 GB of RAM, Mac OS 9 is only able to recognize up to 1.5 GB.
You should have the most recent firmware installed in your Power Mac G4. The newest version for this Power Mac is Power Mac G4 Firmware Update 4.2.8, which is only for Sawtooth, Gigabit Ethernet/Mystic, and Digital Audio Power Macs. To install this firmware update, you must boot into Mac OS 9.1-9.2.2 from a writable partition
The Yikes! G4s (350 and 400 MHz) are covered on a separate page.
Got a G3, G4, or G5 Power Mac? Join G-List.
Got a G4 or want to know more? Join our G4 email list.
Our Mac OS 9 Group is for those using Mac OS 9, either natively or in Classic Mode.
Our Jaguar Group is for those using Mac OS X 10.2.
Our Panther Group is for those using Mac OS X 10.3.
Our Tiger Group is for those using Mac OS X 10.4.
Our Leopard Forum and Leopard Group are for those using Mac OS X 10.5.
Details
introduced 1999.08.31 with 450 MHz model at US$2,499 and 500 MHz, not available until 2000.02.16, at US$3,499; 400 MHz model introduced 1999.10.13 at US$2,499; 350 MHz model introduced 1999.12.01 at US$1,599; replaced  by Mystic on 2000.02.16.
Requires Mac OS 8.6 through OS X 10.4 Tiger, 10.5 Leopard is not officially supported but can run
CPU: 350/400/450/500 MHz PPC G4
Bus: 100 MHz
L2 cache: 1 MB 2:1 backside cache
Performance:

Geekbench 2 (Leopard): 309 (450 MHz)
Geekbench 2 (Tiger): 343 (500 MHz), 291 (450 MHz), 245 (400 MHz), 232 (350 MHz)
Speedmark: 159 (500 MHz), 146 (450 MHz)
MacBench 5 (Beige G3/300 = 1000): CPU/FPU: 1218/1438 (400 MHz), 1321/1609 (450 MHz)
Speedometer 4.02 (Quadra 605 = 1.0): CPU: 23.4, FPU: 850 (350 MHz)
217,984 (450 MHz) Whetstones

RAM: 64/128/256 MB standard on 400/450/500 MHz models, expandable to 2 GB (although Mac OS 9 will only recognize 1.5 GB) using PC100 SDRAM (3.3V, unbuffered, 64-bit, 168-pin, 100 MHz) in 4 DIMM slots
VRAM: 16 MB
Video: ATI Rage 128 Pro in AGP 2x slot (was Rage 128 prior to December 1999); supports resolutions to 1600 x 1200 with 32-bit support, includes VGA and DVI ports.
Hard drive: 10/20/27 GB 7200 rpm Ultra ATA/66 on 400/450/500 MHz models. Maximum IDE drive size is 128 GB without third-party support. See How Big a Hard Drive Can I Put in My iMac, eMac, Power Mac, PowerBook, or iBook? for three options.
DVD-ROM on G4/350, 400, original G4/450; DVD-RAM on newer G4/450, 500
internal Zip drive (optional on G4/350)
3 64-bit PCI slots
optional internal 56k modem
Microphone: standard 3.5mm minijack, compatible with line-level input including Apple's PlainTalk microphone
three 400 Mbps FireWire ports (one internal, not on latest revision of G4/400)
two 12 Mbps USB ports for keyboard, mouse, and peripherals
no ADB port
10/100Base-T ethernet connector on back of computer
antenna and connector for 802.11b AirPort card (same card used in iBook)
size (HxWxD): 17.0″ x 8.9″ x 18.4″
Weight: 30.0 lb.
Gestalt ID: n/a
PRAM battery: 3.6V half-AA
upgrade path: via CPU upgrades
part numbers: M6921, M7232, M7824, M7825, M7827
Accelerators & Upgrades
Online Resources
Cautions
Leopard (Mac OS X 10.5) boot times for Power Mac with the GeForce 6200 fall into the 4-5 minute range, and was initially suggested that you install Leopard with the Mac's original video card to avoid slowing down the process. "gotoh" has posted the fix in The Mac Elite Forum. The delay is due to Leopard not supporting temperature sensors in G4 Macs. Simply remove AppleHWSensor.kext from /System/Library/Extensions, and the delay goes away.
Power Macs earlier than the 2002 Quicksilver models do not have built-in support for IDE hard drives with capacities over 128 GB. Without a third-party solution, larger drives can only be formatted to 128 GB in these models. There are three options:

A PCI IDE card that supports big drives
A FireWire enclosure that supports big drives

Power Mac G4 (AGP): Single channel SCSI cards may interfere with wake from sleep, Apple Knowledge Base, 2002.07.22. Computer may incorrectly assume card supports power down mode and not wake properly from sleep under OS 8.6.
Keywords: #powermacg4 #sawtooth
Short link: http://goo.gl/lELqS4
searchword: sawtoothg4