Steve Jobs unveiled the first iPod at a special event on October 23, 2001. The new device was a hard-drive based MP3 player with a well thought out menu system and room for 1,000 songs. It would to change Apple Computer forever.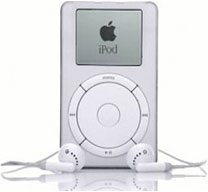 The first iPod had a scroll wheel that actually rotated, a feature that would later be replaced by a touch-based scroll wheel. It had a 5 GB 1.8″ Microdrive, FireWire to connect to your Mac, and a headphone jack. There was absolutely no USB connectivity.
It retailed for US$399 and was a Mac-only device. The high price and Mac-only nature of the iPod limited its market. The iPod wouldn't become a runaway success until 2004.
Unlike competing devices that used MP3 file compression, the iPod with iTunes was designed to use the superior AAC (Advanced Audio Coding) audio format in addition to MP3. AAC generally provides superior sound quality over MP3 at the same bit rate, especially at 96 kbps and lower sampling rates, as well as more efficient encoding, which means smaller files.
Four buttons surrounded the scroll wheel: menu on the top, play/pause on the bottom, previous track on the left, and next track on the right. The button at the center of the scroll wheel is the select button.
On March 20, 2002, Apple added a 10 GB drive, giving the higher capacity iPod enough space to store 2,000 songs. In July 2002, Apple introduced the 2nd generation iPod, which added PC support (for PCs with built-in FireWire ports or add-on FireWire cards). At the same time, Apple replaced the rotating scroll wheel with a touch-based one.
Hardware Overview
Models
Announced: 2001.10.23 at US$399, available 2001.11.10. 10 GB version added 2002.03.20 at $499. 10 GB model discontinued July 2002. 5 GB model discontinued April 2003.
Included accessories: earbuds, AC adapter, FireWire cable, iTune 2 CD. PC version included 4-pin to 6-pin FireWire cable.
Code name: Dulcimer
Model numbers:

M8541, original
M8541, 5 GB Mac, March 2002
M8697, 5 GB Windows, March 2002
M8709, 10 GB, March 2002
Technology
CPUs: 2 ARM 7TDMI-derived CPUs running at 90 MHz
Audio chip: Audio Codecs developed by Wolfson Microelectronics
Display: 2″ 160 x 128 pixel LED-backlit LCD.
Battery: 1,200 mAh lithium polymer
Charge time: 3 hours max.
Play time: 10 hours
Compatibility
Original OS: iPod OS 1.0
Maximum OS: iPod OS 1.5
iTunes Versions: iTunes 2.0 and later.
Mac OS Required: Mac OS 9.2 or later, OS X 10.1 or later.
Windows Versions Supported: none
Dimensions and Weight
Dimensions: 4.02″ x 2.43″ x 0.78″
Weight: 6.5 oz.
Further Reading
Best iPod classic Prices, best online deals on hard drive-based iPods.
The End of an Era: Apple Discontinues the iPod classic, Kevin Hannon, Low End Mac, 2014.09.09
Happy 10th Birthday, iPod, staff, Low End Mac, 2011.10.21
A History of the iPod: 2000 to 2004, Tom Hormby, Low End Mac.
iPod: Yawn or Wow?, Dan Knight, Low End Mac, 2001.10.24
iPod Classic: 1st Generation, Wikipedia
Apple Presents iPod, Apple press release, 2001.10.23
iPod, apple-history.com
Keywords: #originalipod #1gipod #ipod1g
Short link: http://goo.gl/GmWo9k
searchwords: originalipod, 1gipod, ipod1g