2001: Melonsoft's Cabrio is a new and innovative Mac-only MP3 audio player.
Realtor's Nightmare

Cabrio's window uses an incredibly small amount of screen real estate. Collapsed, the player window takes up even less space than Apple's years-old MoviePlayer version 2.5. You can also use one of ten included alternate window themes, called skins. One of these, "Long John Silver," is even smaller. It takes up only as much vertical space as the control strip – with no loss of functionality! You can also create your own skins very easily with a utility called Skinventor or download more skins from their website.

Memory Loss
Perhaps the most easily ignored part of Cabrio is its RAM requirements (or significant lack thereof). With virtual memory on, Cabrio rarely uses more than 1.3 MB of its allocated RAM. No other available MP3 player can come close to this, not even – you guessed it – MoviePlayer 2.5, which uses about 1.6 MB. (Both of these figures go up slightly with virtual memory off on PowerPC Macs.) The download size is also quite slim at 880 KB.
Silky Smooth
Cabrio uses Subband's Millennium MP3 playback engine, which features full skip protection and works well when multitasking with high-horsepower applications. (Some MP3 players with inferior engines will skip when running large programs or cause those programs to slow down significantly.)
The Playlist
Cabrio's playlist function is basic but quite space-saving. When you open an MP3 file, it gets stored in the playlist. The next song you open goes in the playlist below the previous one, and so on. There's no means to rearrange or delete individual songs in the playlist once they're added. There are random and repeat modes, though. You can choose to have the song you open play immediately or simply be stored in the playlist. The big benefit of this simplicity is that the entire playlist is contained in a single popup menu. You don't have to have another window floating around to see the tracks in your playlist.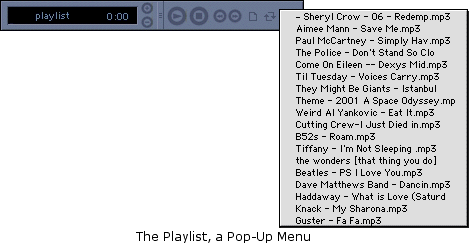 Miss Anything?
What do you miss with Cabrio that you get with other players? A waveform analyzer (for those who don't know, it's the bouncy bar graph thing), a track timeline, and fast forward and rewind controls. Most portable MP3 players don't have them either. Also, since it's a beta-level product, it's not without its bugs. Or not – I could not find a single bug in Cabrio! Also, I've been using it almost continuously since its release, and the program has not crashed a single time.
Cabrio's tiny size puts even legacy programs and Mac OS X Beta's Music Player to shame, and its minimal memory footprint makes it incredibly friendly with lower-end computers. And, beta-level release or not, it's stunningly polished. Cabrio gets my vote as the best everyday MP3 player for the Mac.
Update: Cabrio has long since been discontinued but can be downloaded for the Classic Mac OS and for Mac OS X using the link above.
Rating: 5 of 5
Pros: Needs little RAM, needs little screen space, great playback quality, very stable.
Cons: None significant.
Publisher: Melonsoft
Price: Free
keywords: #mp3player #musicsoftware #freeware