With the second generation (2G) iPod, Apple replaced the rotating scrollwheel with a touch-based one, replaced the 1G 10 GB iPod, and added a 20 GB model capable of storing 4,000 songs. Apple retained the 5 GB 1G iPod as its entry-level model.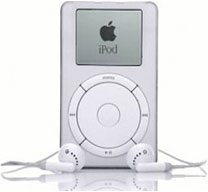 Visually, the 1G and 2G iPods look the same. Only the scrollwheel and a cover for the FireWire port on the 2G distinguish the two models from each other.
Looking at price, the 2G iPod provides twice the storage capacity of the original at the same price. It uses a 10 GB or 20 GB 1.8″ Microdrive, has FireWire to connect to a Mac or Windows PC, and includes a headphone jack. There is no USB connectivity.
Unlike competing devices that used MP3 file compression, the iPod with iTunes was designed to use the superior AAC (Advanced Audio Coding) audio format in addition to MP3. AAC generally provides superior sound quality over MP3 at the same bit rate, especially at 96 kbps and lower sampling rates, as well as more efficient encoding, which means smaller files.
Four buttons surrounded the scroll wheel: menu on the top, play/pause on the bottom, previous track on the left, and next track on the right. The button at the center of the scroll wheel is the select button.
Hardware Overview
Models
Announced: 2002.07.17 at US$399 (10 GB) and $499 (20 GB). Replaced by 3G iPod in April 2003.
Included accessories: earbuds, AC adapter, FireWire cable, iTunes 3 CD. PC version included 4-pin to 6-pin FireWire cable and Musicmatch Jukebox software.
Code name: P97
Model number: A1019
Product numbers:

M8737, 10 GB Mac
M8740, 10 GB PC
M8738, 20 GB Mac
M8741, 20 GB PC
Technology
CPUs: 2 ARM 7TDMI-derived CPUs running at 90 MHz
Audio chip: Audio Codecs developed by Wolfson Microelectronics
Display: 2″ 160 x 128 pixel LED-backlit LCD.
Battery: 1,200 mAh lithium polymer
Charge time: 3 hours max.
Play time: 10 hours
Compatibility
Original OS: iPod OS 1.0
Maximum OS: iPod OS 1.5
iTunes Versions: iTunes 3.0 and later.
Mac OS Required: Mac OS 9.2.2 or later, OS X 10.2 or later.
Windows Versions Supported: Me, 2000, and XP Home or Professional
Dimensions and Weight
Dimensions: 4.02″ x 2.43″ x 0.72″ (10 GB) or 0.78″ (20 GB)
Weight: 6.5 oz. (10 GB) or 7.2 oz. (20 GB)
Further Reading
Keywords: #2gipod #ipod2g
Short link: http://goo.gl/ZkS5uw
searchwords: 2gipod, ipod2g