PowerBook LCD and screen backlight replacements, colorful iBook bag, other cases, and more.
Except as noted, prices are in US dollars.
Laptop Backlight Replacements
Most modern flat panel displays utilize a cold cathode fluorescent tube to provide a light source. These backlights typically have a useful life of up to 15,000 hours, which represents ten years of use at a rate of four hours every day. However, some do fail prematurely and require replacement. Most laptop OEMs do not provide these backlights as a service part. However, Laptop Computer Displays carries an inventory for many popular screens.
In order to determine the correct backlight, they require the following information:
Laptop manufacturer
Laptop model
Screen manufacturer
Screen model number
Backlight length in millimeters (i.e. 245 mm)
Backlight diameter in millimeters (i.e. 3.0 mm)
Backlight length should be the maximum length of the cavity into which the backlight fits.
The majority of backlights that Laptop Computer Displays supplies are used and come with a 90 day replacement warranty.
Also check out their tutorial on do-it-yourself backlight replacements.
All backlights are $55 each.
PowerBook LCD Screen Replacements
So you broke the screen. Or the dog did. Or your kid, or the mailman, or the Taliban.
Wegener Media has PowerBook screen replacements about for 1/2 the price of the manufacturer's replacement part, and two replacement options:
Purchase Only
Wegener Media supplies the LCD; you install it yourself.
Full replacement service
Ship your machine to Wegener Media. They install the LCD and return it to you. It takes 24 hours to install and ship out to you, plus FedEx delivery time. Shipping costs are included for this service if you're within the lower 48 US states.
If you purchase immediately, Wegener will follow up with a detailed instruction sheet for arranging shipment. Please call if you've got questions!
If you are outside the US, Wegener Media has relationships with great shops in Toronto, London, Australia, and several other fine places. They will get you an LCD and help you get it in your PowerBook.
Wegener Media carries all G3 LCDs, as well as all iBook models.
Their motto is: "No bad pixels, no scratches, no problems period!"
New $149 Epson Stylus CX3200 Scanner-Printer-Copier
Epson America has announced the launch of the Stylus CX3200 – an all-in-one product that serves as an all-purpose printer, scanner, and color copier for $149. The Stylus CX3200 incorporates the latest print engine technology from Epson, making it one of the most modern and versatile solutions available to fulfill a variety of desktop applications.
"The Stylus CX3200 is really our high-value performer in the world of multifunction products," said Andreas Goehring, senior product manager, consumer ink jet printers, Epson. "In today's market, customers more than ever are attracted to products that give them the best overall value with the combination of features that meet their specific needs. The Stylus CX3200 offers the best overall balance between performance and price over any sub-$150 multifunction product on the market."
The Stylus CX3200 gives users some of the most recent printing capabilities developed by Epson. The printer takes advantage of a unique and highly advanced imaging technology known as Resolution Performance Management (RPM). This feature gives the Stylus CX3200 the ability to place up to six different ink droplet sizes as small as four picoliters and resolution levels as high as 5,760 x 720 optimized dpi for sharper text, greater detail and brighter colors. The printer's Micro Piezo print head can also produce up to 14 pages per minute (ppm) of black output and up to 10 ppm in color.
The Stylus CX3200 is also the first product of its kind that can produce both border-free prints and copies without the need for a PC. Furthermore, it can print an 8″ x 10″ photo on a variety of media using its photo mode in as little as three minutes, seven seconds and offers USB connectivity for both Windows and Macintosh platforms.
The Stylus CX3200 takes advantage of Epson's quick-drying dye inks that not only give users richly colored images, but also the freedom to handle printed images immediately without smudging. A convenient ink level tracking chip is also included on each cartridge to provide users with current ink quantities and onscreen, easy-to-follow instructions that automatically instruct users how to replace empty cartridges.
In addition to high-quality color printing, the Stylus CX3200 features a stand-alone color copier and a full-function scanner. This built-in 600 x 1,200 dpi, 48-bit color scanner and Epson SmartPanel™ software enables users to quickly digitize photos, text or graphics with extreme detail and color to the Internet, an email software program or to a faxing software program. Furthermore, users can produce high-resolution color copies or produce black text copies as fast as 10 ppm without even turning on their personal computer.
MCE Technologies Offers New AC and Auto Power Adapter Options for Apple Laptop Users
MCE Technologies, LLC announces a new line of power adapters for Apple PowerBooks and iBooks. Two AC adapter and two automobile adapter models built to Apple specifications offer users a variety of power options and features all at a reasonable price.
The AC power adapter with MCE part number AC/G3-X400 and the auto cigarette lighter adapter with MCE part number AUTO/G3-X400 are designed for use with the PowerBook G3 (1997-2000), 3400, 2400, 1400, and clamshell iBook.
The AC power adapter with MCE part number AC/G4-IBOOK2001 and the auto cigarette lighter adapter with MCE part number AUTO/G4-IBOOK2001 are designed for use with the PowerBook G4 and the dual-USB, 12.1″ and 14.1″ iBooks.
All four adapters are compact and rugged for mobile field use. A built-in LED indicates live power. Intelligent electronics manage AC power input from both domestic and international sources. The automotive adapters are fuse protected to keep computers safe while powering or charging the laptop. Also, the auto adapters both power and charge the computer during use. Cable lengths for all power adapters offer a good range from the power outlet to the laptop connector. The $44.95 retail price makes them attractive enough to have one at the office and another on the road.
Arnie Ramirez, president of MCE Technologies, says, "These new power adapters are a response to the overwhelming requests of our mobile customers indicating that they want quality power adapter solutions for the office and the field, and need a reliable supplier that provides a realistic price point. These new MCE power adapters are smaller and lighter than the AC adapter that shipped with some PowerBooks and iBooks, and they're built to last. We're extremely confident that these solutions will meet their needs."
Specifications
AC power adapters:
Weight: 9.4 ounces
Length: 9.25 feet overall (40″ for transformer and laptop cable, 71″ for AC connector)
Dimensions of transformer: 4″(L) x 2.4″(W) x 1.2″(H)
Power input: AC 100-240V, 60/50 Hz 1.5A
Power output: DC 18-30V, 2.0-3.33A
Auto power adapters:
Weight: 7 ounces
Length: 6.3 feet overall (40″ for transformer and the laptop cable, 36″ auto power cable)
Dimensions of transformer: 4.2″(L) x 2.4″(W) x 1.1″(H)
Power input: 12-18V – Power output: 24V, 1.9A
Fuse rating: 250V, 10A
The four new power adapters are priced $44.95 and are in stock and ready to ship. A complete list of products and shopping options are available online.
XPower Mobile Plug 75 Inverter
Provide your laptop or other device the power it needs while you're on the go. Insert the XPower Mobile Plug 75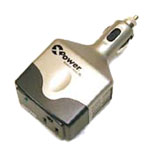 into the lighter socket in your vehicle and plug in any electric equipment that draws up to 75 watts (maximum 5 minutes) or 60 watts or less (continuous) AC power. Ideal for using laptops and other electronic devices in mobile applications.
Features
Converts DC power from car battery into 115 volt AC power
Compatible with vehicle lighter socket
Automatic shutdown circuitry prevents total battery discharge
internal fuse protects your equipment
Accepts 3 prong US style AC plug to power electronic devices including laptops, cell phones, camcorders, and PDA's
Compact and lightweight
Specifications
AC output voltage: 115 +/- 10 volts AC RMS
AC output frequency: 60 +/- 4 Hz
AC output waveform: Modified Sine Wave
Maximum continuous / 5 minutes AC output power: 60 watts / 75 watts
DC input voltage range: 10-15 volts DC
Battery drain with no AC load (at 12V input): <0.15 amps DC
Hardware Protection Features
Low battery voltage shutdown: 10 volts DC and automatic reset
Over-temperature shutdown: Yes, automatic reset
Overload shutdown: Yes, automatic reset
Internal fuse: 10A (user changeable)
One year manufacturer's warranty
Price: $29.95
Willow LapMac Portaprint Bag
The LapMac Portaprint offers a lightweight, compact, highly protective solution for carrying theTitanium PowerBook or iBook, accessories, plus most portable printers. The case offers superb protection for all your gear with separate compartments for all the different components with extra afforded by the front and back zippered pockets.
LapMac Porta-Print features:
Great protection for your display plus all the extras afforded by 1.2 cm (0.5″) foam reinforced by corrugated plastic on the front, back and lid plus 4 mm (1/8″) hardboard on the bottom.
Extra protection afforded by cross directional corrugated plastic internal separation dividers.
Great protection assured by a design which allows all your hardware components to be located in a central superbly padded compartment.
Up to five separate compartments for your TiBook or iBook, portable printer, AC adapter, and accessories.
Disc and CD-ROM pockets on the laptop compartment lid.
An outer front pocket organizer panel for pens, pencils, checkbook etc.
A zippered external front and back pocket which will fit 3.0 cm (1.2″) of legal sized file folders or other gear each.
A zippered flat front paper pocket.
A convenient flat pocket on the back suitable for maps, magazines or newspapers.font>
Luggage feet riveted through the hardboard bottom of the case which actually keep it up and off the ground when you want to set the display down whilst entering and leaving your vehicle.
Secure thickly padded briefcase style handle with web anchors quadruple stitched and additionally reinforced by quadruple rivet through high density polyethylene underneath the fabric top panel.
Contoured, thickly padded shoulder strap with heavy duty snap hooks for secure carrying.
Lifetime guarantee against defects in materials or craftsmanship.
Available Colors: black, charcoal, navy, teal, purple
Price: $200 Cdn./$134 U.S.
Colorful iBookBag
Feel uneasy about hiding your clamshell iBook in a bland black computer bag? It seemed such a shame to havesuch a bold, colorful laptop, and then have it disappear without a trace. West Ridge Designs introduces the "Macintosh inspired computer bag," the iBookBag.
"We agree that it would be fun to show the iBook itself. We also recognize that most of us can't afford to risk having our valuable computer (and data!) stolen. At the same time, we don't feel that for the sake of security and convenience (this bag is a veritable briefcase) we should have to deny the playful sense of color that attracted us to the iBook in the first place."
Not just another pretty face, the iBookBag is built on proven principles with proven materials. Thick foam padding protects your iBook from accidental bumps. The bottom and leading edges are protected by a shock absorbing closed-cell foam. The sides are padded with a firm open cell foam to help the bag feel softer against the body while deflecting and absorbing bumps. The exterior of water resistant nylon pack cloth and DuPont Cordura keeps out the elements and deflects the gaze of would-be iBook snatchers. The smoother nylon pack cloth is placed where it will rub against your body to be gentle on clothing.
Padded pockets hold your power supply and external drive. Two deep, letter size folder pockets one on the back and one inside help keep you organized. Inside the curved front pocket you'll find a convenient pocket for cell phone, checkbook and writing instruments.
The all leather snap-around palm pad keeps the handles together and reduces hand fatigue. Why leather, and not some soft padded material? Leather will form to your hand's individual contours over time, making the bag extremely comfortable. A larger diameter grip would actually fatigue the hand sooner because the fingers would be kept in an open position, relying on the muscles of the forearms, rather than using the locking mechanism of the hand bones, which is less tiring. The adjustable shoulder strap features swivel snap hooks for your tangle-free carrying convenience.
iBookBag sells for $ 20 at The Applelinks Store.
Casauri Odyssey Computer Case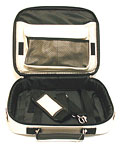 Crafted in stylish quilted PVC and available in four colors, the Casauri Odyssey Computer Case makes abold fashion statement while providing a practical transport for your laptop. This case features quality dual zippers around three sides, a comfortable carrying handle and padded shoulder strap, and several inner and outer pockets for your files, cell phone and other essentials. It´s time for your laptop case to be as cool as your laptop!
There is also a model designed for smaller laptops.
Specifications
Made from quilted PVC
Large, top quality zippers
Stitched nylon inner linings
Exterior pocket with three inner nylon dividers
Two interior pockets, one exposed mesh with Velcro flap
Height: 3 in / 7.62 cm
Length: 15 in / 40.64 cm
Width: 13 in / 33.02 cm
Weight: 2.53 lb / 1.14 kg
Maximum Laptop Size: 14 x 12 x 2.5 in (35.6 x 30.5 x 6.4 cm)
Available colors: black, platinum, red, gunmetal
Price: $89.95
WiebeTech Announces Forensic DriveDock Write Blocked FireWire Bridge
WiebeTech announces Forensic DriveDock, a write blocked FireWire bridge. This new product is perfectly suited for forensic analysis of IDE data storage devices, especially for law enforcement and criminal investigation marketplaces. The product allows data to be read from drives without risk of writing data back to the drives and is expected to become a handy tool of criminal investigation and forensic laboratories.
"Customers were asking for a very small, very portable device which could be used for laboratory and field analysis of hard drives," said James Wiebe, CEO of WiebeTech. "Forensic DriveDock exactly fits the requirements because it carries the rare attribute of being a write blocked FireWire bridge, combined with extremely small size and extremely high performance. As a result, it will be a standard piece of equipment for police departments who are engaged in the forensic analysis of computer equipment."
Forensic DriveDock has the following features and benefits:
Complete OXFW911 FireWire Bridge. The use of the Oxford OXFW911 FireWire bridge provides users with outstanding performance and highest compatibility with PCs and Macs.
Write Operations to the Drive Are Blocked. Forensic DriveDock blocks write operations to the drive. As a result, data may be read from drives without fear of accidentally writing to the drive.
Plug And Play Without Drivers. Forensic DriveDock allows user's storage devices to mount on any of the following operating systems without the use of software drivers: Windows 98SE, ME, 2K, XP, Mac OS 9.1, 9.2, and X. No drivers are included; none are needed. This makes installation easy.
Small Size. Forensic DriveDock is extremely small, with dimensions of only 1.00 x 1.54 x 2.42 inches.
Forensic DriveDock pricing and availability: Forensic DriveDock is priced at $249.95, including AC adapter. The product is shipping from factory stock.
In the U.S., Forensic DriveDock may be purchased from WiebeTech's distributor, Dr Bott LLC or from dealers. End users and dealers may also purchase directly from WiebeTech. Canadian resellers may purchase WiebeTech products from EMJ.
Bargain 'Books
There are two different versions of WallStreet running at 233 MHz, the cacheless MainStreet version and the later Series II with a level 2 cache. It's not always possible to determine from the vendor's listing which is being offered, so we've included links within this paragraph to the two models. The same goes for the PowerBook G4/667 (Gigabit Ethernet/2001) and G4/667 (DVI).
This Week's 'Book Deals
iBook G3/600, 128/20 GB/CD-ROM, 12.1″ screen, factory refurbished, $949
iBook G3/700, 256/30 GB/Combo, 14.1″ screen, factory refurbished, $1,499
PowerBook 3400/200, 144/2 GB/CD, floppy, 33.6, 12.1″, $328
PowerBook 5300ce/117, 32/1 GB/floppy, 10.4″, $144
PowerBook 5300cs/100, 56/3 GB/floppy, 10.3″ dual-scan, $122
PowerBook G4/667, 256/30 GB/DVD, new, $2,449
searchword: bookrev20021101