PCMCIA to CardBus PC Card upgrade, hot rodding the PowerBook 3400, PowerBook Sleep of Death, and more.
Except as noted, prices are in US dollars.
MCE CardBus Upgrades for PCI PowerBooks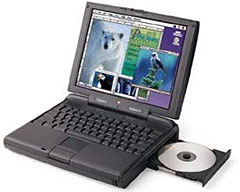 Do you own a PowerBook 2400c/180, a PowerBook 3400c, or an original PowerBook G3  – and would like to use technologies like FireWire and USB? Or any technology for which you need a CardBus PC Card? MCE offers a CardBus Upgrade Service for $99.
If you have a PowerBook 2400c/180, 3400c, or original PowerBook G3, its PC Card slots are 16-bit slots capable of handling only 16-bit PC Cards. Processing of these cards is handled by your PowerBook's CPU.
CardBus PC Card slots are 32-bit PC Card slots capable of handling super fast 32-bit PC Cards. Processing of these cards is handled by a dedicated CardBus microprocessor running at 33 MHz – independent of your PowerBook's CPU. This means that the CardBus cards used in these slots are many times more powerful than the older 16-bit cards, since they have their own dedicated microprocessor and are 32-bit, not 16-bit. The performance hit on your PowerBook is minimized, since your PowerBook's CPU is free to perform other tasks besides processing PC Card commands.
With the MCE CardBus Upgrade Service, MCE enables your system to recognize and utilize 32-bit CardBus PC Cards at full 32-bit/33 MHz strength. You'll have 100% CardBus compliant slots. Once the upgrade is complete, you'll be able to use all of the same 32-bit CardBus PC Cards that previously only PowerBook G3 Series owners could use. These include FireWire, USB, 100Base-T ethernet, Ultra-SCSI, and Ultra-Wide SCSI CardBus cards, as well as the ixMicro Road Rocket video-out CardBus card that allows you to have dual monitors (your LCD screen and a second monitor) and do true monitor spanning on your PowerBook, not simply mirroring.
The CardBus protocol is 100% backwards compatible with your old 16-bit PC Cards. As long as you could use that 16-bit card before under the same system software, then you will be still be able to use it after the CardBus Upgrade procedure is done.
You need to ship or bring your PowerBook to MCE's facility in Irvine, California. If needed, FedEx has free laptop boxes specifically for shipping laptop computers.
The only system requirement for the CardBus Upgrade Service is that your PowerBook must be running MacOS 8.6 or later when you send your PowerBook in.
MCE also offers a "USB Ready" Bundle with a CardBus Upgrade and a Macally USB Card For more information, visit: $149.95.
Datakeeper Laptop Case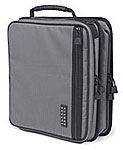 The Datakeeper Laptop Case istwo products in one:
A well padded laptop case combined with a 3-ring binder and organizer. This versatile product allows you to use your laptop without removing it from the case. It's small footprint and non slip surfaces keep your computer safe and secure on your lap or a small desktop.
The top cover of the computer compartment provides organization for all of your removable media. Corded pulls ease the opening and closing of the case.
When the second half is opened, a 3-ring binder and mesh storage pockets are accessible. This versatile case not only provides full time protection for your computer, but saves precious desk space with it's compact design and small footprint. Accepts letter size paper only.
Datakeeper
13.75″ x 11″ x 2″ computer compartment
full padded case, full time protection
CD/ DVD organizer panel
non slip surfaces both below computer, and underside of case
3-ring binder
2 mesh pockets for smaller items (PDA, cell, calculator, keys, etc.)
exterior pocket for paper, manuals or magazine storage
D-rings for optional shoulder strap
Waterproof coating on Ripstop nylon and Cordura fabrics
Ergonomic rubber handle for easy carrying
Datakeeper $59.95
Single shoulder strap $9.95
KlearAdvantage Overlays Protect TiBook Paint
Klear Advantage micro-thin overlays were designed to protect the Titanium finish of your PowerBook from scratches, nicks, marks, scuff, scrapes,and paint discoloration. The palm rest areas takes the brunt of everyday use, and need protection from metal watchbands, human sweat, hand creams and the constant friction produced by typing.
The overlays are easy to apply and remove and will not damage the finish. They have also been specially coated to be water resistant, temperature resistant and abrasion resistant. The overlays are thin and clear so you don't have to worry about anything taking away from the appearance of your PowerBook.
Klear Advantage micro-thin overlays are easy to apply. Just peel off the backing and place the adhesive side onto the palm rest areas of your PowerBook, iBook or any other laptop. Don't worry, the adhesive is very light. There is just enough adhesive to hold the overlays in place, but light enough to be removed without damaging the Titanium finish. You will find a one-year supply, (12) micro-thin overlays. It is recommended that the overlays be replaced with fresh overlays once every two months. This will allow you to maintain a protective barrier between you and your investment.
A year's supply costs US$27.85.
PowerBook 3400 Hotrodding Page
This Web page shows you how to take a PowerBook 3400 and turn it into a portable multimedia superpower – well, sort of.
The author's machine is a 3400c/200, OS 8.6, 144 megs RAM, 20 gig hard drive, floppy expansion, 6x CD expansion, 20x CD expansion, SCSI, ADB, stereo sound in and out (out to 2 powered flat speakers and a subwoofer), serial, SVGA out, infrared, two batteries, and zoomed video in via iRez Capsure card or Kritter.
Additionally, he has mechanically disabled the sleep when shut (so the book can be used as a portable CD player while stashed in its bag), made his own BicLite (see your keyboard in the dark for $2.49) and has an adapter to connect his guitar for recording.
And that's just for starters.
The page has upgrade tutorials with illustrations and links, including instructions for tearing down the 3400.
KeySpan USB Twin Serial Adapter
Keyspan produced the first USB serial adapter for Mac OS in October 1998. Their second generation adapter delivers faster speeds and broader compatibility.
The USB Twin Serial Adapter supports all Apple StyleWriters, Apple Personal LaserWriters (300/LS models only), Epson Stylus Color Printers, HP DeskWriters, and serial HP DeskJets. Expanded compatibility is just one of enhancements included in the new USB Twin Serial Adapter. This new model also delivers faster performance – allowing HP printers, for example, to print 4 times faster than our previous adapter.
The Keyspan USB Twin Serial Adapter
Plugs into any USB port
Provides two RS-422 mini-DIN8 ports
Supports data rates up to 1 Mbps
Draws its power from the USB connection – a power adapter is not required
Emulates the printer port on one port
Five year warranty
System requirements:
At least one available USB port
Mac OS 8.6 or later
Compatible Products include:
Modems and ISDN TAs
Apple StyleWriters
Apple Personal LaserWriters
Epson Stylus Color printers*
HP DeskWriters and serial DeskJets
Wacom Tablets
Palm organizers
Olympus, Epson, Agfa and other cameras
CoStar LabelWriters
Miro, Barco and LaCie color calibrators
Incompatible products include:
Products which require LocalTalk/AppleTalk
Products which require GeoPort
Price: $79
Apple Addresses PowerBook Sleep of Death
Apple has posted a Knowledge Base article with a workaround for when your PowerBook wakes from sleep, but the screen remains dark.
The LCD display is blank or black. Despite the fact that the LCD display is dark, external VGA monitors connected to the computer work, and the computer responds to network requests.
Products affected
PowerBook G3 Series
PowerBook G4
Mac OS X
Solutions
Press the brightness buttons (normally F1 and F2) on the keyboard.
If an external VGA monitor is connected to the computer, open the Displays pane of System Preferences, then reselect the display size to turn on the LCD display.
If 1 and/or 2 fail:
Restart the PowerBook.
Any data not saved prior to restarting the PowerBook will be lost. This method should only be used if solution 1 or 2 do not work.
Mac-on-Linux 0.9.65 Now Supports MacOS X
It is now possible to run Mac OS X within Mac-on-Linux. Both Mac OS 10.1 and 10.2 are supported. The new version also contains support for little endian (remote) X displays. A couple of performance improvements have also gone into this release.
Bargain 'Books
There are two different versions of WallStreet running at 233 MHz, the cacheless MainStreet version and the later Series II with a level 2 cache. It's not always possible to determine from the vendor's listing which is being offered, so we've included links within this paragraph to the two models. The same goes for the PowerBook G4/667 (Gigabit Ethernet/2001) and G4/667 (DVI).
11.3″ active matrix screen, G3 upgradeable, 16 MB RAM, 1 gig hard drive, floppy drive, new carrying case included ($50 value). Great condition, tested, and work fine. 30 day warranty.
iBook 700, 640/10 GB/Combo, iPod, carrying case, AppleCare, AirPort, $2,320
iBook 600, 128/20 GB/CD-ROM, factory refurbished, $1,069
iBook 700 14″, 256/30 GB/Combo, factory refurbished, $1,699
searchword: bookrev20020913