Ethernet MP3 player, PowerBook 1400 cover inserts, a flexible keyboard, and more.
Except as noted, prices are in US dollars.
SliMP3 Ethernet MP3 Player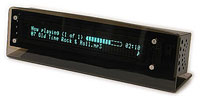 Instead of storing your music on CDs or memory cards, the SliMP3 uses your home network to access music stored on your PC. Imagine having lightning-fast access to any song in your collection from any room of your home with no limit to the size of your music library!
Because the SliMP3 streams your music digitally over your network, there is absolutely no loss in quality. The sound quality is simply remarkable – you'll never go back to listening to MP3s using your computer's sound card.
Competing solutions for home MP3 playback are essentially PCs that have been dedicated to the task of MP3 playback. These are large, expensive units with noisy fans and hard disks – hardly suitable for enjoying music in the bed room or living room. They require you to either duplicate your collection among multiple hard drives (of limited capacity), or purchase expensive, proprietary "satellite" units to make your music accessible in other rooms.
The SliMP3, on the other hand, leverages the storage capacity of the PC you already own, and uses inexpensive Ethernet technology to provide instant access to your music from anywhere in your home or office. You won't believe how easy it is to set up and use, and yet how powerful the interface is. Installing the SliMP3 takes just a few minutes; all you need to do is load our software onto your computer, and plug the player into your network. The SliMP3 automatically configures itself for your network, and is ready to use immediately.
This is truly a product like no other. The SliMP3 was developed completely from scratch, and all of the software is available to the open source community.
Features:
Beautiful 40×2 vacuum fluorescent display – bright and easy to read
Supports easy flash firmware updating over the network
No moving parts (no fan, no hard disk or CD-ROM) – reliable and quiet: all you hear is your music!
Supports all MP3 bit rates and VBR, plus MPEG2
Communicates using IP over Ethernet, open streaming/control protocol
Infrared remote control
Small enough that you can put it anywhere – on a shelf, bedside table, etc.
High quality 16 bit, 44.1 KHz audio output
Display brightness control
Low power – draws less than 4 watts during normal operation with the display turned on, and just a few milliwatts in standby mode.
Large buffer – no clicks or skips because of network problems
SliMP3 Ethernet MP3 Software
Open-source server, written in Perl (GPL)
Optional HTTP interface – control the player and manage your playlists from a web browser!
Internet radio – Shoutcast, Icecast, and Live365
Unlimited capacity – it doesn't matter if your MP3 collection is a megabyte or a terabyte. Your files are not stored on the player, so there's no limit to the amount of music you can access, and you don't need to hassle with copying your files onto the player.
Easy to use hierarchical browser interface
Random mode
Supports .pls and .m3u playlist files
Included Components
SliMP3 Ethernet MP3 Player
Switching power supply, compatible with 110 and 230 volts (US power cord included)
Sony RM-V201 universal remote, batteries included!
6-foot gold plated RCA patch cord
10-foot CAT3 Ethernet patch cord
Specifications: Hardware
Dimensions: 8.5″W x 2.5″H x 2″D
Display: Noritake 40×2 VFD
CPU: Microchip PIC16F877 microcontroller
Ethernet controller: Crystal CS8900A 10 Mbps embedded Ethernet chip
DMA controller: proprietary logic, Xilinx XC95144XL
MP3 decoder: Micronas MAS3507D
DAC: Crystal CS4334, 16-bit 44 Khz
Buffer RAM: 1 MB (8 seconds at 128 Kbps)
ROM: Rewritable flash program memory, EEPROM configuration memory
IR: Standard 40 Khz IR receiver
Power supply: comes with 5V 1600 mA power supply, player uses 700 ma (max)
Warranty
The SliMP3 includes a one year warranty.
Protocols
DHCP, ARP, IP, ICMP, UDP
Support for subnets/gateways (see documentation section on WANs)
Open UDP-based streaming and control protocols
Firmware
Open-source, high-speed, embedded IP protocol stack
Written entirely in assembler, for performance and compactness
General-purpose architecture offloads most of the application to the server side – new features can be added without making changes to the low-level firmware (protocols, device drivers)
Integrated boot-loader program includes its own copy of the IP stack and necessary drivers, so that the entire MP3 player application may be reinstalled over the network.
The iCase12 iBook Case
The IceBookBags are a great offering as far as carrying bags are concerned. However, customer demand inspired a solution à la TiCase that would be more robust in keeping with the iBook and yet preserve the elegant form factor.
The jet black ABS case complements the durable iBook in a very nice way while taking the worries out of rough transit and offering a tidy way to store things.
iCase12 and the 12″ iBook – a perfect match
The interior is specially cutout heat-resistant foam made to measure – it fits the iBook like a custom-tailored suit and protects the valuable content of the entire case.
iCase features the patented LiftoMatic telescopic feet. These lift the iBook into working position right inside the case – with essential ports being directly accessible.
Slide off the lid, press on the far corners of your iBook and presto, your mobile desk is ready!
The LiftoMatic telescopic feet add a slight angle to the iBook that nicely compensates the typical downward slope of your knees in a sitting position, making for a level workspace.
Below the space for the iBook you find cutouts for essential accessories. A spare battery and the power supply have their tailored slots just like the iPod does – Say hello to iPod!
The slot for the power supply accommodates both the old UFO-style power supply and the new power brick in one convenient location.
With the iBook12 being so compact it was possible to also provide space for up to 3 CD jewel cases, too.
The cutouts for accessories are covered by a hard separator (not shown) that protects the iBook from being scratched by accessories with a hard surface.
For those who require even more space there is an iCase12Plus. The sidebag and carrying strap in iCase12Plus can be purchased individually to upgrade an iCase12 or as part of a complete iCase12Plus package.
Price: $299
Apple Offers 'Supercomputer to Go' Deal
Custom configure a PowerBook from the Apple Store by August 30, 2002, and get the Lind Auto/Air DC Power Adapter for free, a $79 value.
Qualifying Products:
Apple PowerBook custom configured computers:
Z04Y PowerBook Configure-to-Order (667 MHz)
Z04Y PowerBook Configure-to-Order (800 MHz)
Power Adapter:
Lind Auto/Air DC Power Adapter for G4 and iBook (T3473LL/A)
Other World Computing Combines FireWire and USB Technologies in New Mercury Elite Storage Solutions
On Thursday, Other World Computing introduced the high performance Mercury Elite FireWire/USB 2.0 Combo Storage Solution that operates at 7200 RPMs.
The Mac OS and Windows-compatible combo drives are available in storage capacities ranging from 40 GB to 120 GB and feature transfer rates of up to 480 Megabits per second (Mbps) with USB 2.0 and up to 400 Mbps with the FireWire connection.
OWC's FireWire/USB Combo drives are designed for professionals and consumers who need convenient, portable storage for large amounts of data. These high-speed, high-capacity drives can be used to backup data, transport and synchronize files between multiple computers, free-up valuable hard disk space on existing computers and are ideal for high-audio/video applications.
The combo drives are also especially convenient when transferring data between computers that may feature only FireWire or only USB platforms.
"The storage market is moving more and more to consolidated solutions, and we have combined the two fastest data transfer technologies into one sleek, high-capacity solution," said Larry O'Connor, president of OWC.
"Whether you need to transfer large files between home and the office, capture live digital audio/video, store high-quality home video, manage large graphic files, etc., the Mercury Combo solutions have you covered with high performance and plug-and-play ease."
Mercury's FireWire external hard drives offer massive hot-swap storage that can be quickly and easily disconnected from the computer, and either locked up for security, or shared from one computer to another. The Mercury Elite drives are compatible with any computer with a FireWire or USB port, using either Mac OS 8.6-9.2.2; Mac OS X; Windows 98 or higher operating systems.
For computers without FireWire or USB ports, OWC offers several combination FireWire/USB PCI adapters for desktops, and CardBus PCMCIA FireWire cards for notebooks.
Each combo drive includes a FireWire cable, USB cable, an external power supply, which reduces noise, Intech's HD SpeedTools software, and a one-year warranty. USB 2.0 is backwards compatible with USB 1.1, as are all of OWC's Mercury combo drives.
Whereas most FireWire cases use the same ATA mechanism, the main difference in the OWC's Mercury hard drives is the FireWire Bridge, which operates as much as 100 percent faster than the majority of the company's competitors.
"Not all systems have USB and not all systems have FireWire, but most systems have one or the other," O'Connor said. "The Mercury Elite and Elite Pro Combo drives make it easy for users to transfer or backup data or use files with either of the transfer technologies. The drives also offer the opportunity for users with a USB-only system to have the FireWire option when they upgrade to a system with FireWire support."
Pricing for the Mercury Elite 7200 Combo model begins at $189.99 for the 40 GB drive up to $299.99 for the 120 GB drive.
PowerBook 1400 Cover Insert Templates
Matt parker has posted the PowerBook 1400 BookCover files that came with his 1400 containing a couple of ClarisWorks documents and an EPS file.
MadsonLine 'Book Accessories Summer Sale
MadsonLine has lowered prices on some of its line of PowerBook and iBook power accessories for summer.
Microadapter for iBook and TiBook
Features MadsonLine's new "L" shaped plug.
Credit card size: 1.75″ x 3.5″ x 0.92″
Weighs 5 oz (w/o AC cord)
Heavy Duty 20 wire gauge dc cord.
Input: 100-240V AC.
30″ (76 cm) AC cord included
Outputs: 24V at 45 Watts continuous.
Extensively tested by Underwriter Laboratories.
UL1950 Third edition, IEC 950 Second Edition with Amendments 1 to 4, Safety EN60950 with amendments 1 to 5 (11) for
Summer sale price Microadapter: $76.00
Auto/Air Adapter
Watch a DVD movie and charge your PowerBook battery at the same time with MadsonLine's 45W "brickless" Auto/Air Adapter.
The built-in "PEPI" switch gives you short circuit, surge and heat protection. If the plug on your dashboard shorts, there is a surge or too much heat is being generated, the switch will open. It will close again when the heat has dissipated or the short is gone.
Power-on green light indicator. The patented cigarette lighter plug features a sliding casing which, when moved forward, expands to provide a firm lock and prevent accidental disconnection.
Features MadsonLine's new "L" shaped plug.
Includes EmPower adapter for aircraft.
Summer sale price: $78
EmPowerAir Adapter
Straight-thru cable for 15V DC EmPower systems. (Overload protection is built into your seat)
Ultra-light, ultra-compact design.
EmPower™ is the number one choice of airlines around the world. Adopted by almost 40 airlines, there are over 86,000 seats on almost 1600 aircraft using this system.
Note: This adapter will allow you to use your PowerBook for extended periods of time however 15V DC will not recharge your battery.
United and most non-US carriers use EmPower systems. Please check with your airline for availability. Some carriers (eg. American Airlines) use a car cigarette lighter socket to provide laptop power. The EmPower Air Adapter is not compatible with these sockets.
Summer sale price: $28
PowrSet 2
Get the MicroAdapter (ACG4) and Auto/Air Adapter (G4AA) together for a special price
Summer sale price: $144
CoolMac Flexible Keyboard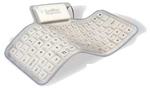 Here's a cool external keyboard very suitable for road warrioring duty.
The CoolMac Keyboard is the world's most flexible keyboard, in more ways than one. This silicone-cast keyboard iscompletely rollable and liquid resistant, making it perfect for travel or harsh conditions. Type quietly without the clicking of regular bulky keyboards.
USB interface.
Available in Ice White or Stealth Black
The CoolMac Flexible Keyboard sells for $59.99.
CompuCable FireXpress 250 External Hard Drive Conversion Kit
The CompuCable FireXpress 250 External Hard Drive Conversion Kit is exactly that; it allows you to take a spare 2.5″ IDE hard drive (perhaps left over from a upgrade of your PowerBook's internal drive) and convert it to a portable external hard drive. The "conversion" time takes about 10 minutes, and the kit comes with a fully illustrated 32-page user manual that clearly details each step of the process. The kit is compatible with any FireWire-equipped Macintosh or PC.
You'll receive a brand new product in the original factory box. The box is well padded and includes the enclosure, a five foot high-quality FireWire cable, user's manual (including drivers necessary for older Mac OS users), a nice padded carrying case for when you take your FireXpress on the road, and a auxiliary power adapter for FireWire ports that don't provide power such as add-on PC Cards.
The enclosure is semi-translucent charcoal color that complements the look of any Macintosh, old or new. It has two rubber slide-on bumpers on each end to cushion the unit during travel. There is a status LED in the front left of the unit that indicates if the drive is operational.
This enclosure uses the super-fast Oxford 911 chip. It's the fastest "bridge chip" out there–the chip that converts, in effect, the FireWire bus to the IDE connector inside the enclosure.
FireWire ABSplus USB 2.0 Automatic Backup Device
CMS Peripherals, Inc. has released a Mac OS X bootable version of its FireWire ABSplus backup device. Simply connect the new ABSplus to your notebook or desktop computer and a backup launches automatically. The drive can also be used as additional storage, with enough high-speed throughput for streaming audio and video files.
The Mac OS X ABSplus sells for $299 for a 20 GB version. Other capacities also available.
There is a risk free money back guarantee for 90 days, free ground shipping, and a free carry pouch when you order an ABSplus.
Bargain 'Books
There are two different versions of WallStreet running at 233 MHz, the cacheless MainStreet version and the later Series II with a level 2 cache. It's not always possible to determine from the vendor's listing which is being offered, so we've included links within this paragraph to the two models. The same goes for the PowerBook G4/667 (Gigabit Ethernet/2001) and G4/667 (DVI/2002).
PowerBook 3400/180, 32/1.3 GB/ethernet/modem/CD-ROM/floppy, $209 – or $269 with one year extended warranty.
These units have plenty of power for word processing, email, surfing the web, etc. Machines are refurbished and include a 30 day guarantee.
PowerBook G4/667, 512/30 GB/Combo/AirPort, includes Small Dog refurbished AirPort Base Station for wireless networking. PowerBook is factory refurbished with a 1 year Apple warranty, $2,549
PowerBook G4/667, 512/30 GB/Combo/AirPort, 16 MB VRAM, refurbished, $2,399
PowerBook G4/800, 512/40 GB/Combo/AirPort, refurbished, $2,999
WallStreet PowerBook G3/233, 96/2 GB/CD-ROM/14.1″ screen, $529
WallStreet PowerBook G3/266, 192/4 GB/CD-ROM/14.1″ screen, $719
PowerBook 5300cs/100, 40/500 MB/floppy, $166
PowerBook 5300cs/100, 64/500 MB/floppy, $239
PowerBook 5300c/100, 16/500 MB/floppy, $309
PowerBook 5300ce/117, 64/1 GB/floppy, $399
searchword: bookrev20020816