Fix for PowerBook audio glitch in OS X, user guide for HomePlug networking, tiny 4-port USB hub, and more.
Except as noted, prices are in US dollars.
KeepSoundAwake 1.3 Addresses an OS X PowerBook Audio Problem
KeepSoundAwake sits in the background and plays a "silent sound" every 20 seconds, thereby preventing the audio hardware from sleeping.
This application is only useful if you have a recent PowerBook and OS X 10.1.2 or higher. It will not hurt otherwise, but there's no point in running it. Due to a design flaw, the OS sleeps the audio hardware if 30 seconds go by without any sounds being made, regardless of whether or not the machine is plugged in. This is annoying, as the audio hardware must be "warmed up" for about 2.5 seconds before the system can beep, and during those 2.5 seconds you have to watch the beachball spin.
On top of this design glitch, there's a bug (Apple bug #2845648), which occasionally prevents the audio hardware from waking up again. This can hang those applications which attempt to play sound (such as iTunes or the menu-bar volume slider).
KeepSoundAwake does seem to prevent the the sound hardware from sleeping, but it does not address whatever is causing the hardware to go narcoleptic. Sometimes sound still cuts out, and you must plug something into the headphone jack in order to wake it up. Perhaps they'll fix it for OS X 10.1.3. If you have audio problems, please report them to Apple.
New in this version: Addresses a memory leak that OS X 10.2 Jaguar users found. Thanks for the bug reports!
Apple has put up a knowledge base article acknowledging the problem that this program addresses. Best of all, it has a complete list of the affected hardware.
System requirements:
Mac OS X 10.1.2 or higher
A Mac model listed in Apple knowledge base article 106766
Folks still running 10.1.x may download an older version from the developer's site.
KeepSoundAwake is freeware.
IOGear 4-port USB 1.1 MicroHub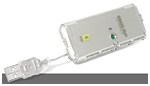 The IOGear 4-port USB MicroHub allows you to expand a single USB port to 4 ports, yet it is small enough to fit into any tight space. This Plug-n-Playunit features a data transfer rate of up to 12 Mbps, and it has LED indicators for both power and upstream connections. One USB A-B cable is included for your convenience.
Features:
Expands single USB port to 4 ports
Small Enough to Fit Into any Tight Space
Supports Data Transfer Rates of Up to 12 Mbps
Easy Installation: Plug-n-Play
Optional Power Adapter for Your High Power Needs
LED Indicators for Both Power and Upstream Connections
Cable tucks away into its own compartment when not in use
Plug-n-Play, hot swappable with data transfer rate up to 12 Mbps
Informative LEDs allow for quick status monitoring
System requirements:
Mac OS 8.6 or greater
Available USB port
Jotto Desk Laptop Car Stand
The Jotto Desk is a completely adjustable "mobile office desk," adjusting quickly to thousands of positions in height, reach, tilt and swivel.
Price: $149.95
Willow Cross Country Traveller Expandable Business Organizer Laptop Briefcase
Willow's big expandable business organizer briefcase is also serviceable as an overnighter. It features superb laptop protection through a centrally protectedcompartment, extensive organizing pockets plus an expandable 13 cm (5″) outer pocket.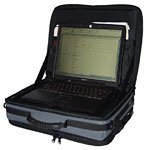 Cross Country Traveller features:
clean, lightweight, and flexible design with a myriad of pockets to stay organized on the road
superb comfort insured by a thick, reinforced padded handle with extra foam padded wrap handle and wide contoured shoulder strap.
additional thickly padded removable wrap handle for extra comfort in briefcase carrying mode
luggage feet riveted through the hardboard bottom of the case which actually keep it up and off the ground when you want to set it down.
double thickness high density briefcase handle polyethylene reinforcement with quadruple rivet reinforcing through wrap handle to insure the safety of your laptop.
excellent protection through the centrally located computer section, thick padding, hardboard bottom, adjustable dividers and elasticized Velcro lockdown system.
convenient disc, CD-ROM, and cable pockets located in the laptop section for easy access plus extra room for manuals or other paperwork on top the laptop and peripherals.
outer front organizer panel with pockets for everything so you can stay organized.
easily accessible, shallow, outer pocket to save you from having to search for airline tickets, keys, change or other often used items
large rear pocket for legal sized file folders with extra internal organizer pockets and flat external pocket especially handy for maps, magazines or newspapers.
expansion component of file folder pocket which can be unzipped to expand to hold an extra nine centimeters (3.5″) of paperwork or overnight items when you need them.
additional protective cinch panel for expansion pocket which allows you to tighten up contents no matter how full it is, or isn't. Also works great for tucking newspapers, umbrellas, etc.
Price: $240 Cdn./$156 U.S.
RoadWired MegaMedia Computer Bag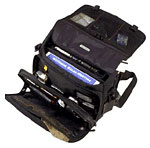 With 36 compartments and pockets and an incredibly efficient layout, this mother of all tech bagslets you carry your computer, digital camera, MP3 Player, Palm, cellphone, discs, cables, adapters, papers, files, pens, and more – in one amazingly streamlined and manageable bag! If you're die-hard RoadWired, this is the one.
Features:
36 pockets and compartments – hold and organize notebook computer, digital camera, MP3 Player or minicassette recorder, Palm/PDA device, cellphone, CDs, floppies, PC cards, cables, adapters, papers, files, pens, business cards, and more!
Intuitive layout provides "themed" subsections – for equipment, media, paper and supplies, etc. Electronic equipment is organized towards the center of the case, for maximum balance and protection
Top-loading access to all contents – a lifesaver at airport security or when working in tight quarters
Main compartment protected by shock-absorbing interlinings and double-padded floorboard. Adjustable padded divider panels allow for exact, "customized" fit.
Removable ticket/passport organizer – can be worn discretely on belt when traveling
Exclusive Hide and Go Home "secret pocket" – hides emergency cash, key, etc.
Contoured, 4-layer shoulder pad – with moisture-wicking mesh and friction strip overlays. Stays put-with incredible comfort-when bag is heavily loaded (and this bag can get seriously loaded)
Comfortable carrying handle – just the right size, just the right rigidity, and just the right cushioning. Little details that make a big difference!
Full-support webbing connects to shoulder strap and hand grip in a continuous loop – supports bag securely and evenly, and from the bottom, rather than the sides – no "bag sag!"
Smooth nylon panel on back of bag – protects your clothing from wear-and-tear
Multiple clip-on points – on both exterior sides for cellphone, accessory pouches, I.D. tags, etc. plus key clip, business card holder, divided see-through organizer pockets, magazine pocket, and more!
Heavy-duty RoadWired luggage tag included
Specifications
Primary materials: 1050 Denier Ballistic Nylon with neoprene accent/protection panel outside. Scratch-free interior lined with smooth nylon pack cloth. All materials water-repellent.
Hardware and trim: Seatbelt-grade webbing, composite quick-release closures, metal no-twist shoulder strap fasteners, self-repairing zippers, rubber bottom treads
Warranty Repair or replacement due to defects in materials or workmanship
Height: 5 in / 12.7 cm
Length: 15 in / 38.1 cm
Width: 12 in / 30.48 cm
Weight: 4 lbs / 1.8 kg
Maximum Laptop Size: 15 x 12 x 3 in/38.1 x 30.5 x 7.6 cm
Price: $169.95
IOGear Explains about HomePlug Technology with New User Guide
IOGear has launched a 10-point guide for users who want more information about HomePlug technology.
HomePlug enables consumers to create a home network using existing electrical wires. It allows users to share Internet access, printers, and other devices, as well as transfer files and play games. By connecting a computer through either an ethernet or USB port and plugging the power end into an outlet, users are immediately networked to other home-plugged devices up to 900 feet away.
The guide is in response to customer demand for a quick overview of the emerging technology. The guide covers basic information such as, "What is HomePlug?" and "What are HomePlug's benefits?" through to more complex questions like "How fast does data transfer over the electrical wires?" and "Are there any security risks associated with data being sent through electrical wires?"
"Home users don't have access to IT departments like corporate users do, so it's difficult to get an overview of an emerging technology without investing a lot of time on research," said Miranda Su, vice president of sales and marketing at IOGear, Inc. "This guide is designed to provide a brief overview of the technology and should answer all of the questions home users wanted to know, but didn't know who to ask.
IOGear's HomePlug guide is freely available from the IOGear website. Those who have specific questions can also call the company's toll free customer service number on 866-9-IOGear.
Bargain 'Books
There are two different versions of WallStreet running at 233 MHz, the cacheless MainStreet version and the later Series II with a level 2 cache. It's not always possible to determine from the vendor's listing which is being offered, so we've included links within this paragraph to the two models. The same goes for the PowerBook G4/667 (Gigabit Ethernet/2001) and G4/667 (DVI).
PowerBook WallStreet G3/233, 12.1″, 64/2 GB, new CD-ROM, battery, and power adapter, $395
PowerBook WallStreet G3/233, 13.1″ , 64/2 GB, new CD-ROM, battery, and power adapter, $465
PowerBook WallStreet G3/233, 14.1″, 64/2 GB, new CD-ROM, battery, and power adapter, $ 519
PowerBook WallStreet G3/233, 14.1″, 6 GB, new CD-ROM, battery, and power adapter, $ 619
Hard drive upgrade options at purchase
Add a 4 GB drive, installed for free. Valid only with purchase of laptop in this list, $43
Add a 6 GB drive, installed for free. Valid only with purchase of laptop in this list, $58
Add a 30 GB drive, installed for free. Valid only with purchase of laptop in this list. Save $60 over separate purchase. $105
Weekend Special (10/2-10/6 only) – buy a WallStreet, and have a 25 GB 5400 RPM drive installed for $90. You must order a WallStreet at the same time to qualify for this.
Add an internal Zip drive module with your WallStreet. Valid only with purchase of WallStreet, $49
Add a new floppy drive module with your WallStreet. Valid only with purchase of WallStreet, $29
Add a Targus laptop bag with your WallStreet. Bag is in excellent condition, could pass as new. Lifetime warranty from Targus! Valid only with purchase of WallStreet, $14
Upgrade any machine listed above to 96 MB RAM. Free installation, valid only w/purchase of WallStreet, $19
Upgrade any machine listed above to 160 MB. Free installation, valid only w/purchase of WallStreet, $29
Upgrade any machine listed above to 288 MB. Free installation, valid only w/purchase of WallStreet, $69
Upgrade any machine listed above to 384 MB. Free installation, valid only w/purchase of WallStreet, $119
iBook 700 14.1″, 256/30 GB/Combo, Navy Prodigy Backpack, factory refurbished, 1 year factory warranty, $1,669
PowerBook G4/800, 512/40 GB/Combo, AirPort, factory refurbished, $2,999
PowerBook 520, 25 MHz, 12/160 MB, grayscale, no AC or battery, $21
Note: Prices from here down are in Canadian dollars
PowerBook G3/233, 12.1″, 64/2 GB/CD, used with 30 day warranty, $699.99
PowerBook 1400/117cs, 16/750 MB, used with 30 day warranty, $399.99
searchword: bookrev20021004