New Oyster laptop dock, OWC and CMS cut hard drive prices, replacement hinges for Titanium PowerBook, and more.
Except as noted, prices are in US dollars.
Sherpaq Introduces Oyster Laptop Dock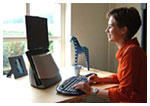 Oyster is an elegant and innovative alternative to traditional docking solutions for laptop computers. While traditionaldocks connect the laptop to peripherals (i.e., a monitor), Oyster repositions the laptop perpendicular to the desk's surface, retaining use of the LCD screen and accommodating a full-size keyboard.
As the popularity of the mobile computing grows, more people realize that extended hours crouched over a small portable computer are uncomfortable at best – and unhealthy at worst.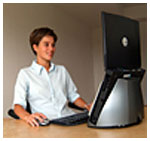 For mobile professionals accustomed to "docking" their computer, Oyster provides ergonomic comfort,improves cable management, and conserves desktop space. For the laptop user unaccustomed to docking, Oyster improves personal comfort and maximizes the use of small spaces.
Using an integrated USB hub, Oyster manages and conceals all cables associated with Internet, power, printing, and keyboard in its rear storage bay. Oyster does all of this at a lower cost and with greater elegance than traditional docking solutions.
With its unique styling, ergonomic design, and intuitive cable management system, Oyster enhances the portable computing experience in three key ways:
Oyster enables more comfortable positioning of the computer display with the easy addition of a full size keyboard.
Oyster acts as a complete cable management system with an integrated USB hub and versatile connectivity options.
Oyster does all of this without compromising on appearance. Renowned European industrial designers Frog Design have created a solution that sets a new balance in form and function.
With Oyster the laptop user can now enjoy the benefits of portability coupled with the comfort and functionality of desktop computing.
Oyster is available in three color schemes, giving you the opportunity to select a product that best suits your space. Whether you choose shell white, oyster gray, or shark black, you can be sure you are purchasing not only an impressive integrated technical solution but also a classic piece of industrial design.
Other World Computing Expands High-Performance Mercury On-The-Go Product Line and Lowers Prices
Other World Computing (OWC) has announced an expanded lineup of portable Mercury On-The-Go 2.5″ FireWire drives, including new 20 and 40 GB models running at 5400 RPM and a 60 GB model running at 4200 RPM.
OWC also lowered prices on its On-The-Go drives by as much as 30 percent.
Designed to provide both Macintosh and Windows personal computer owners with quick and mobile storage, the OWC Mercury On-The-Go FireWire drives weigh 12 ounces or less, have the speed to transfer large quantities of data quickly and the capacity to store thousands of MP3 files, hundreds of large images, and/or back up an entire internal hard drive.
They are available with 20, 30, 40 and 60 GB of storage and speeds of 4200 or 5400 RPM. Pricing for the drives begins at $175.97 for a 20 GB, 4200 RPM model.
"Our On-The-Go FireWire drives have proven to be a reliable, high-performance storage solution that just happens to be small enough to fit in the palm of your hand," said Larry O'Connor, president and chief executive officer of OWC.
"At OWC, we are committed to providing the best hardware at the most competitive pricing, and with our recent additions and lowered pricing, the On-The-Go line is an attractive storage solution for anyone that requires mobility, capacity and performance for the computing needs."
OWC's Mercury On-The-Go 2.5″ portable FireWire storage solutions are available in a variety of speeds and different storage capacities. Each drive features a shock isolation system to keep vital data safe during transportation and comes with a leather carrying case, FireWire cable, standard power transformer (not required for all computers), and a copy of Intech's HD SpeedTools software utility.
Below is a list of models and prices:
20 GB 4200 RPM, $175.97
30 GB 4200 RPM, $209.97
40 GB 4200 RPM, $245.97
60 GB 4200 RPM, $379.99
20 GB 5400 RPM, $199.97
40 GB 5400 RPM, $289.97
60 GB 5400 RPM, $439.97
The Mercury On-The-Go portable storage solutions are available exclusively from OWC. All drives come with a one-year OWC warranty.
CMS Reduces Pricing for Notebook Hard Drives Up to 41%
CMS Peripherals Inc. has announced price reductions for a majority of the Easy-Plug Easy-Go (EPEG) Notebook Hard Drive Upgrade solutions.
The company reduced the pricing for the 20, 30 and 40 GB hard drive upgrade solutions by as much as 41 percent in some cases.
Pricing for the hard drive upgrades start at $189 for the 20 GB EPEG, $229 for 30 GB, and $258 for 40 GB. CMS is able to pass along these savings to its customers because of lowered component prices.
The Easy-Plug Easy-Go product line offers support for more than 800 different notebook models from top manufacturers such as Apple, Compaq, Dell, IBM, and Toshiba. With support for a wide variety of notebook manufacturers, CMS' solution offers IT managers a cost-effective alternative to replacing outdated and under capacity notebooks. All of CMS' notebook upgrade solutions are tested to meet or exceed the original notebook manufacturers' drive specifications.
"With today's economic conditions, IT managers are looking for methods to reduce spending and extend the life of their companies' IT assets," said Ken Burke, president of CMS Peripherals. "The logical step is to upgrade a computing solution rather than replacing it entirely. CMS' Easy-Plug Easy-Go solution is a cost-effective alternative for IT managers looking to upgrade their mobile workforce without disrupting the budget."
The price reductions are effective immediately on selected capacities of the Easy-Plug Easy-Go and available through major distributors, corporate resellers, mail order, and direct from the company's Web site. CMS' Easy-Plug Easy-Go and Toshiba Noteworthy product lines are backed by a 3-year warranty.
Replacement Hinges for G4 PowerBooks
Chett Salzman is supplying replacement hinges for TiBooks.
The G4 Hinges Mount Sets are the part of the hinges that actually mount to the back of the Titanium PowerBook. Unlike G3 WallStreet hinges, which only have one complete hinge, the G4's hinge comes in two parts – the actual hinge itself and the hinge mount.
The Hinge Mount is sold by the pair (left and right) for $149 plus $12 shipping.
The actual hinge itself costs $400 per pair or $250 per side.
Chett also replaces the bulbs on TiBook displays for those that have no backlight and do not wish to pay Apple $1,000. He charges $490 plus shipping.
Chett Salzman
Network Engineer
Information Systems Designer
Computer Service Group
925-459-8793
FireWire Accessories For iPod
Sik, Inc. has released three new FireWire accessories designed for use with the iPod.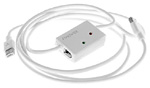 FireJuice is a patent-pending multimode FireWire power injector that makes it possible to use bus-powereddevices on computers with unpowered FireWire ports. For use with Apple iPod Power Adapter, Sik Auto Adapter, iPod, or other power source with 6-pin FireWire port or connector. Provides additional functionality for various FireWire devices including Apple iPod, SmartDisk FireFly, and many more. Compatible with Mac OS, Windows, Linux, and other operating systems that support FireWire
features:
6-pin 18″ FireWire cable to device
6-pin or 4-pin 4′ 6″ FireWire cable to computer
6-pin FireWire port for power source*
device power indicator
input power indicator
mode switch
slim-type FireWire cables
price: $27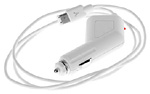 Auto Adapter is a premium car adapter with 4′ integrated cable incorporating Sik's exclusive HotWiretechnology to reduce stress on iPod's FireWire port. It's also the most compact complete solution for charging iPod in a car.
features:
HotWire cable technology reduces stress on iPod's port
replaceable fuse
indicator LED
most compact iPod DC adapter available
heavy duty transient voltage suppressor (TVS) protects iPod from voltage spikes
massive filtering to preserve audio quality*
use with FireJuice to power other FireWire devices in your car (or other vehicle with 12v accessory port/cigarette lighter)
price: $21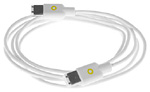 HotWire is a power-only FireWire compatible cable that allows iPod to charge from a computer's FireWireport while in Audio Mode. iPod will not mount as a disk and will continue to play music. Slim, flexible cable reduces stress on iPod's FireWire port and can also be used with Apple iPod Power Adapter or other power source with FireWire port. HotWire is a "must have" for iPod, and it's also perfect for use with FireJuice.
features:
6 feet in length
6-pin to 6-pin
no FireWire data pairs (it's power-only!)
unique stress relief cable
price: $16
Motorola and IBM Collaborate on Single Chip GPS Devices
Motorola, Inc., working with IBM Microelectronics, has announced new technology for adding accurate location sensing to virtually any portable electronics product.
The new technology, called Motorola Instant GPS, is a self-contained, single-chip, assisted global positioning system (A-GPS) receiver small enough to fit into a wristwatch. Because it is the first truly single-chip GPS solution, it is expected to lead to a new generation of portable electronic products such as cameras that time- and location-stamp photos, PDAs with maps and real time navigation, and E-911 compliant cellular phones that can find friends, family members, restaurants, and nearby shops with goods on sale.
Motorola Instant GPS is the first truly single-chip GPS solution in the world, combining Motorola's GPS design with IBM's leading-edge silicon germanium (SiGe) chip-making technology. The companies worked together to integrate IBM's technology to optimize the design. IBM plans to manufacture the new GPS chips for Motorola; samples are available immediately for OEM suppliers of portable electronic devices.
"Location awareness is a fundamental human need," said Tim McCarthy, director of positioning systems for Motorola Telematics. "By their very nature, portable consumer electronic devices are always on the move. Knowing your precise location at any instant allows your device to offer a whole range of new applications that will lead to an explosion of growth for location-based services. With this combination of Motorola and IBM technology, portable electronic product designers can now add location awareness as easily as they can add a real time clock."
"IBM's technology enabled Motorola to reach its performance goal of detecting GPS signals so faint they'd be comparable to those received in Chicago from a light bulb burning in Korea," said Walt Lange, associate director for foundry services, IBM Microelectronics. "Our silicon germanium technology can be used to combine the function of many chips into one, helping reduce size and power consumption, while improving performance. Our work with Motorola is another example of our commitment to making advanced technologies available to our foundry customers."
"By utilizing our single-chip solution, manufacturers of portable electronic products are able to minimize risk and time to market, without reengineering current product designs" added Dave Huntingford, Motorola GPS Marketing Manager. "The Instant GPS chip is a single-chip solution as opposed to alternatives that use two or three chips or require extensive overhead added to the portable's host microprocessor. It's smaller, consumes less power and is much easier to integrate into portable electronic products."
Instant GPS features include:
• Simple Integration

The interface between the Instant GPS chip and the host processor is kept simple, allowing customers to separate the microprocessor and GPS designs. This eliminates demanding interrupt structures found in embedded GPS receivers, allowing a faster time to market.

• Highly Compatible

Instant GPS can be used with industry standard mobile-centric assist messages for compatibility with almost any cellular network. By not completing its position calculation in the network, the device eliminates network overhead and potential issues associated with network centric GPS systems.

• Low Power Consumption

Instant GPS consumes a small amount of power, which can be further reduced with an extensive array of power management modes such as position-on-demand. Utilizing the customer configurable software power management tools, Instant GPS can be placed in standby, further reducing power consumption.

• Single Mixed Mode Device

Fabricated in IBM's leading 0.25-micron SiGe process, the Instant GPS breaks new ground by integrating both the 1.5 GHz RF front end and the digital baseband processing into a single die. Measuring 7 mm x 7 mm with minimal external components required, Instant GPS leads the market for smaller, low cost, high performance A-GPS.

• Low IF Architecture with Fractional Synthesizer

Designed with a Low Intermediate Frequency (IF) RF architecture to improve jamming immunity, Instant GPS enables easier colocation with transmitters such as GSM and Bluetooth(TM) wireless technology. An onboard fractional synthesizer allows existing 12 to 26 MHz reference oscillators within the target product to be reused. In addition, a separate reference oscillator is not required for functionality, allowing for substantial cost and space saving benefits.

• Future Compatible

Instant GPS is able to withstand the demands of increasing miniaturization and reductions in operating voltage. Able to support 1.8v to 3.3v interfaces, Instant GPS allows flexibility in processor selection and requires no redesign demands in the event of a die shrink in the host processor.
Bargain 'Books
There are two different versions of WallStreet running at 233 MHz, the cacheless MainStreet version and the later Series II with a level 2 cache. It's not always possible to determine from the vendor's listing which is being offered, so we've included links within this paragraph to the two models. The same goes for the PowerBook G4/667 (Gigabit Ethernet/2001) and G4/667 (DVI).
PowerBook 1400c, 16 MB RAM, 1 gig hard drive, new carrying case, 30 day warranty
133 MHz, $225
166 MHz, $275
Add an internal CD-ROM drive for $75
iBook 600 12″, 128/20 GB/CD-ROM, factory refurbished with .mac and AppleCare, $1,329.00
iBook 600 12″, 128/20/CD-ROM, refurbished, $1,099
searchword: bookrev20020927