The last revision of the 15″ flat panel iMac has a 1 GHz G4 processor, a 32x Combo drive, and 32 MB of video memory. Along with the 1.25 GHz 17″ model, it is the first iMac to support USB 2.0.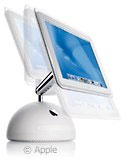 The 15″ 1 GHz iMac sold for the same $1,299 price as the original Bondi blue iMac did in 1998.
Some Leopard users have reported problems with G4 iMacs that have GeForce 2 or GeForce 4 graphics. When the system wakes from sleep, the screen will be completely white, making the computer unusable. This is fixed by Leopard Graphics Update 1.0, which requires OS X 10.5.2 or later.
Details
Upgrades
Online Resources