After a year on the market, Apple speed bumped the eMac from a top speed of 800 MHz to 1 GHz while moving from a 100 MHz data bus to 133 MHz and adding support for 802.11g AirPort Extreme WiFi. Apple also switched from the Nvidia graphics of the original eMac to Radeon 7500 on this model and moved from a 2x DVD-burning SuperDrive to a 4x one.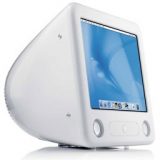 The 2002 eMac came with a new mouse and keyboard. It also has video out for external displays, which will mirror whatever is displayed on the internal monitor.
This is the last eMac capable of booting into the "classic" Mac OS; later eMacs can only use Mac OS 9.2.2 via Classic Mode in Mac OS X.
Although its dimensions match the original iMac, the eMac is quite heavy – 50 pounds vs. 35-38 for the 15″ iMacs.
This was the last eMac to use USB 1.1; later models have USB 2.0 instead.
Details
Introduced 2003.05.06 at US$799 (800 MHz CD-ROM), $999 (1 GHz Combo), and $1,299 (1 GHz SuperDrive); 800 MHz model discontinued 2003.10.22 and prices dropped to $799 (Combo) and $1,099 (SuperDrive). Replaced 2004.04.13 by 1.25 GHz eMac.
Code name: Northern Lights
Model identifier: PowerMac4,4
Model no.: A1002
Order no.: M9150 (800 MHz CD), M8950 (1 GHz Combo), M8951 (SuperDrive), M9252 (revised Combo model)
Mac OS
Core System
CPU: 800 MHz PowerPC 7450/1 GHz PowerPC 7455
Bus: 133 MHz
RAM: 128/256 MB, expandable to 1,024 MB using two PC133 SDRAM (3.3 V, 64-bit, 168-pin)
L2 cache: 256 KB on-chip cache running at full CPU speed
Performance
Geekbench 2 (Leopard): 527 (1 GHz), 404 (800 MHz)
Geekbench 2 (Tiger): 539 (1 GHz), 372 (800 MHz)
Graphics
ATI Radeon 7500 AGP 4x chip set, supports video mirroring with mini-VGA adapter (the VGA adapter may unlock video resolutions on the internal display that are otherwise inaccessible – we are investigating)
VRAM: 32 MB SGRAM
Resolutions: 1280 x 960, 1152 x 870, 1024 x 768, 800 x 600, and 640 x 480
Display: 17″ (16″ viewable) multiscan to 1280 x 960
Drives
Hard drive: 40/60/80 GB Ultra ATA
Optical drive: 32x CD-ROM, 8x10x32x Combo drive, 4x SuperDrive
Expansion
USB: 3 USB 1.1 ports
FireWire 400: 2 ports
Ethernet: 10/100Base-T
AirPort: accepts AirPort Extreme card
Modem: built-in v.90 56k modem
Microphone: built in (above monitor), standard 3.5mm minijack, compatible with line-level input, not compatible with Apple's PlainTalk microphone
Physical
Height: 15.8 in/40.6 cm
Width: 15.8 in/40.6 cm
Depth: 17.1 in/43.3 cm
Weight: 50 lb/22.7 kg
PRAM battery: 3.6V half-AA
Power supply: 150W
Online Resources
Best Classic Mac OS Deals. Best online prices for System 6, 7.1, 7.5.x, Mac OS 7.6, 8.0, 8.1, 8.5, 9.0, 9.2.2, and other versions.
Best Mac OS X 10.0-10.3 Deals. Best online prices for Mac OS X 10.0, 10.1, 10.2, and 10.3.
Best Mac OS X 10.4 Tiger Deals. Best online prices for Mac OS X 10.4.
Best Mac OS X 10.5 Leopard Deals. Best online prices for Mac OS X 10.5.
What's the Best Version of OS X for My Mac?, Ian R Campbell, The Sensible Mac, 2008.02.28. Which version of Mac OS X is best for your hardware depends on several factors.
Unsupported Leopard installation, Dan Knight, 2007.10.31. How to install Mac OS X 10.5 on unsupported hardware – plus field reports.
Faking out the Leopard installer with Open Firmware, Dylan McDermond, Unsupported Leopard, 2007.12.06. You don't have to hack the installer to make the Mac OS X 10.5 installer run on sub-867 MHz G4 Macs by using this simple Open Firmware trick.
Low End Mac's Compleat Guide to Mac OS 9, Charles W Moore, Miscellaneous Ramblings, 2008.05.12. Mac OS 9 remains fast and stable, but Classic software hasn't kept up with the changing internet. Which Macs support OS 9, where to buy it, and how to update to 9.2.2.
Know Your Mac's Upgrade Options, Phil Herlihy, The Usefulness Equation, 2008.08.26. Any Mac can be upgraded, but it's a question of what can be upgraded – RAM, hard drive, video, CPU – and how far it can be upgraded.
WiFi Hardware Compatible with Desktop Macs Running OS X, MetaPhyzx, Mac Daniel, 2009.03.11. USB, ethernet, PCI, and other wireless hardware compatible with Mac OS X.
Mini VGA to S-video Adapter a No Go for eMacs, Dan Bashur, Apple, Tech, and Gaming, 2009.11.24. You might think that Apple's Mini VGA S-video adapter is a cheap way to connect your eMac or G4 iMac to your TV. You would be wrong.
The Future of Up-to-Date Browsers for PowerPC Macs, Charles W Moore, Miscellaneous Ramblings, 2009.08.31. With Intel-only "Snow Leopard" shipping, software support for PPC Macs will continue its decline. Also, a look at SeaMonkey 2 and Camino 1.6.9.
Optimized Software Builds Bring Out the Best in Your Mac, Dan Knight, Low End Mac's Online Tech Journal, 2009.06.30. Applications compiled for your Mac's CPU can load more quickly and run faster than ones compiled for universal use.
Tips for Installing or Reinstalling Mac OS X 10.4 Tiger, Adam Rosen, Adam's Apple, 2009.06.10. Mac OS X 10.4 uses less memory than Leopard, supports Classic Mode on PowerPC Macs, and, unlike Leopard, is supported on G3 Macs.
Does Using Matched RAM Make Your Classic Mac OS Machine Faster or More Stable?, Simon Royal, Tech Spectrum, 2009.04.28. Most Macs don't need matched memory modules and seem to run just fine with mismatched brands and capacities, but matching modules may be a bit faster.
Is Leopard Slower than Tiger on G4 Macs?, Simon Royal, Tech Spectrum, 2009.04.17. Truth be told, when you have 1 GB of RAM, Leopard benchmarks an insigificant 4% slower than Tiger.
Is It Worth Maxing the RAM in Old G3 and G4 Macs?, Simon Royal, Tech Spectrum, 2009.04.15. Increasing memory can make your old Mac faster and make you more productive, but it probably won't improve resale value by the amount you spend.
Do G4 Macs Have What It Takes to Remain Useful in a Multicore World?, Simon Royal, Tech Spectrum, 2009.01.15. With dual-core Intel CPUs running beyond 2 GHz, is any G4 Mac a practical choice?
4 GB RAM problem persists after firmware update, TriBook concept MacBook, DIY Mac netbook, and more, The 'Book Review, 2008.12.19. Also using third-party monitors with 'Late 2008' MacBooks, MacMagSaver protects MagSafe cord, $25 802.11g USB adapter, bargain 'Books from $500 to $2,299, and more.
The 'Better Safe Than Sorry' Guide to Installing Mac OS X Updates, Charles W Moore, Miscellaneous Ramblings, 2008.12.16. Most users encounter no problems using Software Update, but some preflight work and using the Combo updater means far less chance of trouble.
Leopard on an 867 MHz G4 trounces Vista on a 2 GHz Core Duo notebook, Simon Royal, Tech Spectrum, 2008.12.16. Apple makes sure that each version of OS X runs well on the minimum supported hardware, while PCs well above minimum spec struggle under Microsoft's latest version of Windows.
Why You Should Partition Your Mac's Hard Drive, Dan Knight, Mac Musings, 2008.12.11. "At the very least, it makes sense to have a second partition with a bootable version of the Mac OS, so if you have problems with your work partition, you can boot from the 'emergency' partition to run Disk Utility and other diagnostics."
The Leopard experience at 867 MHz, Simon Royal, Tech Spectrum, 2008.12.02. Mac OS X 10.5 requires an 867 MHz G4 with 512 MB of memory, but is performance really acceptable on a minimum spec system?
Leopard runs very nicely on PowerPC Macs, Simon Royal, Tech Spectrum, 2008.11.19. Some claim that Mac OS X 10.5 is so optimized for Intel Macs that it runs poorly on PowerPC hardware. That's simply not the case.
Every working computer is useful to someone, Allison Payne, The Budget Mac, 2008.11.19. Whether it's a PowerBook 1400, G3 iMac, or Power Mac G4, it could be all the computer someone needs.
The future of PowerPC Macs and software as 'Snow Leopard' approaches, Simon Royal, Tech Spectrum, 2008.11.13. Apple phased out Classic Mode and G3 support with 'Leopard' last year, and next year's OS X 10.6 won't support any PowerPC Macs. Will other developers abandon PowerPC as well?
How to clone Mac OS X to a new hard drive, Simon Royal, Tech Spectrum, 2008.10.07. Whether you want to put a bigger, faster drive in your Mac or clone OS X for use in another Mac, here's the simple process.
The best browsers for older Macs running Tiger, Charles W Moore, Miscellaneous Ramblings, 2008.09.25. A dialup user's overview of browsers for Mac OS X 10.4 puts the emphasis on reliability, downloads, and speed.
9 browsers for G3 and older G4 Macs compared, Simon Royal, Tech Spectrum, 2008.09.26. The latest versions of Opera, Safari, Shiira, iCab, Radon, Firefox, Demeter, Sunrise, and Camino that run on Mac OS X 10.4 "Tiger".
Tiger vs. Leopard: Which is best for you?, Simon Royal, Tech Spectrum, 2008.09.22. Two great versions of Mac OS X, but unless your Mac is well above the minimum spec for Leopard and has lots of RAM, stick with Tiger.
Using low end Macs for Internet radio, Gordon R. Brown, My Turn, 2008.08.18. When the local public radio station moved classical music to HD radio, it was time to find another way to listen. An old iMac with iTunes solved the problem.
Non-Intel Mac rumors, G5 iMac power supply failure, Leopard on a 700 MHz eMac, and more, Dan Knight, Low End Mac Mailbag, 2008.07.31. Also no 8 GB partition problem for clamshell iBooks, presentations in ClarisWorks, and watching DVDs on an upgraded Power Mac 7600.
The Compressed Air Keyboard Repair, Charles W Moore, Miscellaneous Ramblings, 2008.07.24. If your keyboard isn't working as well as it once did, blasting under the keys with compressed air may be the cure.
How to upgrade your eMac without cracking the case, Jason Packer, Macs in the Enterprise, 2008.07.14. Some people like to replace the components inside their computers, but with FireWire and USB 2.0, Apple has made it easy to upgrade using external drives.
Upgrading your eMac for better gaming and hi-res video performance, Carl Nygren, Classic Macs in the Intel Age, 2008.07.11. This eMac started out with too little RAM and not enough hard drive space. With several upgrades, it plays games quite well and handles HD video content nicely.
Hasta la Vista, hello again eMac, Charles Webb, The Webb Chronicles, 2008.07.10. After fighting system slowdowns in Vista on a new Core 2 Duo Dell for 3 months, it was time to dig out the old eMac an become productive again.
Macintosh reliability improving since the shift to Intel, Kev Kitchens, Kitchens Sync, 2008.07.07. For a while in the G3 and G4 era, Apple was plagued with logic board failures and analog board problems, but they seem to be a thing of the past.
Leopard on old Macs, Leopard nightmares, bargain Macs for kids, and more, Dan Knight, Low End Mac Mailbag, 2008.06.04. Also getting the right version of Mac OS 9.2.2 for Mirrored Drive Doors Power Macs, using PC disk images with Macs, and using an ImageWriter II printer with Mac OS X.
SheepShaver brings Classic Mac OS to Intel Macs and Leopard, Alan Zisman, Mac2Windows, 2008.05.20. Mac OS X 10.5 doesn't support Classic Mode. Neither does Leopard. But SheepShaver lets you emulate a PowerPC Mac and run the Classic Mac OS.
Leopard is the way to go, even on most old G4 Macs, Carl Nygren, My Turn, 2008.05.14. The useful and just cool features in Mac OS X 10.5 make this the biggest step forward in the history of the Mac OS.
Jaguar or Panther on Pismo?, Mac 128K corrections, installing OS X from an iPod, and more, Dan Knight, Low End Mac Mailbag, 2008.02.29. Also an old iMac, an optical trackball for ADB Macs, internal or external hard drive for an eMac, and Leopard on a 500 MHz PowerBook G4.
Safari 3.1 will be 'crazy fast', OS X 10.5.2 update, 20x SuperDrive from $35, and more, Mac News Review, 2008.02.15. Also Security Update for Tiger, Graphics Update for Leopard, Mac mini "as powerful as a larger desktop", TechTool Deluxe update, and more.
1 working eMac from 2 broken ones, Dan Knight, Mac Daniel, 2007.11.14. A pair of matching eMacs, each with a different failure, results in one working eMac and lots of leftovers.
Leopard with 384 MB RAM, on a PowerBook G4/550, benchmarked, and more, Dan Knight, Low End Mac Mailbag, 2007.11.06. Leopard on Digital Audio, Quicksilver, and Sawtooth Power Macs. Questions on CPU load in OS X 10.5 and whether beige G3s and PCI Power Macs might run it.
Happy with my G3s, plus Leopard on eMacs, G4 iMacs, G4 PowerBooks, and the G4 iBook, Dan Knight, Low End Mac Mailbag, 2007.11.02. A reminder of the happiness found sticking with older versions of the Mac OS on G3 Macs, plus field reports of Leopard running on even more unsupported G4 Macs.
eMac virtual screen solution, PowerBook 3400 problem, IBM Model M and the Mac, and more, Dan Knight, Low End Mac Mailbag, 2007.10.26. Also G4 iMacs inspire lust, TrueType fonts and vintage Macs, deinterlacing DVDs, and Allegro USB sleep issues.
Unsupported Leopard installation and the truth about Leopard DVD Player system requirements, Dan Knight, Low End Mac Mailbag, 2007.10.25. How to create a hacked Leopard installer, and exactly what benefit you gain from a 1.6 GHz CPU with DVD Player under Leopard.
Leopard DVD Player requires 1.6 GHz CPU, dual processor questions, and dual boot Macs, Dan Knight, Low End Mac Mailbag, 2007.10.24. DVD Player currently runs on any G3 that supports Tiger, but the new version needs 1.6 GHz of power and other bloat in Leopard.
The future of eMacs in the Age of Leopard, Dan Knight, Mac Musings, 2007.10.24. Early eMacs aren't officially supported under Mac OS X 10.5, but Leopard could run well with the right upgrades.
WiFi options for Lombard, installing Tiger on a DVD-less eMac, 3D home design software, and more, Charles W Moore, Miscellaneous Ramblings, 2007.10.01. Two PC Card 802.11g options for the Lombard PowerBook, PowerPC version of OS X needed for eMac, three programs for home design, and a source for downloading old Mac software.
iPhone profits, dead ethernet, PowerBook 1400 software, and more on the Mac mini, Dan Knight, Low End Mac Mailbag, 2007.08.01. How to work around a dead ethernet port in an eMac, finding older software for an old PowerBook, and more suggestions on improving or replacing the Mac mini.
Software to darken iMac display, columnist returns iPhone, Logitech introduces air mouse, and more, Mac News Review, 2007.07.20. Also a USB turntable for turning your record albums into MP3s, a retractable flash drive, iPhone: The Missing Manual, Parallels Desktop 3 a major update, and more.
Pismo the best PowerBook, capacitor problems in Macs, XPostFacto for Leopard, and more, Dan Knight, Low End Mac Mailbag, 2007.06.28. Also more on tin whiskers and why you sometimes have to remove RAM to get OS X to install on older Macs.
The Truth About CRTs and Shock Danger, Tom Lee, Online Tech Journal, 2007.05.22. You've been warned that CRT voltage can injure and even kill. The truth is that this danger is overstated – and takes attention away from a greater danger.
11 No Cost Tips for Optimizing Mac OS X 10.4 Tiger Performance, Ed Eubanks Jr, The Efficient Mac User, 2007.03.12. If your Mac is getting sluggish, here are 11 tips that can help restore its original performance.
Customizing Mac OS 9, Nathan Thompson, Embracing Obsolescence, 2006.08.01. Fiddling with themes, picking a browser, and making the Classic Mac OS work just the way you want it to.
Installing OS X 10.4 'Tiger' on DVD-challenged Macs using FireWire Target Disk Mode, Charles W Moore, Miscellaneous Ramblings, 2006.07.10. Mac OS X ships on a single install DVD, which Apple will exchange for CDs at $10. But if you have access to a DVD-equipped Mac and a FireWire cable, you're good to go.
$899 education iMac, Classic on Intel Macs, LCD in an eMac, Mac mini in a Prius, and more, Mac News Review, 2006.07.07. Also Mac mini 'almost sinfully attractive', Mac mini benchmarks, iPod Updater 2006-06-28, new iPod car options, and more.
End of G4 models points to unprecedented value for used G4 Macs, Leaman Crews, Plays Well with Others, 2006.06.02. The PowerPC G4 may no longer have a place in Apple's product line, but that's a far cry from saying G4-based Macs are obsolete. If anything, their value is going to increase.
Making the move from Jaguar (OS X 10.2) to Panther (10.3), Ted Hodges, Vintage Mac Living, 2006.04.11. One advantage of Apple's "no upgrades" policy for OS X – someone can give you their old copy after upgrading without worrying about violating their license.
Web browser tips for the classic Mac OS, Nathan Thompson, Embracing Obsolescence, 2006.01.03. Tips on getting the most out of WaMCom, Mozilla, Internet Explorer, iCab, Opera, and WannaBe using the classic Mac OS.
The best browsers for PowerPC Macs and the classic Mac OS, Nathan Thompson, Embracing Obsolescence, 2005.12.16. Two browsers stand out from the pack: iCab 3 is modern and remains under development, and WaMCom brings Mozilla to older Macs.
How to add memory, replace the hard drive, and use a second display with your eMac, Evan Kleiman, Mac Happens, 2005.02.01. Three low-cost ways to upgrade your eMac for better performance and greater flexibility.
Screen Spanning Doctor lets you use a second monitor with your eMac and span screens, not simply mirror you internal display.
Apple eMac Upgrade Guide is a great resource for information and pictures showing how to upgrade your eMac. Now get out there and make the most of your low-end Mac.
Upgrading Apple eMac, Leo Bodnar, 2004.01.04. How to overclock an 800 MHz eMac, upgrade the hard drive, replace the CD-ROM, and add an external monitor complete with spanning.
The iMac List, an email list iMac and eMac users
Cautions
You cannot plug the iPod shuffle directly into the eMac's USB port – it will not fit. It will not charge if plugged into a keyboard USB port or an unpowered USB hub. To charge it while using it with your eMac, you must us a USB extension cable, powered USB hub, iPod shuffle dock, or a USB power adapter.