PowerBook, iBook, iPod, and other portable computing is covered in The 'Book Review. General Apple and Mac desktop news is covered in The Mac News Review. News about Apple's transition to Intel CPUs and other Intel developments is covered in The Macintel Report.
All prices are in US dollars unless otherwise noted.
News and Comment
Tips
Products
Content
Software
News and Comment
Apple Pondering 1 GB iPod nano?
The Register's Tony Smith reports:
"Apple is wondering whether to offer a 1 GB iPod nano early next year, even as it prepares a redesigned iPod shuffle with the same song-storage capacity.
"Certainly, the current 1 GB shuffle has proved popular, with not only Apple's own online store running out of stock, as reported by numerous websites, but also a number of third-party dealerships finding themselves without 1 GB Shuffles to sell, The Register can confirm."
Link: Apple Ponders 1 GB iPod nano
iPod minis Among Most Popular Items on eBay
PR: With 79 million registered users in the US, the eBay marketplace is a real-time barometer of what products are this season's "must-haves." eBay sales suggest that the diminutive iPod mini – thousands of which have found their way to eBay after being discontinued in stores on Sept. 7 – is holding its own against Apple's sleek new iPod nano, while sellers of Dell, HP, and Toshiba laptop computers have also seen a recent sales jump with more than 35,000 of these laptop PCs selling in the last month – or about 49 per hour.
Mirroring strong on-field performance, replica jerseys of three of the NFL's top quarterbacks – Peyton Manning, Tom Brady, and Ben Roethlisberger – have seen considerable growth, yet their two-week sales pale in comparison to the meteoric rise of Reggie Bush jerseys (+177%), running back from USC who won the Heisman Trophy on Saturday. While still popular on eBay, off-field headline-makers Randy Moss and Terrell Owens have seen slower growth in jersey sales at relatively lower average selling prices.
Based on sales of Bowflex exercise machines – selling at a rate of about almost five per hour – it appears many eBay shoppers are getting a jump on their "get in shape" New Year's resolution. American Girl dolls and accessories continue to be one of the season's hot toys, selling more than one per minute over the past month on eBay, while in life-size fashion, women's western boots continue to sell briskly.
eBay Marketplace Research, a new service that offers sellers and buyers visibility into important listing, bidding and pricing trends on eBay, was used to determine these sales data results. All data cited is current through Monday, December 12, 2005.
'Godcasting' Gaining Followers
The Evansville Courier & Press reports:
"Podcasting could represent the single largest increase in religious exposure since television, which gave rise to the televangelist. The on-demand audio has the potential to reach an even greater share of the population while spending very little on production costs.
"The Rev. David Niednagel is among Evansville, Ind.'s most popular and charismatic pastors. Now, his plainspoken messages are finding new ears outside the walls of Christian Fellowship Church. The listeners aren't in pews. They're online, and they're not alone.
"Nationwide, an estimated 4.5 million people this year used their digital music players – the most popular of which is Apple's iPod – to listen to spoken-word programs from sources such as ABC News or ESPN….
"But Niednagel is part of the fast-growing niche known as Godcasting, which makes available downloadable messages from Christians, Jews, Mormons and even pagans. There, between Depeche Mode's 'Personal Jesus' and Kanye West's 'Jesus Walks,' Sunday's messages are available for download."
Link: 'Godcasting' Gaining Followers
President Bush Shows off His iPod
iPodDailyNews.com reports:
"'Ever wondered what the most powerful man in the world listens to in his spare time? In a rare departure from formal media interviews, George Bush has revealed what is on his personal iPod. Andrew Wilson reports on the President's favourite tunes,' Sky News reports….
"Bush also has an iPod shuffle for bike riding."
Link: President Bush Shows off His iPod (includes link to video)
World's First iPod-compatible Payment Terminal
PR: Ingenico's research teams have developed the world's first-ever terminal accepting a payment on an iPod. This pioneering invention, using i5100 technology, was demonstrated at the Cartes 2005 exhibition held November 15-17, 2006 and aroused significant interest. While this demonstration may not be a sign of what the future holds, it certainly proves Ingenico's ability to innovate for the benefit of its current and future customers.
Consumer habits have changed dramatically since the introduction of digital portable technology, such as MP3 players. Today, millions of Internet users routinely download entire music collections on to their music players, the most popular of which is Apple's iPod.
One of the most popular and exciting iPod accessories is Griffin's iTrip FM transmitter. iTrip is a technically simple yet ingeniously useful module that, when plugged to the iPod, transmits music via the FM band. Drivers can play music stored on an iPod through their car's FM radio.
Ingenico's i5100 terminal integrates with Atlantic Radio System's FM data extraction module, allowing it to communicate with the iPod via the FM band while enabling users to pay for goods using their MP3 player.
At this past Cartes exhibition, Ingenico demonstrated how, in a hypothetical future, travellers could book plane tickets and receive them via MP3 format by email. He or she would then just need to store the MP3 receipt on an iPod before going to the airport. When preparing to board, the traveller would simply play the MP3 ticket on the iPod to send all ticket information securely and in real time to the boarding gate. Ticket information might include passport, itinerary, and price data as well as pre-encoded biometric features for passenger verification at the gate. The same intuitive, user friendly payment system can also be used for gift vouchers, tickets, and virtually all other forms of prepaid transaction.
Link: Ingenico Demonstrates World's First iPod-compatible Payment Terminal
Tips
Make Your Own $10 iPod Dock/Stand
"If that dock will have to wait, here's an idea.
"Requirements:
1 Grip Twist available from www.containerstore.com
Medium Grip Twists Red Package of 2
Size in length: 34″
Item number: 10004670
Price (as of 12-12-05): $9.99
"(I have no affiliation with The Container Store other than being an occasional customer.)
"Give yourself plenty of time if you haven't worked much with this type of material before. Take care not to drop your iPod.
"When you're done shaping, you can squeeze the sides in a little to safely grip the iPod. Most fingers will be large enough to fit around the stand to support the iPod when pressing the controls in front with the thumb (as shown in the picture at the top of this page).
"When you finally get the perfect iPod dock, there's no need to throw this away, just reshape it for some other useful solution."
Link: Budget Charging/Viewing Stand for iPod with Video How To Posted
Products
iDrops Cleaner/Polish for iPods, iBooks, iMacs, and More
PR: PodShop, makers of specialized accessories for portable audio electronics and computing devices, today announced the immediate availability of their updated iDrops product – an all-in-one cleaning, polishing, and scratch removing solution specifically designed for use on the plastic/acrylic surfaces of Apple's iPod (all models), iBook, eMac, and iMac (G3/G5), Mac mini, and Power Mac (G3/G4).
iDrops is a two ounce bottle of "liquid health" for plastic/acrylic surfaces that features a dropper top, allowing easy, mess-free use for helping to repair and restore your blemished, scuffed, or scratched product. iDrops can also be used on the plastic/acrylic surfaces of CD/DVD media, cell phones, Game Boy, PSP, and numerous other items.
iDrops – introduced in November 2004 – features improvements throughout the entire product, including updated iDrops solution, bottle, dropper, and label. Priced at $14.95, iDrops is available from the company's website.
Link: iDrops
Carbon Fiber nano Case
PR: C6MFG has introduced a new iPod nano case made from real aerospace carbon fiber, aluminum, and fastened with stainless steel screws. The Nano Case also comes with a stainless steel belt clip, a protective clear cling-on screen protector, and an assembly tool.
Price: $39.99
Link: C6MFG Carbon Fiber Nano Case
SwitchEasy Launches Capsule Accessory System for iPod nano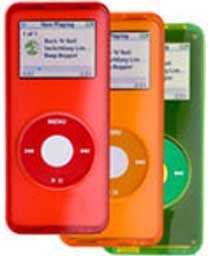 PR: SwitchEasy Limited has announced the immediate availability of its latest creation, the Capsule Accessory System for iPod nano.
The Capsule Accessory System for iPod nano is a full line of accessories designed for the protection of iPod nano line of digital audio players.
The base product offering features a duo-toned, custom fitted polycarbonate carrying case made from the ultra tough GE Lexan plastic resin with a easily replaceable color lens cap for everyday fashion needs. The case also features two insert holes which is compatible with third party lanyards and the ever popular telephone hand straps. The case is also designed to be a perfect match for third party necklace headphones.
The Capsule product also includes a custom printed reusable touch wheel protector (Stickies) made from the best static cling plastic available on the market. A color coordinated lanyard is also included.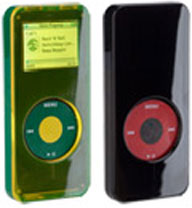 The current Capsule product line comes in five colors, Black Amber (Black), Shaved Ice (White/Clear), Red Mama (Red), Tangy Orange (Orange), and Citrus Apple (Green/Yellow).
Suggested retail price for Capsule is US$19.99 or €19.99, and it will be available in major retail chains.
SwitchEasy Limited will be releasing new color combinations and accessories for the Capsule line in the near future.
Link: SwitchEasy
The OtterBox for iPod nano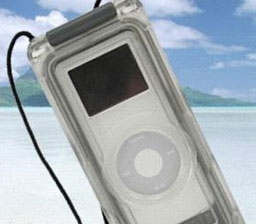 PR: OtterBox for iPod nano will follow in the legacy of the OtterBox for iPod family. The case will protect your nano from all the elements, including your active lifestyle.
Features:
Waterproof, dustproof, dirtproof, sandproof, and drop-proof
ClickWheel protected by a thin membrane which remains fully functional through the case
When combined with waterproof headphones, it becomes possible to take your iPod® swimming.
Included belt clip provides cable management for your headphones
External headphone jack usable with any style headphones with a standard mini stereo plug (1/8″)
Price: $39.95
Armband: $14.95
Link: OtterBox for iPod nano
Use Trendy Shields and Ditch Your Bulky iPod Case Forever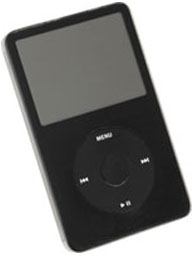 PR: Why hide your iPod in a bulky case? Show it off and protect it with a Trendy Shield. Trendy Shields add an invisible super thin second skin to your iPod Video.
Now with full front and back coverage of the iPod! Why hide your iPod in a bulky case? Show it off and protect it with a Trendy Shield. Trendy Shields add an invisible super thin second skin to your iPod Video.
Trendy Shields consists of an ultra thin plastic film that adheres to your iPod. The film is 100% transparent so you can barely see it when applied. The film adheres strongly to the iPod and will not come off with regular use but is easily removed with out leaving any residue on the iPod.
Trendy Shields are simply the best way to showcase your iPod while protecting it from scratches.
Price: $12.99
Link: Trendy Shields
Body Glove Technology Accessories Makes Waves with iPod nano Case
PR: Body Glove Technology Accessories, a division of Fellowes, Inc., has announced the launch of a custom-fitted case, or MP3Suit, for the new Apple iPod nano. With its stylish design, the Body Glove Scuba case for the nano is the perfect accessory for this year's hottest gadget.
The cases, available January 2006, feature Body Glove's signature Scuba material in black with a silver trim and the Body Glove logo. The water-resistant material protects the iPod nano from nicks and scratches and features custom cut-outs for instant access to ports, buttons and the iPod-famous click wheel. Users can also dock the iPod nano while it is in the case. The Apple iPod nano Scuba cases are available for the 2 GB and 4 GB models. The case comes with a belt and armband attachment, and will be available at bodyglove.com for a suggested retail price of $29.99.
Fellowes, Inc., a global leader in consumer electronics accessories, entered into a licensing agreement with Southern California-based Body Glove International. Body Glove is the world-renowned manufacturer of high-tech water gear and has greatly influenced the water sports industry for the past 50 years. The Body Glove brand was recently recognized as one of the top 50 most powerful sporting good brands in the industry by Sporting Goods Business. Together, Fellowes, Inc. and Body Glove International offer durable high-tech accessory solutions for mobile technologies.
Price: $31.56
Link: Body Glove Technology Accessories Makes Waves with New iPod nano Case
Compact ezSound 2.1 Speaker System for iPod
PR: The ezSound 2.1 speaker system is total audio solution for iPod users. The ezSound 2.1 are:
A portable three (3) speaker audio system with a "true" subwoofer that can be powered by batteries or AC power.
A desktop speaker for use at work, home, or on the road.
An iPod dock with full music and data synchronization capabilities via FireWire or USB connections to your computer.
The ezSound 2.1 charges your iPod when powered by the included wall adapter.
The ezSound 2.1 was developed to provide a flexible speaker solution for the everyday iPod listener. With a balance between audio quality, compact size, and functionality, the ezSound 2.1 is the perfect speaker for everyone.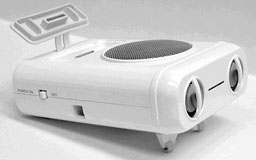 Three Speaker Audio System with "true" bass subwoofer
The ezSound 2.1 includes three (3) speakers for a full range of music reproduction. Two (2) 1″ tweeters provide high range stereo sound. The ezSound 2.1 does not simulate the bass signal like other speaker systems. The system includes a 2.5″ vented subwoofer to offer "true" bass audio. Crossovers circuits send the proper audio signals to each speaker for a rich full sound.
On The Road
The ezSound 2.1 speakers are incredibly compact (4″ (W) x 5 1/4″ (L) x 1 5/8″ (H) with a total weight less than 10 ounces while still offering a big sound. This makes them perfect for a picnic, a backpack, or traveling. When traveling on business, these speakers take up little space in your suitcase, and if you are on vacation, it's a great way to entertain the whole family.
In Your Home
The speakers are the perfect footprint to fit on a dresser, a kitchen counter, your night table, or even your bathroom counter. A fold out lift on the bottom helps direct the sound off the table and into the room. Four rubber bumpers keep the speakers from slipping and from scratching your furniture.
On Your Desk
The speakers incorporate two data ports on the back as well as line out audio port. Utilizing the included data or audio cables, you can use the ezSound as a dock with your computer to sync your music, music video, TV shows, or update the iPods software. When used with the wall adapter, the ezSound will charge your iPod while you listen or sync.
System requirements:
The ezSound 2.1 is compatible with most all iPod versions. The ezSound 2.1 currently works with iPod nano, Video iPod, 4th Generation iPod, Photo iPod, HP iPod, 3rd Generation, and iPod mini. Using an audio cable connected to the earphone jack, the speakers can also be used with the iPod Shuffle or any other audio player such as a CD Player, MP3 Player, or cassette player.
Features
Three (3) Speaker Stereo System for iPod
Includes 2 1″ Tweeters; 1 2.5″ Subwoofer
Compact speaker design is perfect for indoor or outdoor use.
Runs on 4 AAA batteries for portable use
Runs on AC power (adapter included)
Connects to computer via USB or FireWire to transfer files to iPod
Charges iPod when powered by AC adapter
Supports All iPods with Dock Connectors.
LED Power Indicator, Volume control, ON/Off Switch
Fold out lift raises speakers to project sound into the room
4 Rubber feet keep the speakers secure on all surfaces
Small and compact
Specifications
Data Connectors: USB & IEEE-1394
Audio Connector: 3.5mm
Power Input: USB/1394/+12VDC/Battery
Amplifier section
Maximum output power 2Wx2+3W (7W)
(10% T.H.D. 1kHz, 4½)
Speaker Section
Subwoofer 52mm magnetically shielded
Satellite Speaker 28mm magnetically shielded
Impedance 8½
General
Power Adapter (+12V/500mA)
Dimensions (4″W x 5 1/4″L x 1 5/8″H)
Supplied Accessories
AC power adapter
USB data Cable
1394 FireWire Cable
3.5mm to 3.5mm audio connection cable
iPod Adapter
iPod mini Adapter
ezSound 2.1 iPod Speaker System and Dock – $109.98
Link: ezSound 2.1 Speaker System for iPod
Free Podsafe CD with any PED purchase
PR: Thought Out Co. Announces it will giveaway one free PodSafe CD with a purchase of any PED products.
In efforts to promote PodSafe Music, visit our (USA only) online store and purchase any of PED, PED2 FlexPED or PEDusb (Device Pedestals) and Thought Out Company will give customers one free "Brother Love-Album of the Year" CD signed! No additional cost or shipping charges will be added to the normal transaction.
Link: Thought Out Co.
Content
Edmunds Offers Automotive Videos on iTunes for Free
PR: Edmunds.com, the Internet's premiere resource for automotive information, has announced that 21 of its automotive videos are now offered as free podcasts on Apple's iTunes Music Store.
Edmunds.com also announced that Nissan became its first ever podcast advertiser, developing a 15-second "teaser" advertisement that introduces Edmunds.com's video podcasts. The advertisement demonstrates the excitement of driving Nissan's exciting and popular 350Z, concluding with a shot of the Z's gear shift and the suggestion: "For another rush, try this little handheld device."
The podcasts feature road test reports on vehicles as diverse as the Lexus IS350, the Honda Civic Si, the Nissan Titan and the Porsche Boxster S. In addition, vehicle comparisons include the BMW 330i vs. the Audi A4 and the Mazda MX-5 vs. the Pontiac Solstice.
"Edmunds.com once again demonstrates its ability to provide its savvy consumer viewers with high quality content in a cutting-edge, engaging and easy-access video format, and we're delighted to be able to provide our advertisers with a new venue to reach those viewers," said Matthew Kumin, executive vice president for Edmunds.com. Kumin added, "And we're especially pleased Nissan has created an extension of its current campaign that makes it clear to viewers that the spot was created especially for handheld video players."
Edmunds.com is providing its video podcasts to on-the-go consumers and auto enthusiasts just as video download capabilities are being introduced. Apple Computer, Inc. recently announced that more than one million videos were purchased on iTunes in the first 20 days since the launch of its new video iPod(R).
Jan Thompson, vice president of Nissan marketing, said, "This was a natural fit with our media strategy to allow our consumers to have control over their media choices. Nissan is committed to leveraging technology to ensure our message remains relevant and contextually placed within our target consumers' lives."
An extensive collection of video car reviews, auto show reports and industry news geared to automotive enthusiasts can be found on Edmunds.com's free online magazine, Inside Line.
Link: Inside Line
bitMAX Outputs Content to 5G iPod
bitMAX, a Hollywood based digital archiving management company, now offers output of all content stored by clients to the new Apple 5G iPod. Now with one click, BAM (bitMAX asset manager) users can output content to be played on this new portable device to be shared companywide. This natural offshoot of digital media distribution answers the need for companies to easily and cost effectively distribute and share their media electronically at a high enough quality that provides a new "punch" to their marketing arsenal.
This new product offering shows bitMAX remains committed to maximizing the value that clients can expect when archiving their video in BAM. "This is but one of the first methods that users can easily show media on a portable device that has as wide a user base as the iPod does," states Marjorie Bach, bitMAX's Exec. VP. "Apple's product offering made this a 'no-brainer' for us and we are excited to offer it to our clients."
This new product is available to all users effective immediately and requires only that they have QuickTime 7 and the latest version of iTunes installed. The product is orderable and compatible with both Mac and PC users.
Link: bitMAX
GYMp3 Redefines Fitness for the Holidays with iPod Workouts
PR: GYMp3 Inc. (that's Gym-P-three) has launched a new product line of audio workouts designed for iPods and other MP3 players, available exclusively through online download services such as iTunes, Napster and Yahoo.
GYMp3 workouts give consumers a way to take Hollywood's top celebrity trainers with them when they workout, whether it's in the gym or outdoors. GYMp3 workouts include heart-pumping and motivating music from popular artists and DJs, perfectly produced with the trainers' voices to give consumers a fully immersive and engaging workout experience. Each workout includes a companion guide which provides guidelines and pictures to help consumers get started, available at GYMp3.com.
The first release, "UltimateP3 – Full Body Workout," is available now. UltimateP3 features world-renowned trainer Greg Isaacs and a gym workout that takes you through the three disciplines of cardio, strength and flexibility, all with amazing music. Named by Men's Journal as one of the Top 100 Trainers in America 2005, Greg has made Hollywood actors such as Clint Eastwood, Kurt Russell, Goldie Hawn, CSI: NY's Melina Kanakaredes and the Cast of NBC's "Friends" stay fit and look great for the screen.
GYMp3 trainer Kathy Kaehler, trainer to such celebrities as Jennifer Aniston, Julia Roberts, and Claudia Schiffer, will be on NBC's TODAY show Monday, December 19th, 2005, at 9 a.m. Eastern, discussing GYMp3 and other fitness gifts for the holidays.
"GYMp3 workouts are a great way to help your friends and loved ones stick to those New Year's resolutions," says GYMp3 CEO Alex LeVine. "Having a top Hollywood trainer push you through your workout is something that usually costs $200 an hour, and you have to be a celebrity just to get access. Now with GYMp3, you can take Greg Isaacs or Kathy Kaehler along with you, for just $11.99. We think it will be very popular this holiday season."
"Using consumers existing MP3 players and their favorite online music service makes getting GYMp3's super easy," says GYMp3 President and COO Jason Berkin. "Even better is the fact that you can give digital audio as a gift this year through services like Apple's iTunes Music Store."
GYMp3, Inc. is a privately held company based in Hollywood, California. Founded in 2005, GYMp3, Inc. produces and distributes downloadable audio fitness routines for use on popular MP3 players.
Link: GYMp3
LoadPod Offers Holiday Shoppers Same-day Delivery on Gift Certificates
PR: Last-minute holiday shoppers can order a LoadPod Gift Certificate for their favorite iPod user as late as December 24th, and a printable copy of the Gift Certificate will be emailed to the customer the same day. This same-day delivery allows shoppers to place their order at the last minute and still receive the Gift Certificate in time to use it as a holiday gift. LoadPod Gift Certificates are available in increments starting at $100 and can be used for any combination of iPod loading, iPod training, and any other service LoadPod offers.
Link: LoadPod Offers Holiday Shoppers Same-day Delivery on Gift Certificates
Software
YamiPod, Free iPod Manager for Macs, Windows, and Linux
PR: YamiPod is a freeware application to efficiently manage your iPod under Mac OS X, Windows, and Linux. It can be run directly from your iPod and needs no installation. Take a look at the feature list to find out what it can do, and feel free to suggest anything that might be missing.
It also has extra features such as RSS news and podcast support, remove duplicates, easy notes editor (with multipage support), songs synchronization, playlists export, and much more.
Here's a brief description of the features in YamiPod:
stand alone program, no installation required
iPod is automatically recognized
MP3 and AAC files can be copied to/from iPod
read/write access to MP3 ID3 and AAC infos
playlist support (On-The-Go included)
playlists import (PLS,M3U)
playlists export (PLS,M3U)
full Unicode support
auto-download new versions
advanced song import/export settings
2 restore features
built in music player
iPod informations
2 search features
remove duplicated tracks
find lost music files
easy ratings edit
PC to iPod synchronization
create and edit notes (with Unicode support)
automatically update song play counts
News RSS and podcasts to iPod upload
Growl support (Apple only)
export song lists to HTML or plain text files
multiple iPods support
Audioscrobbler support
All iPod generations were reported to be working under:
Mac OS X 10.2 or newer
Windows 98SE or newer
Any Linux distribution with GTK 2.0 (tested under SUSE 9.2,9.3; Ubuntu 5.04, 5.10; Fedora CORE 4; most up to date Gentoo)
YamiPod is free.
Link: YamiPod
iPod Music Liberator
PR: Free the music and playlists on your iPod!
The iPod Music Liberator allows you to copy music from your iPod to any computer, filling in a missing feature of iTunes. You see, iTunes only allows for a one way transfer of music from your computer to your iPod. But what if you want to move music to another authorized computer? What if you want to make a backup of your music? What if your computer crashes and you lose all of the music on your computer? What if you buy a new computer and need to move your music? What if…? Use the iPod Music Liberator for all of your iPod music copying needs.
New in version 4.5: Improve stability, performance and is a smaller file size for downloading.
System requirements: Mac OS X 10.2 or later.
$24.99 Demoware
Link: iPod Music Liberator
iPod Deals
For current iPod prices from a variety of sources, see our Best iPod Deals.