PowerBook, iBook, iPod, and other portable computing is covered in The 'Book Review, and general Apple and Mac desktop news is covered in The Mac News Review.
All prices are in US dollars unless otherwise noted.
News and Comment
Tips
Reviews
Products and Services
News and Comment
Current iPod Statistics
ipodhacks.com reports:
"As expected, there were no new iPod-related product rollouts announced at yesterday's WWDC 2005 Keynote, delivered by Steve Jobs. Some iPod/iTunes statistics were given, however. They were as follows:
16 million iPods sold by the end of last quarter
iPod hold 76% of digital music player market share
430 million songs have been sold on the iTunes Music Store
As of May, the iTunes Music Store holds 82% market share
There are over 8,000 podcasts out there currently
Podcasting support will soon appear built-in to iTunes"
Link: WWDC 2005 iPod Roundup
8-10 GB Microdrive Due by End of Year
Hitachi is working on a new data-recording method called perpendicular recording. IDG News Service's Martyn Williams reports:
"Hitachi Global Storage Technology is planning to launch a higher-capacity version of its Microdrive 1-inch hard-disk drive in the fourth quarter of this year, a company representative said Thursday at Computex in Taipei.
"The company outlined plans for larger capacity drives during the CES show in Las Vegas in January this year, and at the time said it would launch a drive with a capacity of between 8 GB and 10 GB before the end of the year."
Editor's note: The 1″ Microdrive is the one used in the iPod mini, so it's very likely we'll see a 8 GB or 10 GB model by the end of the year – Macworld Expo next January at the latest. dk
Apple to Pay for Short-lived iPod Batteries
BetaNews' David Worthington reports:
"Thousands of customers complained about problems with the iPod's battery life; eight filed a class-action lawsuit. The group of eight have tentatively won $50 vouchers and extended service warranties for up to 2 million customers in the United States that purchased first, second and third generation iPods from Apple.
"Under the remedy, Apple must extend its AppleCare protection plan one year to a full two years and replace or repair defective units. Customers that apply to participate in the action must fill out a form that will make them eligible for a $50 voucher to purchase any Apple product or service sans iTunes tracks."
Apple Announces iPod Recycling Program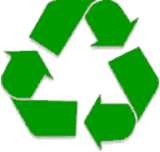 Customers offered 10% discount on new iPod purchases.
Apple has announced a free recycling program for iPod, the world's most popular digital music player. Beginning today, customers can bring iPods they no longer want to any of Apple's 100 retail stores in the US for free environmentally friendly disposal, and those who drop off an iPod, iPod mini, or iPod photo will receive a 10% discount on the purchase of a new iPod that day.
iPods received for recycling in the US are processed domestically and no hazardous material is shipped overseas. More details of Apple's worldwide recycling programs are available at:
Editor's note: If your iPod still works, it's worth a lot more on eBay. dk
Coalition Calls on Apple to Go All the Way on Product Takeback
The Computer TakeBack Campaign called on Apple Computer to offer free recycling for all of its products, not just iPods, in response to Apple's announcement today that it will accept old iPods at all of its stores for free recycling.
"Apple's announcement that they will take back their old iPods is a step in the right direction," said Robin Schneider, vice-chair of the national Computer TakeBack Campaign. "The Computer TakeBack Campaign is glad that Apple is finally listening to us and to their American consumers and taking responsibility for some of their iWaste. Now, Apple needs to agree to take back its whole range of products and to offer free and convenient takeback to consumers that don't live near Apple stores."
The Computer TakeBack Campaign had targeted Apple for poor design and ineffective takeback programs, pointing to the iPod, which does not allow consumers to replace the batteries once they can no longer hold a charge.* Consumers must send them back to Apple and pay over $100 to get a new battery installed, which lead some consumers to purchase new products instead. Earlier this week, a California Court issued a proposed settlement of a class-action suit against Apple that would offer $50 vouchers towards Apple products to owners of older iPods who have experienced battery failure problems.
"If you can do it with the iPod, you can do it with all your products," challenged Ms. Schneider. "What about all the Apple II, and IIe and Mac Classics that are being used as toxic doorstops? Apple can be a real innovator here and offer to take back all of these old computers at their stores."
Electronic waste (or "e-waste") refers to obsolete computers, monitors, and other consumer electronic products at the end of their useful lives, and are entering the waste stream. The Computer TakeBack Campaign advocates a program of "extended producer responsibility," where electronics producers take responsibility for their obsolete products, and manage and finance programs to reuse components then recycle any remaining materials responsibly. By diverting electronics into strictly controlled recycling programs, toxic substances in computers, like lead, mercury, and cadmium, are kept out of municipal landfills, and incinerators and do not get dumped in prisons or poor communities in China and India. Both Dell and Hewlett Packard have endorsed the extended producer responsibility model, but Apple has not.
The Computer TakeBack campaign is a national coalition of environmental groups seeking to protect the health and well-being of electronics users, workers, and the communities where electronics are produced and discarded by requiring consumer electronics manufacturers and brand owners to take full responsibility for the life-cycle of their products. In January, the Computer TakeBack Campaign (CTBC) kicked off a national corporate campaign directed at Apple at the Mac World Expo in San Francisco.
* Editor's note: Although it's not immediately apparent how you can open up an iPod to replace the battery, it is possible. I've done it, and all of the companies that sell iPod batteries include instructions (and often a specialized tool) for doing so. Many of the third-party batteries even offer longer play time than Apple's original battery. dk
Podcasting Is Like TiVo for Your iPod
Mac Zealots' says:
"Tired of the same drab content on the radio? Podcasting releases you from the shackles and lets you listen to fresh content direct to your iPod. maczealots.com's Justin Williams shows you how to take advantage of this new technology and the applications that make it possible."
The World in the iPod
"The microchip that runs Apple's popular music player is made in India, Taiwan, China and Silicon Valley. Is this an example of how globalization works to everyone's benefit – or a sign that the world economy is about to roll over America?"
Salon staff writer Andrew Leonard says:
"Crack open an iPod and what do you see? Laid out in silicon is a road map for the world economy: globalized, outsourced, offshored, interconnected and complex. Take a look at the components: the hard drive, circuit board, click wheel, battery pack and all the rest. The iPod is a striking Apple success story, but the first thing worth noting is that Apple doesn't 'make' it. Steve Jobs and Co. led the overall design, but the pieces get put together in China by a pair of Taiwanese firms."
Aboss Shows Off 'i-Pocket' iPod mini Clone
ipodnn.com reports:
"The iPod shuffle is not the only Apple music player being copied by Chinese and Taiwanese electronics manufactures. This week, at the Computex trade show in Taipei, Aboss showed off its 'i-Pocket.'"
iPod Is Apple's 'Foundation of Growth'
Forbes.com reports:
"Piper Jaffray maintained an 'outperform' rating and $52 target price on Apple Computer , saying the long-term positive of an Intel partnership will outweigh the negatives associated with the transition…. Piper still believes the iPod will be the foundation of growth in other Apple businesses, with iPod carryover impacting numbers over the next two years. Piper reiterated its fiscal 2005 and 2006 earnings-per-share estimates for Apple of $1.32 and $1.48, respectively."
HP Adds iPod mini
PR: HP has added the Apple iPod mini from HP to its line of digital music players.
The Apple iPod mini from HP is available in two models: the 4 gigabyte (GB) version holding up to 1,000 songs and the 6 GB version holding up to 1,500 songs.(1)
Both versions feature a touch-sensitive click wheel for easy, one-handed navigation, battery life of up to 18 hours, USB charging and an ultra-portable, lightweight design. The music players also include earbud headphones, a belt clip and a USB 2.0 cable.
HP also unveiled its new HP Printable Tattoos for the Apple iPod mini from HP, which allow consumers to personalize their digital accessories with artwork, designs and photography. During the next six months, HP will roll out more than 300 new images, including album art from the hottest bands and recording artists, as well as unique artwork.
The new Tattoo gallery features sports, nature, lifestyle and art sections in addition to many other categories. Consumers can explore the full gallery of Tattoo designs at:
http://www.hp.com/music
These ultra-thin HP Printable Tattoos are easy to apply and remove from the iPod mini's exterior. Durable and water-resistant, the Tattoos help to protect the iPod mini from scratches while adding a touch of personal style.
Consumers can print their mini Tattoos from an HP Photosmart 375 Compact Photo Printer. The printer uses HP Vivera Inks to deliver amazing color, which gives the Tattoos a rich and vibrant look that enhances any design consumers choose. HP Printable Tattoos are sold in packs of five printable glossy paper sheets that are precut to fit the Apple iPod mini from HP. The retail price for HP Printable Tattoos for the iPod mini is $9.99.(2)
Consumers can also personalize their listening experience through iTunes, software that is preinstalled on all HP PCs, enabling consumers to download music and manage it in a variety of ways to match their tastes and styles.
The iPod mini's USB 2.0 cable connects to a PC and enables consumers to easily sync up their music and playlists. Both models of the iPod mini as well as the Apple iPod from HP 20 GB, 30 GB and 60 GB, are backed by HP's Total Care customer support. This includes one year of phone support and a one-year limited warranty.
The Apple iPod mini from HP as well as HP Printable Tattoos and accessories are available to consumers in the United States and Canada online at hpshopping.com starting June 5, and shortly thereafter at major retailers, including Radio Shack, Sears and Walmart.
Here Comes the iPod Media Backlash
iPod Garage's Bill Palmer says:
"The mainstream media has spent so much time and effort singing the praises of Apple's iPod lineup over the past few years that some have wondered if Apple really needs to advertise the iPod at all, or would be better off just shutting up and letting the media do it for them. But with the triple-whammy of bad news out of the iPod camp today, the mainstream media is poised to begin asking whether the iPod can continue is dominance and if the whole iPod universe isn't ready to fall apart. How do I know? Because reporters are calling me and asking questions already."
iPodLinux Project Develops Video Player for the iPod
engadget.com's Barb Dybwad reports:
"This is sort of still at the proof-of-concept stage (and is, of course, totally unsupported), but it is working for all iPod models save the iPod mini 2G. The video player from the iPodLinux project will do 24-bit, uncompressed AVI files at iPod-native screen resolution only…."
iPod to Become a Specialized Computer by 2006
Macsimum News' Neo says:
"In October 2004 I presented a chapter of the Next Wave of the Internet series entitled 'On the Road to iPod-Live! In 2005' that discussed a wireless iPod a full month ahead of the news of Apple's wireless patent. Another central point of that chapter was to amplify the fact that the iPod was being dubbed a specialized computer. In this chapter, I'll provide you with an overview of the potential of that specialized computer – which I'll simply refer to as the iPod Pro.
"But being so close to Steve Jobs keynote, I thought I'd first briefly touch base on what could be earmarked for the iPod over the next several quarters."
Fat shuffles: Is More Better?
Playlist's Christopher Breen says:
"Back in the day, when you wanted to gain some clue about what Apple was up to, you did things the old-fashioned way – you dove into dumpsters, shadowed anyone with a three-digit-or-fewer Apple badge number, and lied your way into a subscription to MacWeek. These days, such behavior would likely land you in the hoosegow.
"No, if you want today's Apple dope you wing your way to the Near East and muck through the refuse bins of Asian chip and memory manufacturers. While Apple's silicon curtain will certainly prevent you from seeing the next iPod before its time, uncovering a soy-soaked schematic that reveals Samsung and Toshiba's plans to make a mess of high-capacity flash chips – the kind of chips that go so well with 2- and 4 GB versions of very tiny portable music players – gives you more than a small clue about where the most portable of iPods is headed."
Tips
iPod No Longer Plays Music after Formatting or Partitioning Hard Drive
An updated Apple Knowledge Base article says:
"You should not partition, format, or change the formatting of iPod's hard disk using Disk Utility, Windows Explorer or other utility unless you are performing troubleshooting steps that require this step.
"iPod, iPod mini, and iPod shuffle cannot play music if you format or partition the hard disk.
"If iPod's hard drive was partitioned, formatted, or the format was changed, use the latest version of the iPod Updater application to restore iPod iPod back to its factory condition.
"Warning: The restore process cannot be undone. All of your songs and files will be deleted. Always make a backup of your important data."
iPod Doesn't Appear in iTunes or on Mac Desktop
An updated Apple Knowledge Base article says:
"Find out what you can do if iPod doesn't appear in iTunes or in the Finder.
"This article is for Mac users. There is a separate article if your Windows PC doesn't recognize iPod."
iPod: Troubleshooting Songs and Audiobooks That Won't Play
An updated Apple Knowledge Base article says:
"If certain songs or audiobooks won't play on your iPod, here are some things you can try to resolve the issue."
Reviews
Modus Design Dopi Cases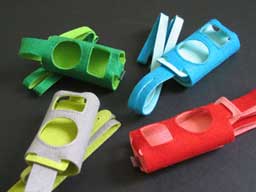 iPodlounge's Jeremy Horwitz reports:
"iPod cases made from felt? Yes. If it wasn't for their machined stitching and a couple of other touches, Modus Design's Dopi cases ($19) would be ideal grade school arts and crafts projects for precocious iPod lovers. Now available in four external colors – blue, green, red, and gray – the Dopi cases were designed to vaguely match the bodies of currently shipping iPod minis, and even include a second color of fabric inside. (Only the gray case's green interior is a color surprise; the others are lighter shades of their exterior colors.)"
Products and Services
PodBuddies
PR: PodBuddies' Ivonne Silva says:
"My name is Ivy, and I am the creator of the PodBuddies. I have been making these collectible figurines that feature iPods and sometimes interact with them.
"PodBuddies are all ears! This new introduction answers the question – Where do I put my earbuds? Well look no further as our newest PodBuddies comes to the rescue.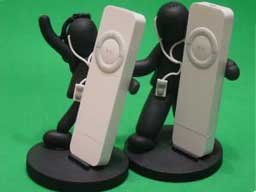 Never misplace your headphones again and make sure you keep it near that iPod. This piece features a glass container that our new girl is holding onto while listening to her iPod mini. Awesome addition to our collection. And if you were among the lucky ones that purchased PodBoy 1.0, they make a great set. Each pieces comes with certificate of authenticity and gift boxed. Figurine and certificate are both numbered and signed to match. All pieces are handmade and may vary slightly from picture. Priced at $15.99 and limited to 100 individually numbered pieces.
Link: PodBuddies
iPod Access 3.3 Copies Songs from iPod to Mac by Artist/Album
PR: iPod Access is the premier application for transferring songs from your iPod to your Macintosh computer. Most iPod transfer utilities must fetch ID3 tag information by opening every music file and fetching information. iPod Access is able to utilize the iPod internal database so that it can display your iPod's contents almost instantly. This includes tag information from protected AAC files that have been purchased from the iTunes Music Store and all playlist information. Version 3 also adds iTunes integration giving the ability to clone playlists back into iTunes and add songs into the iTunes library directly.
With a simplified user interface including song filtering by Artist/Album or Composer/Album you can find the songs you need to copy and even listen to them directly in the main window. When copying songs iPod Access can organize songs into Artist/Album folders or Composer/Album folders and change the file names if desired. iPod Access can even copy files to PC formatted drives if the "Remove Special Characters" option is checked in the settings.
iPod Access also provides one button full sequential music backups. By pressing "Backup" in the toolbar you can speed up the process of regular backups. iPod Access will by default only copy new songs added to your iPod so you don't have to remember what you have added.
iPod Access is available for $12.99 but is a free upgrade for all v1.x, 2.x and v3.x owners.
New in this version:
Tiger Mac OS X Support.
Improved iTunes Integration.
Updated Esellerate Engine.
System requirements:
Mac OS X 10.1 or higher (including 10.4, Tiger)
iPod 1.2 or later
iTunes 4 or later for iTunes integration
iPod Access is $12.99 shareware.
BiblePod: The Bible on Your iPod
PR: BiblePod allows you to transfer books and chapters from the King James Version Bible to your iPod. BiblePod is a freely distributed program. The English KJV used is provided by the Zefania XML Bible Markup Language project.
The iPod is limited to 1,000 notes, and each note is limited to 4,096 characters (4 KB) of text.
New in this version:
BiblePod has been updated to version 1.0.1.
The Windows version has been completely rewritten from scratch using C#.
A big thanks goes to Stephan Hilbelink for his BiblePod icon!
Also both versions now load the XML text in a separate thread, to speed startup times.
System requirements:
3rd generation or newer iPod (includes iPod mini and iPod photo)
Windows

.NET Framework
Windows 2000/XP

Mac

Mac OS X 10.2.8 or greater
BiblePod is freeware.
Share the Music with Altec Lansing's inMotion iM7 Portable Speaker System
PR: Why should all the music you've stored on your Apple iPod stay stuck inside your head? Altec Lansing's new inMotion iM7 Portable Speaker System brings the market's most impressive out-loud firepower to your iPod, iPod mini or iPod photo, along with the ability to run on batteries for use wherever you go. Patent-pending digital amplification technology and other engineering extras pump out the biggest and fullest sound this side of your home stereo system – all in a one-piece package compact enough to take on the road.
Louder, Deeper, Richer
The iM7 is the newest and highest-performing member of Altec Lansing's groundbreaking portable inMotion speaker family. This sleek, cylindrical, white and silver "mobile home" for your iPod packs more drivers and power into its boombox-sized chassis than any competitive product, including two 1″ tweeters, two 3″ midrange drivers, a 4″ side-firing subwoofer, and a 4″ passive radiator. These components combine with Altec Lansing's new high-efficiency digital amplification technology and proven XdB onboard digital signal processor to deliver big bass, clearly distinguished mids and highs, and room-filling sound from every track. Fringe benefits include intelligent fine-tuning, more headroom, less distortion, and the ability to hear every nuance in anything from Eddie Vedder's growl to Jonny Lang's guitar or Yo-Yo Ma's cello.
Universal iPod Cradle
Any dockable iPod is secured within the iM7's patent pending universal cradle. Your iPod is sheltered in a unique built-in dock that gracefully opens and recesses with the touch of a finger. As music plays, the iPod recharges on AC power. For iPod photo owners, the unit also includes S-video and Composite video output connectors that make it possible for iPod photos to be enlarged and viewed on almost any television.
Plugged or Unplugged
True to its inMotion name and heritage, the iM7 offers a battery-operated mode for unplugged use in any mobile environment from your backyard to the beach. This portability is enhanced by a built-in handle as well as optional accessories, including a shoulder harness that lets you listen as you walk and a protective shoulder pack for easy transport. There's also an AC power supply with an international plug set for times when an electrical outlet is nearby, plus a full-featured wireless remote that provides across-the-room control of iPod song navigation as well as the speaker system's on/off, volume, and separate bass and treble functions.
Not Just for iPod
While the iM7 carries Apple's new "Made for iPod" certification, it can also double as a speaker system for other devices. The unit comes with an auxiliary 3.5 mm input that permits connectivity to CD and MP3 players, portable DVD players, TVs or VCRs, plus a headphone jack for private listening.
Complements Other inMotion Systems
The iM7 joins four other Altec Lansing inMotion products designed for travel: the iM3 and the iMplus for all dockable iPods, the iMmini for the iPod mini, and the iM4 universal system for non-iPod MP3 and CD players.
The inMotion iM7 Portable Speaker System will be available in June at Apple stores and at http://www.alteclansing.com at an MSRP of $249.95. The product measures 6.5″ x 16.75″ x 6.5″ and ships with a power supply and international plug set. Eight D batteries (not included) are required for battery operation. The shoulder harness and shoulder pack accessories will be priced and sold separately.
ArtWizz iPod Accessories and Peripherals
PR: Harmonic Inversion has announced the availability of the ArtWizz products, including HangPhones, ScreenShields, and the best selling USB FanLight.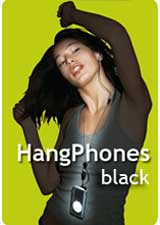 Since the release of the HangPhones, ArtWizz has become a superstar in the industry. HangPhones enable a user to attach their iPod mini securely to a strap around their neck while benefiting from an ergonomically designed set of earbuds featuring perfect length for use during activities like running, dancing, and commuting.
In addition to the mainstream items for iPods, ArtWizz has also created the always-popular USB-powered FanLight for staying cool and well lit when it's hot and dark.
The ArtWizz ScreenShields protect the screen of the iPod and iPod mini from scratches and smudges, are available in packages of six, and includes a screen cloth.
Harmonic Inversion President, Randy Case exuded, "ArtWizz HangPhones are as essential as owning an iPod mini. ArtWizz offers HangPhones a la carte or with a combination case complete with HangPhones. The ArtWizz HangPhones are also compatible with an array of MP3 players. They are available through dealers including Small Dog Electronics, PowerMacPac, and directly through the Harmonic Inversion website."
The ArtWizz HangPhones have a suggested retail price of $29; with case, $55. The ScreenShields retail for $12; the USB FanLight retails for a mere $20.
DLO Flexible Dock Cable for iPod shuffle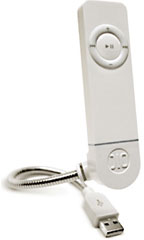 PR: The DLO Flexible Dock allows the iPod shuffle to fit into tightly spaced USB ports and displays the shuffle for easy access
The DLO Flexible Dock is a 7″ adjustable USB dock that allows an iPod shuffle to connect to any computer, especially those with recessed or closely spaced USB ports. It also positions a USB port to easily charge and sync an iPod shuffle, instead of having to reach around the back of the computer to do so . . . and it looks very cool doing it. The Flexible Dock prominently displays the shuffle right next to your computer screen. It frees up adjacent connectors that would otherwise be blocked by the iPod shuffle.
The iPod shuffle is too wide to be used with certain computers with recessed or tightly spaced USB ports. If you want multiple connectors for a mouse, keyboard, or printer, it's not possible to sync and charge your iPod shuffle without a little help. The DLO Flexible Dock plugs into any free USB port on your computer then bends out of the way to offer a super-handy connection port for in-and-out access of the shuffle.
Features:
Allows iPod shuffle to fit into recessed or closely spaced USB ports
Prominently displays your iPod shuffle right next to your computer screen
Frees up adjacent connectors that would otherwise be blocked by iPod shuffle
Reaches hard to access USB ports to sync and charge your iPod shuffle
Price: $19.99
DLO Flexible Dock for iPod shuffle, everything iPod
DLO Action Jacket for iPod shuffle
PR: Sport-ready case, belt clip and armband for iPod shuffle.
Meet the latest addition to DLO's Action Jacket family; the Action Jacket for iPod shuffle. The most popular iPod case in the world is now available for the most portable iPod ever. The Action Jacket is perfect for the gym, or anywhere your active, iPod-enhanced lifestyle takes you.
Features:
Neoprene case, rotating belt clip and workout ready armband in one complete package.
Padded, soft case fully protects iPod during any activity
Belt clip securely attaches the shuffle anywhere and rotates a full 180 degrees for perfect hipside fit
Comfortable, workout-ready armband fits any arm size from toothpick to python
Clear vinyl screen completely covers and protects iPod controls from dirt and sweat
Price: $24.99
DLO Action Jacket mini
PR: The ultimate workout case for mini. Thick neoprene and clear vinyl screen provide best protection. Comes with belt clip and armband!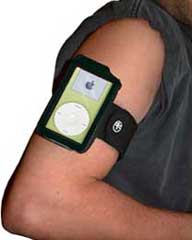 Get into action, mini style! This DLO debuts is the ultimate in iPod mini protection and style. With a new, improved armband that features an ultra-secure Velcro, the DLO Action Jacket mini is perfect for the iPod mini music lover on the go. Take it to the gym or for a run, or just wear it on your belt using the sturdy swivel belt clip.
Features:
thick neoprene
built-in transparent screen protector
custom play-through design (access to jog wheel)
opening at the bottom for docking connector)
Be active and stay secure with the DLO Action Jacket mini for iPod mini.
Price: $29.99
Dior Black Tie iPod Case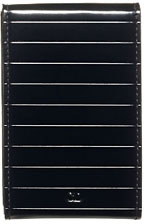 PR: Dior's iconic iPod case is a chic marriage of technology and design. In structured leather with a glossy, line-etched finish. The smaller version neatly carries Apple's 15 GB and 20 GB models and the larger version holds 40 GB models, allowing the cord to pull through one end and securing the case with a double-snap flap on the other end.
Polished black leather with precisely etched with horizontal lines
Headset plug-in opening, two-snap closure, belt attachment
Packaged in a drawstring bag and Dior box
3.75″ x 4.5″ x 1″ (15-20 GB), 3.75″ x 4.5″ x 1.25″ (40 GB)
Made in Italy
Price: $215, 15-20 GB; $220, 40 GB
iPod Deals
For current iPod prices from a variety of sources, see This Week's Best iPod Deals.