Apple updated the compact iPod mini in February 2005, dropping the gold color and adding a 6 GB model. Visually the 2G iPod mini is distinguished by colored printing on the clickwheel.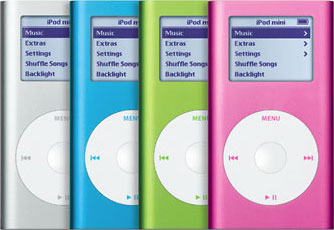 To protect its minuscule 1.0″ hard drive, the iPod mini was built of aluminum.
The 2G iPod mini was available in four colors – silver, blue, pink, and green – and two capacities, 4 GB and 6 GB. This was the last model to bear the iPod mini name. It was replaced by the iPod nano in September 2005.
Hardware Overview
Models
Announced 2005.02.23 at US$199 (4 GB) and $249 (6 GB)
Included accessories: earbuds, belt clip, AC adapter, USB 2.0 30-pin dock cable, iTunes CD
Code name: Osiris, Q22B (6 GB)
Model number: A1051
Product numbers:

4 GB

silver, M9800
blue, M9802
pink, M9804
green, M9806

6 GB

silver, M9801
blue, M9803
pink, M9805
green, M9807
Technology
CPUs: 2 ARM 7TDMI-derived CPUs running at variable speeds up to 80 MHz
Audio chip: Audio Codecs developed by Wolfson Microelectronics
Display: 1.67″ 138 x 110 pixel LED-backlit LCD.
Battery: 400 mAh lithium polymer
Charge time: 3 hours max. (1 hour fast charge to 80% capacity)
Play time: 8 hours
Compatibility
Original OS: iPod mini OS 1.0
Maximum OS: iPod mini OS 1.4.1
iTunes Versions: iTunes 4.7.1 and later.
Mac OS Required: OS X 10.2.8 or 10.3.4 or later recommended. 10.3.4 required for USB 2.0 support.
Windows Versions Supported: 2000 SP4, XP Home or Professional SP2
Dimensions and Weight
Dimensions: 3.6″ x 2.0″ x 0.5″
Weight: 3.6 oz.
Further Reading
Keywords: #ipodmini #2gipodmini
Short link: http://goo.gl/Bnda11
searchwords: ipodmini, 2gipodmini