PowerBook, iBook, iPod, and other portable computing is covered in The 'Book Review. General Apple and Mac desktop news is covered in The Mac News Review. News about Apple's transition to Intel CPUs and other Intel developments is covered in The Macintel Report.
All prices are in US dollars unless otherwise noted.
News and Comment
Tips
Reviews
Products and Services
Software
News and Comment
Apple Reduces Cost of iPod Battery Replacement
Apple has dropped the price of its iPod Battery Replacement Program from $99 to $59 (plus $6.95 shipping).
If your iPod requires service only because the battery's ability to hold an electrical charge has diminished, Apple will replace your iPod for a service fee of $59 plus $6.95 shipping. Be sure to follow all of the battery troubleshooting steps before submitting your iPod for battery replacement.
Solar Charger for iPod
Billboard's Antony Bruno says:
"For all their ubiquity, Apple Computer's iPods are notorious for having a frustratingly short battery life.
"UK firm Better Energy Solutions is addressing the problem in an eco-friendly way. Its Solio line of battery chargers uses solar power to energize not only fading iPods, but also mobile phones and other devices."
Save iPod Batteries for a Sunny Day
Intel's Xscale CPU to Power Video iPod?
iPod Hacks says:
"A recent post on Mac on Intel brought to our attention a most insightful look at the motivations behind Apple's transition of the Mac to the Intel processor platform, presenting the situation in a rather new light. While most analysts have been, logically, focused on what Apple will gain from the Pentium line of processors sitting at the heart of future Macs, there has been little discussion about another processor asset that Intel holds: the Xscale.
"An evolution of the StrongARM processor that powered the Apple Newton MessagePad 2000, the Xscale is compatible with, and offers far more power than, the iPod's current 80 MHz ARM7 core. The long-rumored "video iPod" would need much more CPU muscle than the current iPod has in order to handle the high-quality video playback demands that such a unit would offer."
iPods Can Damage Your Hearing
4HearingLoss reports:
"Hearing experts wonder whether the frequent use of these devices, particularly with the inserts that sit within the ear, are contributing to noise-induced hearing loss….
"About 12 percent of children and teens in the country – more than 5 million – have noise-induced hearing loss. Hearing loss in general has doubled in the United States in the last 30 years….
"in Europe, iPods, for instance, are capped at 100 decibels. There is no such limit on those sold in the United States.
"The National Hearing Conservation Association advises that if you have to shout above the music from three feet away, you should turn it down.
"If someone else can hear your music from your earpiece, you are playing it too loudly…"
iPod shuffle: To Screen or Not to Screen?
iPod Garage's Bill Palmer reports:
"Three weeks into this iPod shuffle experiment, I'm still playing the love-hate game with it just a little bit.
"I love it because it's a near-perfect implementation of a screenless small-capacity flash player. And not surprisingly, the dissatisfaction lies in the fact that regardless of the implementation, it's still screenless and small-capacity. I know part of it is the fact that I switch back and forth between a shuffle and a full-size iPod on a near-daily basis, which is just enough to get me disoriented to the point that I'll look down at my shuffle to take a gander at its screen, only to realize that, hey, I have the shuffle today. As I've pointed out before, I only bought the shuffle for product testing purposes, but the sheer number of shuffle-related products currently in-house here at iPod Garage Labs necessitates that I use the shuffle as my main iPod fairly often."
Voice-Activated iPod on Apple's Roadmap?
Macsimum News reports:
"Apple's Patent Application 20050015254 reveals a new and exciting concept relating to a server-based media management system. The new system will provide the next generation of wireless iPods with ability to download additional updateable menus, beyond those that come prepackaged with the unit.
"A secondary aspect of the media management system relates to a voice activated option that will add a level of convenience to those driving a vehicle (car, truck or boat), riding a bike, jogging and so forth."
iPod Compatible Audio System for 2006 Scion xA and xB
Scion, from Toyota Motor Sales (TMS), USA, Inc., has announced manufacturer's suggested retail prices (MSRP) for the 2006 Scion xA and xB. An iPod compatible Pioneer audio system is now available as an accessory upgrade for both vehicles, making Scion the first brand to offer iPod connectivity and control across its entire lineup. The xA and xB will begin arriving at Scion dealerships next week.
The Scion xA hatchback gets a minor makeover for 2006. Exterior changes include new upper and lower front grilles, redesigned front bumper, color-keyed rocker panels and rear bumper, new headlamps and tail lamps, and side mirrors with integrated turn signals. Phantom Gray Pearl and Black Cherry Pearl exterior colors have been replaced with Flint Mica and Salsa Red.
Inside, the xA's passenger cabin receives enhancements such as new seat fabric, speedometer with a new silver background and a new steering wheel with integrated audio controls. Customers will now have a choice of one of three all-new wheel cover designs shared between xA and xB.
Both xA and xB will receive a redesigned Pioneer AM/FM/CD audio head unit. Scion is also offering music lovers a new, optional iPod compatible audio upgrade from Pioneer that integrates the world's most popular digital music player with the car's sound system, offering music navigation, power and display.
The 2006 xA and xB's new standard audio system features a centrally located volume control knob and a mini-jack port located in the center console that allows for connectivity to most portable music players. The mini-jack port allows users to listen to their portable music collection through the Pioneer speakers. This new unit still retains key Scion audio system features such as Scion Sound Processing (SSP) where listeners can choose from three preset equalizer settings, satellite radio compatibility and a user-customizable welcome screen.
A Pioneer AM/FM/CD head unit with iPod control is now available as an all-new accessory upgrade for both xA and xB. This head unit integrates track, artist and album information from the iPod into a one-line scrolling display on the head unit's screen. Connectivity is achieved by simply plugging the iPod into a port via a connector cable, providing outstanding sound quality through the car's stereo system and constant power to the iPod. Music is controlled through the head unit and, for the xA, the steering wheel buttons. The MSRP for this accessory upgrade is only $260, which includes installation.
With the additional standard equipment, prices for the 2006 Scion xA and xB increase only $200 and $150, respectively. The MSRP for the Scion xA is $12,730 with a manual transmission and $13,530 with an automatic transmission, reflecting a 1.6 and 1.5 percent increase, respectively. The Scion xB's MSRP is $13,880 with a manual transmission and $14,680 with an automatic transmission, reflecting a 1.1 and 1.0 percent increase, respectively. The MSRP does not include delivery, processing and handling fees, which vary depending on location.
Volvo Tunes in to Digital Music Solutions from PhatNoise
PR: PhatNoise, an innovator in bringing digital media to the automobile, has announced a groundbreaking partnership with Volvo Cars to offer digital music enthusiasts new options for seamlessly accessing their collections in Volvo vehicles. Through the partnership, Volvo becomes the first automotive company to offer consumers a choice of digital music accessories, including an integrated connectivity for the popular Apple iPod, or the onboard Digital Jukebox, a customized version of PhatNoise's award-winning PhatBox Digital Media Player, which features 20 GB of capacity and PhatNoise's signature Voice Index technology.
Both products will be dealer-installed options, with the iPod adapter available first in North America, followed by the Digital Jukebox which is expected to be available worldwide. Both products feature direct access to the music collection from the radio and steering wheel controls, complete with integrated audio connections for high quality digital sound.
"Volvo recognizes the explosion of consumer interest in digital music and is committed to giving their customers a variety of ways to take that experience with them on the road," said Sharon Graves, President and CEO of PhatNoise. "We're very gratified that PhatNoise solutions and our experience in this field have helped them make this vision a reality."
"For Volvo, PhatNoise was unquestionably the right partner. Their full service approach delivers innovative technology in a way that resonates with consumers and is right in line with Volvo's unprecedented commitment to safety," said Thomas Andersson, executive vice president, marketing for Volvo Cars of North America. "By allowing our customers to easily access their favorite songs on the iPod or the Digital Jukebox through the vehicles existing controls, consumers are free from distraction in order to keep their eyes on the road."
The Digital Jukebox is a customized version of PhatNoise's award-winning PhatBox Digital Media Player. The system integrates directly with each vehicle's existing stereo and steering wheel controls, plus features voice feedback for easy and safe navigation of thousands of your favorite songs. With 20 GB of storage, the Digital Jukebox has a virtual capacity of 500 CDs, all stored digitally and organized by Artist, Album, Genre or personal Playlist. The system also includes easy-to-use PC software and a USB cradle for simple, one-click transfer of content from home to car. The Digital Jukebox will be available worldwide from Volvo retailers.
The Volvo Adapter for the Apple iPod, powered by PhatNoise, will be available for the S60, S80 and V70/XC70 models and will connect by simply plugging the iPod into a cable located in the car's armrest compartment. The Volvo iPod Adapter enables users to control their music through their Volvo sound system and steering wheel controls, and will charge the iPod when it is connected. The adapter will be available first in North America from Volvo retailers.
The Volvo iPod Adapter and Digital Jukebox will be available beginning in June as authorized Volvo retailer-installed accessories. In the U.S., the Digital Jukebox has an MSRP of $898.00 (additional equipment may be required) and the iPod Adapter is has an MSRP of $150.00 (additional equipment may be required).
iPodlounge Back to School Guide Due August 15
iLounge's Larry Angell reports:
"iPodlounge [now known as iLounge] is proud to announce our second iPod guide of 2005 &emdash; the iPod 101: Back to School Guide. In a twist on previous iPodlounge Buyers' Guides, the new publication will include two major parts: a free iPod and iTunes guidebook for readers, plus a preview and review section focused on the top "Back to School" accessories for Fall. As with past Guides, two exciting reader contests with major prizes will be announced shortly. The new issue will be released on August 15, 2005."
Win an iPod and More at MacMonkies
MacMonkies has announced their 4th annual Birthday Celebration: The 4 For Four Birthday Giveaway. As MacMonkies just turned 4 years of age on July 4, 2005, they are giving away some great gifts in recognition of their readers. Prizes include: 1 iPod, 1 iPod shuffle, 1 Bundle of Fun (which includes ShapeShifter, iClip, Iconize Me! Premium Package, FruitMenu, WindowShade X, and iTunes $10 Gift Certificate), and 1 iTunes $20 Gift Certificate. For complete details, make your way to MacMonkies.com and have some fun!
Tips
Use Spotlight to Copy Songs from Your iPod
machacks' bhe says:
"There is an easy way to use Spotlight to find and subsequently copy songs off your iPod. Drop to Terminal and type…."
Smart Playlists Stop Updating Dynamically on iPod
A new Apple Knowledge Base article says:
"If you have an iPod with a Click Wheel, Smart Playlists may stop updating dynamically after you update your iPod with iPod Updater 2005-06-26. For example, if you rate a song on your iPod, the rating appears, but that same song won't appear in a Smart Playlist based on the same rating on your iPod. But this can happen with a Smart Playlist based on any criteria.
"To resolve this issue, connect your iPod to the computer that contains the original Smart Playlists. This makes iTunes update the Smart Playlists in iTunes and on your iPod."
Identifying Different iPod Models
An updated Apple Knowledge Base article says:
"It's easy to see which iPod model you have.
"You can tell by:
Checking if it has a scroll wheel, a touch wheel, or a Click Wheel.
The size of its hard drive.
The dock connector.
Link: Identifying Different iPod Models
Reviews
PC Magazine Reviews iPod photo
PC Magazine says:
"Apple retains the iPod's famous ease of use and applies it well to digital photos, but with some odd limitations. If you want primarily a music player with the added ability to see and show photos, too, you'll be thrilled. But digital photographers will wish for more on-the-road-friendly features."
Products and Services
Grab Puts Your iPod Where You Want It
PR: Consumers have been left in the dark when it comes to simple ways to safely secure their iPod, keep it accessible for listening and control their music while in the car, according to Rivet International.
In a June 2005 survey conducted by Rivet, the leading developer of attachment systems for personal mobile devices and accessories, 68% of respondents said they currently rely on a car cup holder or ashtray as a storage unit for their iPod. 76% of consumers would consider purchasing an affordable system that attaches to the dashboard without impeding air conditioning vents or cup holders.
"The results of our survey show a shocking number of people storing their iPods in cup holders. I prefer to put my coffee in my cup holder and have my iPod on the dashboard within close reach," said Raleigh Wilson, CEO of Rivet International. "This confirms the fact that consumers are in need of a simple way to attach their iPod while on the road."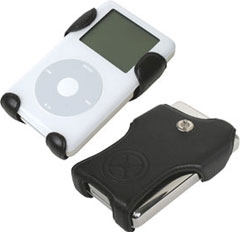 Rivet's GRAB™ for iPod allows users the freedom to attach their iPods wherever they want – belt loop, backpack, purse and even a car dashboard. Rivet's patented, aircraft quality alloy and stainless steel E-Clip one-touch release system lets users easily switch the way they wear their iPod without skipping a beat. The Rivet E-Clip with GRAB allows drivers to place the iPod in a custom location on the dash of any automobile.
With the recent launch of the Podcast-compatible iPod 20 GB and 60 GB with color display, even more users will be Podcasting and listening to the radio on their iPods in the car. Rivet's GRAB will provide consumers with a simple way to always have their iPod within reach, even while driving.
Rivet products are backed with a lifetime warranty. Apple stores are currently carrying the new Rivet GRAB for iPod mini and iPod with click wheel (20/30 GB and 40/60 GB) at a price of $29.99. Rivet also offers the GRAB Lanyard neck band for the iPod mini at a price of $24.99.
In-car Unit Attaches to Any iPod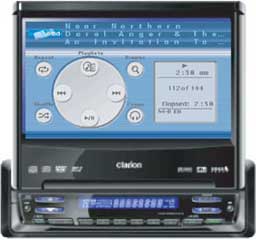 The Hamilton (ON) Mountain News reports:
"You have to hand it to the folks at Apple. Armed with just a wing, a prayer and hundreds of millions in marketing dollars, they have turned the iPod into a cultural phenomenon, with scores of manufacturers developing accessories for the device.
"But when Clarion – arguably the hippest aftermarket electronics manufacturer – develops the VRX755VD, a DVD multimedia system headlined by iPod inter-activity, you know Apple's little offspring has come of age.
"Featuring a flip-up seven-inch screen, the unit can attach to any iPod to transmit songs through car stereo speakers. The on-screen display even resembles the iPod's navigation-enhancing intuitiveness…."
Newer Tech Adds High Capacity Battery for iPod mini
PR: Newer Technology, Inc., has immediately available a high-capacity replacement battery for Apple Computer's iPod mini that provides 50% more capacity than the factory original.
Newer Tech's NuPower iPod mini replacement battery boasts the highest capacity available, 600mAh, and is a bargain at $24.95. All NuPower battery kits are user installable with included tools and online viewable installation videos, although professional installation is recommended for iPod mini and fourth-generation iPod models.
"All the NuPower batteries rock and will let you rock on longer," said Larry O'Connor, President of NewerTech. "We already offer the best iPod replacement batteries for first-, second-, third- and fourth-generation iPods. Now add the mini to that line up."
Newer Tech's full line of iPod replacement battery kits include:
1800mAh first- and second-generation replacement battery kit for $29.95
2100mAh first- and second-generation replacement battery kit for $39.95
850mAh third-generation replacement battery kit for $25.99
750mAh fourth-generation replacement battery kit for $29.95
600mAh iPod mini replacement battery kit for $24.95
NewerTech products are available from fine retailers.
BruddyClip Protects iPod shuffle, Wires
PR: The BruddyClip is a unique clip for your iPod shuffle. It's the only product to offer wire management, which drastically reduces clutter and entanglement. The protective exoskeleton provides unobscured access to all controls and allows for easy removal of the shuffle for charging and syncing (even with the cord wound up).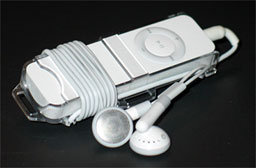 The wire management even offers convenient storage of the headphone cord while not in use so you'll never forget or misplace your headphones. The BruddyClip provides a nearly unlimited number of ways to attach itself using either the integrated clips or the included bulldog clip. One of four open slots accommodates a wide variety of alternative clips as well, such as key chains, lanyards, and more. All this adds up to the BruddyClip being the perfect companion for your iPod shuffle, allowing you to enjoy your music without distraction and forget you're even wearing an iPod.
The only clip with wire management that drastically reduces clutter and entanglement
Secures your shuffle in a protective exoskeleton, yet remains easy to remove for charging and syncing.
Unobscured access to power switch
Attach anywhere in a wide variety of ways
Allows you to enjoy your music while forgetting that you're even carrying your shuffle
Use with a wide variety of alternative clips such as key chains, custom lanyards, retractable clips, magnetic clips, Velcro – be creative!
Conveniently stores your ear buds while not in use
Price: $14.95
Dress up Your iPod shuffle
PR: Poptune for shuffle is a clean removing wearable wrapper for Apple's iPod shuffle series digital music players. Poptune for shuffle comes in a pack of 12 stylish patterns such as sizzling "Fire", pretty "Sakura", tropical "Aloha" and more. With these kinds of choices we are sure that you will find a Poptune suitable to your individual tastes. It also adds scratch protection to your iPod shuffle.

Poptune for shuffle has been designed to compliment your iPod shuffle, not just cover it. Of course it doesn't interfere with the slider switch or the control pad.
Once you have dressed up your iPod shuffle, it will look stylish from every angle.
Price: $19.95
New Logitech Wireless Headphones Offer Superior Sound Quality
PR: People now have a choice of high-quality wired or wireless stereo headphones for any portable music player. Logitech has added to its growing portfolio of mobile music products by introducing three new headphones designed for the fast-growing portable music player market: the Logitech Wireless Headphones for MP3, the Logitech® Identity Headphones for MP3, and the Logitech Curve Headphones for MP3. Each product works with any iPod or MP3 player and has a unique feature set – so people can choose headphones to match their mobile music lifestyle.
"People use their portable music players in a variety of situations, and they need stereo headphones that include features to enhance their music in different environments," said Ray Weikel, director of product marketing for Logitech's Audio Business Unit. "Logitech has created a line of products that give people the power of choice when it comes to headphones for mobile music players. Like the Wireless Headphones for iPod introduced last month, the Wireless Headphones for MP3 remove the hassle of tangled cords and unleash people from their music players. The Curve and Identity products provide features for active users and those who want to make a fashion statement with their headphones. All of these headphones provide superior audio quality, comfort and fit."
Logitech Wireless Headphones for MP3
The Logitech Wireless Headphones for MP3 give new meaning to "mobile music." With 30 feet of wireless range, people can leave their music player on the kitchen counter while they roam around the home, or put it away in a backpack if they're on the go, without missing a beat. And, the integrated controls on the side of the headphones allow people to adjust volume of the songs – without touching the music player. The headphones feature advanced Bluetooth® 1.2 wireless technology, which includes adaptive frequency hopping, for interference-free, crystal-clear digital audio.
The Logitech Wireless Headphones for MP3 work with any MP3 or CD player, and connect instantly by plugging the adapter into the standard 3.5 mm headphone jack on the music player. They feature 40 mm full-range neodymium drivers that deliver rich audio and enhanced bass performance. The headphones use rechargeable batteries, which can play up to eight hours of music per charge. The Logitech Wireless Headphones for MP3 have a comfortable, behind-the-head design and are made of lightweight, durable material. The Logitech Wireless Headphones for MP3 will be available in July in the U.S. and Europe for a suggested retail price in the U.S. of $129.99.
Logitech Identity Headphones for MP3
The Logitech Identity Headphones for MP3 work with any MP3 player or iPod and feature powerful audio in a small and lightweight form factor. These headphones take customization to a new level – they include four changeable color plates, allowing people to mix colors and styles according to their music and mood. The Logitech Identity Headphones for MP3 use twin neodymium drivers that give a full range of sound. They also include a behind-the-head fit, which is extremely comfortable during extended use. The Logitech Identity Headphones will be available in the U.S. and Europe in September, and will have a suggested retail price in the U.S. of $39.99.
Logitech Curve Headphones for MP3
The Logitech Curve Headphones for MP3 work with any MP3 player or iPod and are designed for the active mobile music enthusiast. Whether it's at the gym, mountain biking or rock climbing, these headphones will stand up to the terrain. The Curve Headphones are crafted from translucent polycarbonate material, making them water resistant, lightweight and extremely durable. And, the added comfort rings on each earpiece ensure a stable and secure fit during jarring activities. The Logitech Curve Headphones for MP3 will be available in August in U.S. and European retail stores and online. They have a U.S. suggested retail price of $29.99.
Software
ThinkFree Turns iPod into Portable PowerPoint Presentation System
PR: ThinkFree, Inc., the leading developer of standards-compatible office software, announced the initial beta release of ThinkFree Office 3 Show, iPod Edition, a unique software that allows anyone with an iPod (or compatible MP3 device) to create, edit, and transport full-blown PowerPoint presentations, even on a computer that does not run Microsoft Office. In addition, the software allows for a seamless PowerPoint slide show in the palm of one's hand on all new iPods, which now come with a color display, as well as other leading portable multimedia players.
Bringing the mobility of professional expression to another level, ThinkFree Office 3 Show, iPod Edition lets anyone create and edit powerful presentation graphics on any PC or Mac, then (with the color iPod or portable multimedia player) display them anywhere, from the campus to the golf course. This means that sales professionals, executives and students can leave their laptops at home and can literally put sophisticated graphic presentations in the hands of their prospects.
ThinkFree Office 3 Show, iPod Edition comes with over 130 PowerPoint compatible drawings and AutoShapes, 17 animation effects and 40 transitions. In addition to the standard .ppt file format, it can save documents as HTML, the World Wide Web standard format, as PDF file or as SVG (Scalable Vector Graphix) format. The software loads from the iPod into the memory of a computer the iPod is connected to, regardless of whether the computer is running Mac OS X or Windows. ThinkFree Office 3 Show, iPod Edition installs on any iPod or iPod mini if they have 100 MB available space. To run ThinkFree Office 3 Show, iPod Edition, either Mac OS X 10.3, 10,4 or Windows 2000/XP is required. The computer should have more than 256 MB RAM.
ThinkFree Office 3 Show, iPod Edition is currently in beta and it will ship into retail in August at a suggested retail price of $39.95.
xPort iPod Music Backup Tool
PR: xPort is the ultimate backup tool for your iPod. It enables you to directly transfer songs from your iPod to your PC without losing ratings, and it recognizes playlists. You can export all your iPod's content in only a few clicks. In addition, the program can create an internal list that contains the songs that you want to export; it includes a lyrics search, allows to make a text listing of your database, and lets you create m3u playlists. It runs on all iPods and supports all file formats (MP3/AAC).
New features :
New design for xPort,
New : view and export the pictures from your MP3 Tags,
iPod Shuffle, iPod photo, iPod Gen 4, iPod Gen 3, iPod mini, iPod U2 support,
Don't loose your iPod songs ratings,
Copy more than 25 Go in one hour from your iPod,
Copy all your songs before sending the iPod for repair,
Export the iPod playlists or all the apple iPod music,
Allow creating a playlist with the button add to xPort with iPod music,
Transfer music from iPod to PC or from iPod to MAC,
xPort interface Available in French, English, German,
Search for lyrics on Internet and save in your file Notes on your iPod,
Possibility of creating m3u playlists compatible with iTunes, Window Media Player and Winamp,
Play the iPod songs on double-click,
Possibility of exporting your iPod music in files according to several choices :

genre\artist\album\song
artist\album\song
album\song
song
System requirements: Java virtual machine
xPort is $11.50 shareware.
iPodRip Imports iPod Music into iTunes
PR: Put control of the iPod back in your hands with the ultimate iPod companion. iPodRip supports recovering your songs and playlists, playback of audio files, and much more.
Features
Supports any file the iPod does
Recover Songs – recovers all songs, meta data and associated playlists to iTunes
Recover Playlists – reconstructs your playlists in iTunes based on the songs already in iTunes
Stand alone jukebox with menu bar controls and song information
iTunes integration when importing songs and playlists
Supports iTunes song information, including ratings, play count, last played and others
SmartSync – rules based importing of songs
View & copy playlists
Drag & drop support
iTunes style browser
Undo support
Print, HTML and XML support
iTunes like floating window
Complete documentation
New in this version:
[Enhancement] – Songs are now copied to the drive they are being imported to rather than your home directory
[Bug Fix] – Fixed a crash with recover iPod when is was importing the playlists
[Bug Fix] – Fixed an issue where playlists would not appear correctly
[Bug Fix] – All table columns will now remember their placement correctly
[Bug Fix] – iPodRip should now correctly launch on 10.2 and 10.3 again
System requirements: iPodRip works with Mac OS X 10.2.8 Jaguar and later, including Mac OS X 10.3 Panther and Mac OS X 10.4 Tiger. iPodRip works with any iPod, whether it be a Mac OS X or Windows formatted. 1st, 2nd, 3rd and, 4th Gen as well as the iPod mini and iPod shuffle are confirmed to work with iPodRip.
iPodRip is $15 shareware.
iPod Access 3.5 Copies Songs from iPod to Mac by Artist/Album
PR: iPod Access is the premier application for transferring songs from your iPod to your Macintosh computer. Most iPod transfer utilities must fetch ID3 tag information by opening every music file and fetching information. iPod Access is able to utilize the iPod internal database so that it can display your iPod's contents almost instantly. This includes tag information from protected AAC files that have been purchased from the iTunes Music Store and all playlist information. Version 3 also adds iTunes integration giving the ability to clone playlists back into iTunes and add songs into the iTunes library directly.
With a simplified user interface including song filtering by Artist/Album or Composer/Album you can find the songs you need to copy and even listen to them directly in the main window. When copying songs iPod Access can organize songs into Artist/Album folders or Composer/Album folders and change the file names if desired. iPod Access can even copy files to PC formatted drives if the "Remove Special Characters" option is checked in the settings.
iPod Access also provides one button full sequential music backups. By pressing "Backup" in the toolbar you can speed up the process of regular backups. iPod Access will by default only copy new songs added to your iPod so you don't have to remember what you have added.
iPod Access is available for $12.99 but is a free upgrade for all v1.x, 2.x, and v3.x owners.
New in this version:
iTunes 4.9 support.
Improved feedback during iTunes integration.
Correctly shows playlists on all iPods.
More robust file renaming.
System requirements:
Mac OS X 10.1 or higher (including 10.4, Tiger)
iPod 1.2 or later
iTunes 4 or later for iTunes integration
iPod Access is $14.99 shareware.
iPod Deals
For current iPod prices from a variety of sources, see our Best iPod Deals.